Custom Blend Foundation Options
Finding the perfect foundation can feel like an impossible task. Whether you are shopping at a local drugstore or are visiting a high-end makeup counter, shade selection is often limited. That can make it difficult to find something that suits your skin color, tone, and type. One solution is to have a product made specifically for you. Custom blend foundations are becoming popular because they help you obtain a flawless match.
Elizabeth Arden
There used to be very limited foundation options. It was light, medium, and dark, with little in between. While there has been progress in this area, finding a true match is still a struggle. Recognizing this problem, Elizabeth Arden Red Door Spa began offering a Custom Color service at select locations.
According to Janet Curmi (Vice President of Global Education at Elizabeth Arden Red Door Spa), in an article on custom blend foundation, a flawless match comes down to technology. Their Custom Color optical skin diagnostic tool, known as the spectrophotometer, analyzes both tone and color. That makes it possible to create a one-of-a-kind foundation in mere minutes. Each mixture can be altered to suit specific skin types (like oily, dry, or combination skin), preferred coverage levels (light, medium, or full), and desired finishes (matte or dewy).
Once the product has been created it is saved in a computer system. That means you can order a refill without coming in for another skin analysis. Makeup lovers from around the world are praising the flawless match and unique service. The only downside is that you need to have a Red Door Spa nearby. Not to worry! There are locations throughout the United States. A one-ounce bottle of the Elizabeth Arden Custom Color will set you back about $60.
Prescriptives
Beauty brand Prescriptives was established in 1979, but their customized approach to makeup was put on hold when the Estée Lauder Company removed it from department stores. Two years later, Prescriptives re-launched in a fresh new way. This online store sells a full line of regular products as well as custom foundations and powders. They use their unique Beauty Print method to find the right match for you.
To use the Beauty Print method, you simply upload a photo of yourself (without makeup and in natural lighting) and speak to a Prescriptives Custom Blend Beauty Genius. Their live chat service makes it possible to determine your skin type, individual concerns, and foundation preferences. Customers then choose their desired coverage level (light, medium, or full) and finish (candlelight or radiance). Prescriptives offers free returns and shipping, and will work with you until you are satisfied with the product.
Once the product has been created, your Beauty Print is saved online. To order another bottle you log into your account. The personalized foundation costs about $80 and a customized powder is around $60. Many hard-to-match women are fans of Prescriptives. In fact, the process was tried out -- and loved -- by Oprah beauty editor Jenny Bailly, as revealed in an article about whether custom makeup bases actually work.
MatchCo
MatchCo is making serious waves in the beauty world with their app-based custom makeup system. The free-to-use MatchCo Makeup app boasts a 98% success rate and takes just two minutes to complete. Not only was it voted one of Teen Vogue's Best New Beauty Apps, but Allure is also praising the convenience of this unique system.
To begin, download the app to your smart phone. You will then be asked to scan your wrists (this helps determine the undertones of your skin), cheeks, and forehead. By the time this step-by-step process is complete, your individualized foundation will be ready to order. A one-ounce bottle costs about $50.
MatchCo claims the product adds luminosity, depth, and character to the skin. However, there is only one foundation type available. The MatchCo My Perfect Complexion Custom Tinted Hydrating Formula is a primer, moisturizer, and foundation all in one. The color match might be spot on, but issues like oily or dry areas may not be addressed. Consumers are currently unable to order a product that targets individual problems or choose a desired finish. If finding the perfect color is your primary focus though, MatchCo is something to consider.
Motives
Another personalized foundation brand is Motives. They offer several skincare and makeup products as well as their popular Motives Custom Blend Foundation. This product is intriguing for a couple of reasons. The first is that it is a liquid mineral foundation, which is typically made up of more natural ingredients. According to WebMD, mineral makeup leaves out ingredients like preservatives, parabens, mineral oils, chemical dyes, and fragrances.
The Motives foundation is also exciting thanks to its many options. New visitors begin by filling out a short survey. Questions range from desired coverage levels to skin type, specific concerns (like aging or sensitive areas), and close color matches (ranging from light to medium to dark). Once every question has been answered, the survey will be forwarded to a Motives Custom Blend Specialist, who will get in touch to further discuss the answers.
A sample will then be sent for you to test. If the product is to your liking, you can order a one-ounce bottle for about $50. Any extras, such as sun protection or anti-aging properties, cost an additional $5 each. If you are unhappy with the sample, Motives will continue to work with you until the shade is correct. Reviews of these custom foundations have been very positive, with beauty bloggers and YouTube channels praising the close color match and customized finish.
Haut Cosmetics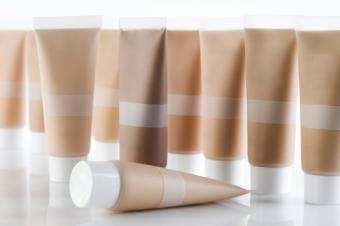 If you want custom makeup that uses natural ingredients, Haut Cosmetics is your best bet. The line is based in Canada and is dedicated to sustainable practices. Their products are vegan, organic, and cruelty and gluten free. That includes the iCustom Blends BB Cream and Bio-Foundations. The Haut BB Cream in particular is getting good reviews. It has been praised for its texture, ease of use, and coverage level.
To order indivualized foundation you start by answering a few questions. For instance, any skin issues you want to address, which celebrity your skin type is most like, and disclosing problems like breakouts and discoloration. From there, you will be taken to an ordering page. The suggested shade will appear along with additional ways to customize your experience. Add-ons are available, like extra coverage, preferred undertones, and finish. Keep in mind that it costs $10 for customization. The cost of a full size foundation will vary based on the formula you choose (and any extras), but they range from approximately $40 to $75.
It is possible to achieve gorgeous, natural-looking skin with iCustom Blends from Haut Cosmetics. You do need to have a basic understanding of your skin's undertones though, otherwise you might wind up disappointed. You can prevent that from happening by using the iConsultation option. Send in your photo and wait for an email response. (You should hear back within one business day.) A specialist will let you know which shade is best.
Create the Perfect Foundation
There is no such thing as a one-size-fits-all foundation. These days, you can get cosmetic products tailor made to your skin tone and personal preferences. With so many custom foundation options, it is possible to create the perfect base for any makeup look.