Cheap Airbrush Makeup Kits
Professional beauty tools were once reserved for makeup artists, celebrities, and industry heavyweights. Over time, they have become more accessible and affordable. It is now possible to find an airbrush makeup kit that won't break the bank. With cheaper options available online, everyone can find products to suit their needs.
Photo Finish Professional Airbrush Makeup
While a professional airbrush kit can typically retail between $300 and $700, there are many alternatives. One example is Photo Finish. They have several kits to choose from, depending on what you need.
That includes the Airbrush Deluxe Kit (which is about $150), the Airbrush Makeup Kit (less than $90), and the Airbrush Basic Kit (around $65). The variety means consumers can make a decision based on what they intend to use the kit for - and how often.
What's In the Box
Each set includes a mini compressor, airbrush hose, holder, and adapter. Depending on the chosen set, there are additional products included as well, like foundation, blush, powders, and even eye products. (If you run out, all of these can be repurchased separately on the website.)
The makeup itself is mineral-based, water-resistant, and works well on all skin types. It is also available in a variety of shades to create a flawless canvas on a wide range of skin tones.
What Reviewers Say
Reviews of the Photo Finish line have been largely positive, with StyleAurora naming it the best starter kit. They praised the variety of finishes (the makeup is available in both matte and luminous), the adjustable air flow, and long-lasting wear. Additionally, BlessedBeauty found it easy to use and said it provided the best value for an airbrush set.
However, the review mentioned that while most people enjoyed the airbrush system, not all were fans of the makeup itself. In that case, another type of silicone-based foundation can be used, or watching tutorials with Photo Finish application tips may be useful.
Art of Air Airbrush Makeup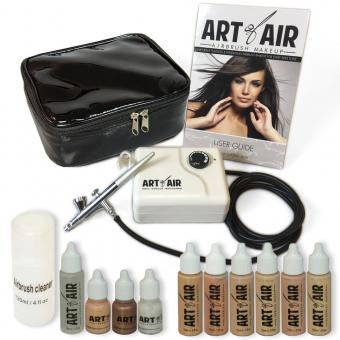 Another brand to consider is Art of Air. They offer a range of kits designed to suit fair, medium, tan, and dark skin tones (each retails at about $95) as well as their Ultimate Cosmetic Airbrush System (about $100), which includes multiple foundation colors. With most of their sets targeted towards a specific skin color, these kits are ideal for everyday use. They make it possible for a variety of consumers to incorporate the product into their daily beauty routines.
Items In the Kit
Included is a quiet mini airbrush compressor, hose, holder, adapter. Each airbrush kit also includes a number of essential items, including foundation, anti-aging moisturizing primer, bronzer, blush, highlight, airbrush cleaner, and a carrying bag to keep everything together.
The website offers items for sale individually, including the compressor and airbrush (about $60) and refills on makeup. Not only does Art of Airbrush have a wide range of colors to choose from, but each product is dermatologist recommended, oil and fragrance free, and non-comedogenic.
How It's Rated
There have been many reviews about the brand, including a YouTube review that praised the clear instructions as well as how quiet the airbrush itself was. On Amazon, 61 percent of users gave the system a five-star review, with many enjoying the smooth finish and the variety of products included.
Some reviewers, on the other hand, mentioned there was a learning curve in order to use the airbrush kit effectively, and in some cases the makeup added emphasis to pores and wrinkles.
Belloccio Airbrush Makeup
For an airbrush makeup kit that is easily accessible, but still affordable, Belloccio is a name to remember. It's sold online on the brand's website and is also available at Walmart stores. In addition, the Walmart website carries many of their products. That includes the Professional Deluxe Airbrush Cosmetic Makeup System (about $130) and the Airbrush Cosmetic System Holiday Kit (which retails for around $100). With more extensive kits to choose from (like the Makeup and Tanning System) in addition to simpler ones, there really is something for everyone.
What It Comes With
All sets come with an airbrush compressor (which has a one year warranty and three airflow settings), a hose, holder, brush (which provides an ultra fine mist), and adapter. It also has a detailed user manual guide and DVD, making it ideal for beginners.
Additionally, each set has four foundation colors, a primer, blush, shimmer, bronzer, concealer, blending sponge, finishing spray, cleaning solution, and carrying bag. With a number of essential face products as well as the airbrush itself, achieving a full-coverage look has never been easier.
Pros and Cons
Perhaps that is why so many users are thrilled with the results this affordable airbrush set provides. Online reviews mention getting the most for your money with the Belloccio sets, the importance of the variable pressure settings, and the good return policy. This Natural Everyday Tutorial also highlights the flawless finish you can achieve using the system.
There are a few drawbacks to consider though. One reviewer found that the replacement makeup was expensive, and a primer was needed in order to get that perfectly airbrushed look.
Aeroblend Airbrush Makeup Kits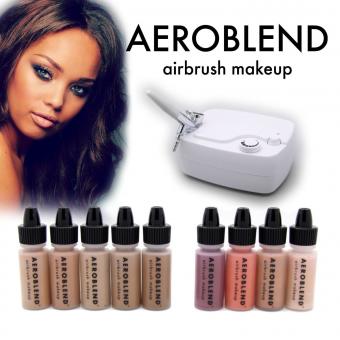 If you are looking for something for special occasions, weddings, and everyday events, give some thought to Aeroblend. They have two different kits to choose from, including the Starter Kit (which is about $100) and the Pro Makeup Starter Kit (about $140).
Both come with a one year warranty along with water-based matte finish products that are fragrance, paraben, and silicone free. Not only are these ideal for people with sensitive skin but the makeup included has a mixture of neutral and olive undertones to avoid an unflattering finish.
Kit Items
Both the Starter and Pro Starter Kits come with a compressor, hose, holder, and adapter, as well as foundations shades (five in the starter kit and sixteen in the professional kit), blush (two in the starter kit and six in the professional kit), highlighter, bronzer, and detailed directions on how to properly use the machine. With makeup that lasts for over ten hours, this airbrush system delivers long lasting results. Aeroblend also has a color match guarantee to ensure you find the perfect shade for your skin.
What to Consider
When it comes to reviews, there are many positives to consider. For instance, 69 percent of the reviews on Amazon are five-star, with users thrilled that the machine does not clog often, there are clear instructions, and it is possible to find the perfect foundation color. If that wasn't enough, Aeroblend also made a list of the top ten airbrush makeup systems.
There are some drawbacks to consider as well. For instance, some people found the makeup was not flattering on areas that had wrinkles or skin imperfections.
Dinair Airbrush Sets
No list would be complete without the original in airbrush makeup, Dinair. Despite being around for more than thirty years, this is one of the more affordable brands on the market today. While they do have pricier options, there is the Foundation Plus (about $100) and the Personal Beauty Starter Kit (which is around $150). Both options include everything you need to create a long wearing and smooth base.
Foundation Set Plus
The Foundation Plus set includes a one speed compressor, airbrush, and three foundation shades. The finish can be either natural, matte, or satin, and the shades are available in fair, medium, tan, or dark. With so much variety, this set can work for multiple skin tones and types.
Starter Kit
As for the Starter Kit, it has the same variety of shades and finishes but has an air compressor with variable air, an airbrush, three foundation shades, and three bonus shades (blush, highlight, and bronzer). There are also plenty of additional items to choose from, including primers, airbrush cleaners, replacement parts, eyeshadow, and more.
How It Stacks Up
Many reviews of the brand online are positive. WakeUpForMakeup liked the fact that the compressor was powerful but quiet as well as the pigmentation and the many extras included in the starter kit. MakeupAlley reviews found that the foundation was lightweight, non-irritating, and long lasting. However, some users found it difficult to find a proper tone match and struggled with skin that appeared dry.
More Ways to Save Money on Airbrush Makeup
For those that want to save even more, a secondhand kit is always a possibility. There are many being sold on eBay for much less, including kits from Photo Finish, Art of Air, and more. Just consider the fact that there will not be a warranty. You also need to be especially careful that the seller has a good reputatio, that and the included shades are a match for your skin tone. Exercising caution - and weighing the pros and cons - will ensure that you make the right decision.
Additionally, you may want to build your own airbrush makeup kit. There are step-by-step tutorials online that walk you through the process of making one. These can be just as effective and dramatically cut your costs.
Tips to Choose the Right Airbrush Kit
To find an airbrush makeup set that not only saves you money but makes you happy, there are a few things to keep in mind, such as:
What the set includes. Maybe this airbrush makeup kit is for personal use or perhaps you are planning to apply makeup on friends, family members, or clients. What you require (in terms of color selection and finishes) may vary depending on who you'll be using it on.
The ingredients in the makeup itself. Just because it is airbrush makeup doesn't mean you shouldn't think about the actual products. If you have any skin concerns (sensitive, dry, and so on), it is especially important to look into the type of makeup that comes with the kit. Make sure it will work for you prior to purchasing.
Know what you will use. While many kits have extra items for eyes, cheeks, and lips, your focus may only be on the skin. To save yourself money (and stop yourself from buying products you will rarely touch), think about how you will use your airbrush machine. Then choose what type of kit and add-ons best suit your needs.
For Wedding Makeup, Everyday Use, and Professionals
Airbrush makeup has become increasingly popular with beauty lovers and even brides-to-be. Wedding website The Knot discusses the benefits of this type of application, including the long wear time and flawless finish. Other reasons professionals prefer airbrushing? It's easy to layer and less product is required to achieve a full-coverage look.
As a result, brands have released foundations in aerosol cans to mimic the finish (like Dior's Diorskin Airflash Spray Foundation), and many companies also offered their own airbrush makeup kits such as the affordable sets listed above.
Treat Yourself to Luxury on a Budget
Being conscious about what you spend doesn't mean you have to give up your dream of professional makeup application. There are many cheap airbrush makeup kits to choose from. It all comes down to what you need to create the picture-perfect look. Consider your budget, online reviews, and what you'll really use. The rest will fall into place!