Stunning Royal Blue Makeup Ideas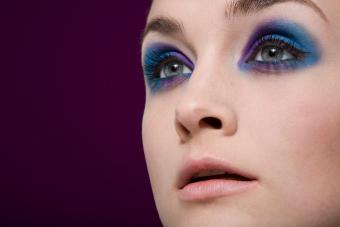 Even though it's considered bold and daring for everyday affairs, wearing royal blue makeup is a great way of dressing up or adding a pop of color to an outfit for a special occasion. There are many ways you can use this beautiful hue to create a standout look.
Eyeshadow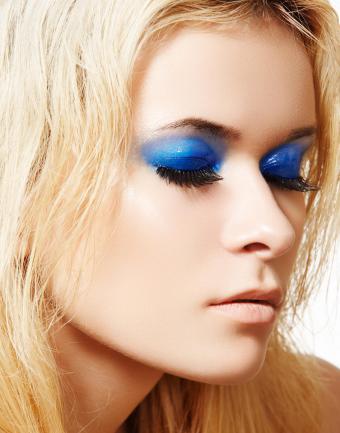 Royal blue looks particularly stunning if you wear it as an ombre eyeshadow effect.
Apply eye primer.
Apply a light, washed-out royal blue shadow over entire eyelid and up to brow bone.
Use a stronger, slightly darker royal blue shadow in the crease and inner corners of both eyelids.
Apply dark royal blue shadow on both eyelids just above upper lash line.
Apply several coats of volumizing black mascara.
Leave lips and brows natural and flawless to let your royal blue eyeshadow stand out.
Royal Blue Top Eyeliner
This royal blue top eyeliner trick develops a striking and vivid aesthetic.
Apply eye primer and base eyeshadow in a nude shade that complements your skin tone.
Sweep white eyeshadow with sheen over each lid and just underneath your bottom lash lines.
Line your upper lash line with black liquid liner. This line should be at its thinnest at the inner corner and then gradually develop in thickness towards the outer corner. Create a feminine, feline flick from the outer corner at a 40-degree angle.
Apply royal blue eyeliner with sheen or glitter directly above the black eyeliner in a parallel line. It should mimic the exact shape of your black eyeliner, including the outer flick. Enhance the focus of this blue liner by doing an exaggerated flick towards your nose in the inner corner.
Add a few coats of black mascara on top and bottom lashes.
This look is all about high definition. Make sure you use brow gel or powder on your eyebrows to enhance them. Opt for simple face makeup and nude lipstick to allow your eyes for maximum impact.
Bottom Eyeliner
This royal blue eye makeup uses two additional hues to build a breathtaking ensemble. If you're heading to a party, opt for sparkly or metallic eyeshadows.
Prime your eyes and apply a neutral base shadow that complements your skin tone.
If you want to develop a dimensional eyeshadow effect, use a darker eyeshadow like coffee, chocolate, or charcoal in the crease of each eye.
Use a contrasting color, such as forest green, as your main eyeshadow. Sweep across each lid and build the color so that it looks rich and radiant.
Apply a second contrasting color, like yellow gold, as a liner around the tear duct in the inner corner of each eye.
Use royal blue pencil eyeliner to line each waterline just above your bottom lashes. Finish with several coats of black mascara and high definition powder on your brows.
If you want to make a serious style statement, keep the attention on your eyes by stripping back the rest of your makeup.
All-Round Liner
A more subtle eye makeup look but just as fabulous, you can use royal blue eyeliner to co-ordinate with an outfit that contains the same color.
Outline your entire eye, including above your top lashes and below your bottom lashes with a royal blue liner.
Smudge eyeliner slightly using your forefinger.
Finish with several coats of black mascara across your top and bottom lashes.
As this look is simple, consider adding more color to your face through blusher or bronzer and a peach-hued lipstick.
Royal Blue Mascara
Royal blue mascara is the perfect way to add a splash of color to an outfit containing neutral or basic hues.
Prime your eyes and use a base shadow in a light shade like white, cream, or ivory. Take this base shadow right up to your eyebrow and underneath your lower lash line.
Sweep light royal blue eyeshadow across your eyelids and in the creases.
Apply several coats of royal blue mascara to top and bottom lashes. Use an eyelash brush to separate and comb out your lashes followed by an eyelash curler to define and bring out the royal blue hue.
This look is all about color and prominence; therefore, it's a good idea to use a brow gel to define your eyebrows and contour your face using highlighting shades and darker shades for sculpting. You can also implement an extra pop of color through a complementary lipstick shade, such as pink.
Royal Blue Lips
Perhaps the bravest royal blue makeup trick, you're sure to turn heads by wearing lipstick in this standout hue.
Apply a lip primer or balm to re-hydrate lips and add lubrication.
Line your lips with royal blue lip liner.
Apply a royal blue lipstick within outlines. Blot and reapply the lipstick for a more intense aesthetic.
To amp up the sass, you can create eye makeup that's equally dramatic using metallic silver eyeshadow, black liquid liner, and lots of mascara. You can also contour your face and define your eyebrows for a glamorous, memorable appearance.
Finding What Works
Royal blue makeup might not be for the faint-hearted; however, if done correctly, it can create a beautiful, vibrant look. Experiment with different techniques and products to find out what works for you.