Get Pretty Feet for Summer!
Need help getting pretty feet for summer? When temperatures begin to rise, feet and toes make their debut in a variety of strappy sandals and flip flops. Pretty feet for summer will make you feel feminine in all of your strappy shoes! Although summer is the perfect time of year to splurge on a professional pedicure, there's no reason you can't have pretty feet year round with these tips.
Exfoliate with Sand
Sandy beaches are a natural exfoliant! The next time you have a chance to walk on the beach, go barefoot and rub your feet and soles into the sand. The sand will help remove dead skin cells and dry skin. Who knew romping in the sun could have so many benefits?
Soak Feet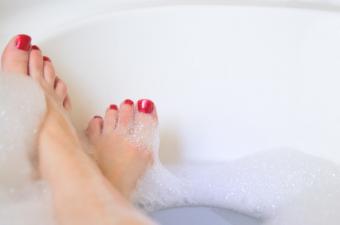 Every pedicure begins with a warm, soapy foot bath. Softening the feet with warm water helps to loosen the skin, making cuticle removal easier. And it feels great! For an at-home pedicure, fill up a bubbly foot bath and relax!
Get a Massage
A foot massage is another great reason to go for a professional pedicure. Massage boosts circulation and helps nail growth, all while relaxing and soothing your tired and achy muscles.
Apply Lotion Daily
Once feet have soaked, it's time to care for those soles with a heavy cream. Massage lotion into the bottoms of your feet and at your nail bed.
Sleep with Socks!
After applying lotion to the feet and soles, lock in the moisture by donning a pair of thick cotton socks. For extra moisture, apply petroleum jelly to cracked heels.
Paint Your Toes!
Painting toenails by yourself can be a challenge. Foam toe separators help keep toes from bumping into one another. For ease of polish application, sit in a chair and prop your feet up on a table. Touch up any messes with a Q-Tip soaked in nail polish remover.