Ideas for Orange Nails
More Details"
Orange is a great color to decorate your nails with all year round. In winter, orange nails can brighten up the most miserable day. In summer, they tend to stand out and pop against the sunshine. Orange is also a versatile hue. Whether you have a dark, medium or fair skin tone, you're bound to find a shade that will suit you.
Pure Zesty Gloss
More Details"
The most straightforward orange nail is the all-over one-color look. Opt for a nail polish that is rich in hue, resembling the orange fruit. Apply it all over and finish it off with a glossy topcoat. Whether you choose to wear your nails round or square, this look will ensure that your hands stand out for all the right reasons.
Orange Glitter
More Details"
Add some dimension to your nails by choosing an orange polish with a glittery finish. If you prefer the glamorous and sparkly look, use an orange nail polish that already has glitter embedded in it. Alternatively, if you'd rather go for a matte and texturized look, apply two or three coats of a matte orange nail polish and finish off with some striking nail glitter dust.
Half Nail Design
More Details"
This half nail design makes a serious style statement. First, paint your nails an orange hue, like the coral here or a more vibrant tone. Wait for them to dry completely. Then, choose an alternative hue for the design. (Black and orange are a standout combination.) Dip a small brush or toothpick into the polish you chose and lightly tap the stripes on your nail. To ensure a straight diagonal line, like in the picture, place a folded paper towel across your nail diagonally for reference.
Sparkly Geometrics
More Details"
To get this sparkly, high-impact geometric design, start with a base coat in your favorite orangey hue, such as the coral shade shown here. After it dries, apply a light orange polish all over your nails. While your nails are still wet, grab a small brush or toothpick and draw the arrowhead-shaped lines onto your chosen nails to reveal the clear base coat underneath. Apply a top coat after the polish dries. Finally, add glitzy nail gems with nail glue for a fun and elegant finish.
Flame Effect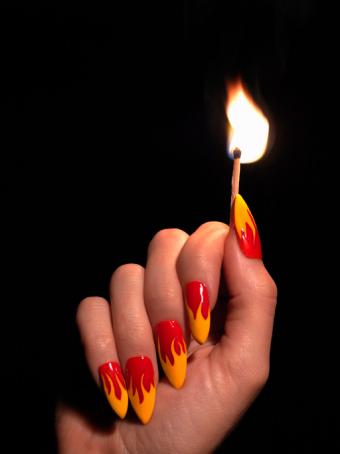 More Details"
To get nails that look like they're on fire, the first step is to invest in long, pointed acrylics that are unpainted and apply them to your natural ones. Then, apply a fiery red hue from the bottom to two-thirds of the way up. Allow to dry before painting the remaining third of each nail a yellowy-orange. Finally, draw the flickering ends of the flames on the edge of the orange polish using a toothpick or small brush. Finish with a top coat for a glossy, eye-catching aesthetic.
Orange French Tips
More Details"
This orange nail look is a bit more understated, so it is a good choice if you're looking for something subtle or suitable for everyday wear. Paint your nails with a refreshing nude hue, like the pink in the picture, after applying a base coat. Wait for them to dry completely. Then, using a small brush or toothpick, simply draw on the tips using an orange nail polish. You can draw the tips straight, or with more of a curve for enhanced distinction.
Glitzy Bottoms
More Details"
Unique and original, this glittery effect is created using acrylic nails. Simply paint a sparkly silver glitter polish on your actual skin at the bottoms of your nail beds, as shown in the picture. Afterwards, glue on your acrylics and paint them a vivid orange hue. Voila! You're left with gorgeous sparkly nails.
Seasonal Halloween Design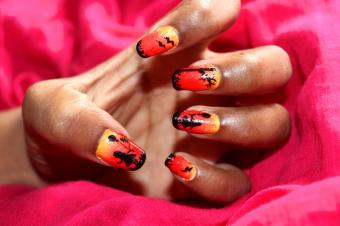 More Details"
Seasonal nail designs like this Halloween look can be fun to create! First, produce the ombre aesthetic from yellow to orange by painting the two colors on a small makeup sponge in straight, horizontal lines side-by-side. Once you've applied a base coat, position the makeup sponge above your nail and then stamp down. If the colors aren't strong enough, repeat the process. Once everything is 100% dry, use a small brush or toothpick and draw on the witch, bat and tree designs using black nail polish. Allow your creations to dry before applying a top coat.
Multi-Hued Rainbow
More Details"
If you're looking for an effect that will spark interest by incorporating orange with other colors, opt for multi-hued rainbow nails. Straightforward to implement, all you need to do is paint each nail a different color-popping hue that you might find in a rainbow. This look is particularly pretty for the spring and summer months if you choose pastels, including peachy orange.
Summery Nail Art
More Details"
This orange nail look is a bit complex, but it's worth the effort. To create the geometric French tips, use the method described in slide #7 with blue nail polish. After it dries, use a different small brush or toothpick to draw on the pointed orange line. Finish with a top coat. For the more artistic orange fruit effect, start by painting your nails the beautiful blue hue. Then, use a separate small brush or toothpick to draw on the fruit design using orange, yellow and green polish. Finish with a top coat for a creative yet chic aesthetic.
Fluorescent Neon Orange
More Details"
For simple, youthful-looking nails, opt for a fluorescent neon orange polish. When it comes to fluorescent colors - the louder, the better! Make your look shine by adding a glossy slick of clear polish over the top of the orange hue.
No matter which of these orange looks you choose, you can rest assured that your nails will add a much-needed pop of color to any dull outfit or ensemble.