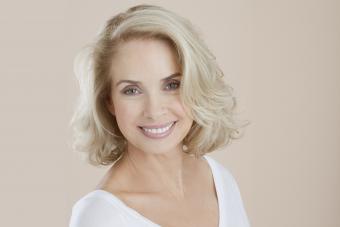 Mature skin has special needs and when choosing makeup for women over 50, it's best to look for moisturizing formulas that won't settle into fine lines and wrinkles. Whether shopping in a drugstore or department store, there are many different makeup formulas for the over 50 crowd that will leave you looking fabulous.
Makeup for Women Over 50
First things first when choosing makeup for women over 50: pay careful attention to your foundation. As you age, skin texture changes and it's important to create a smooth, even canvas to keep you looking youthful and glowing.
Foundation Dos and Don'ts
Do: Choose a foundation that is moisturizing and contains SPF or antioxidants to protect aging skin.
Don't: Go for powder foundation or anything with a matte finish. These types of foundations can dry mature skin and settle into fine lines and wrinkles.
Do: Select a base that offers ample coverage to hide flaws such as age spots and other discoloration.
Don't: Let your foundation be so heavy that it's mask-like. Your base should cover, but give your skin a subtle glow.
Foundation Recommendations
Luckily there are so many foundations on the market that not only cover flawlessly, but can actually help improve the look of aging skin.
Drugstore favorite brand L'Oreal's Visible Lift Blur foundation won't settle into fine lines and wrinkles, and it reduces the signs of aging. The product provides a luminous finish so skin never looks flat or dull ,and it helps firm for an overall lifted look.
Department store brand Estee Lauder's Perfectionist Youth-Infusing Serum Makeup moisturizes, making it ideal for dry, aging skin. It actually helps soften and blur the look of fine lines and wrinkles. This medium to full coverage foundation helps even skin tone and also contains SPF 25 for some sun protection.
Eye Makeup Dos and Don'ts
Do: Look for eye shadows in neutral tones that have a natural, satin finish.
Don't: Choose matte or super shimmery shadows because they can make skin look dry and exaggerate lines and wrinkles.
Do: Select neutral shades such as soft brown, taupe and gray for defined eyes that look youthful
Don't: Wear severe or bright shadow shades such as electric blue or bright green. Not only are they not age-appropriate, but they look dated on mature skin.
Eye Shadow Recommendations
Cover Girl One Kit Eye Enhancers in Tapestry Taupe is a neutral grayish brown shade with a natural satin finish that defines eyes without overpowering.
MAC Cosmetics eye shadow in Orb is a soft peachy beige hue with a satin finish that glides on smoothly and brings warmth to the eye area.
Clinique Eye Shadow Quad in Teddy Bear features an ivory, tan beige, milk chocolate and deep brown to create a finished eye look with one kit.
Cheeks Dos and Don'ts
Do: Be sure to choose a cream blush in a warm pink shade for a youthful, fresh-faced effect.
Don't: Contour your cheeks. This works when you're young, but it's not a great idea when you're over 50 because your face naturally becomes more hollowed out and contouring only accentuates this.
Do: Apply blush to the apples of cheeks to create fullness, which is sometimes lost in age.
Don't: Overdo it with shimmer; opt for a satin finish.
Cheek Recommendations
Josie Maran Coconut Water Cream Gelee in Poppy Paradise is a soft pink shade that contains Argan oil, coconut water and Vitamin E to replenish and repair skin.
Bobbi Brown Pot Rouge for Lips and Cheeks in Blushed Rose is a creamy, natural brownish pink hue that can be worn on both cheeks and lips.
Lips Dos and Don'ts
Do: Try a sheer, moisturizing lipstick for lips that look moist and full
Don't: Go for matte lipstick.Lips naturally thin out as you get older, and matte lipstick draws attention to thin lips and exacerbates wrinkles.
Do: Look for soft rose and tawny lipstick shades to pump up lip's natural hue.
Don't: Choose bright lipstick shades such as fuchsia or anything too pale.
Lipstick Recommendations
bareMinerals Gen Nude is a moisturizing, matte lipstick that keeps lips soft and hydrated throughout the day. The shade called Antique Rose imparts lips with a soft and lovely sheen of color.
Benefit Cosmetics Hydra-Smooth Lipstick in Cutie Tutie is a creamy sheer rose that offers buildable coverage; so you can wear the shade sheer or more vibrant.
Revlon Moon Drops lipstick helps keep lips supple, giving them a full, youthful look. Rose Amethyst is a semi-glossy rose hue that complements many skin tones.
Fifty and Fabulous
Just because you're over 50 doesn't mean you can't look your absolute best. There are so many options when choosing makeup for women over 50 so experiment and find the perfect, youthful look for you.