Foundation Brands That Cover Wrinkles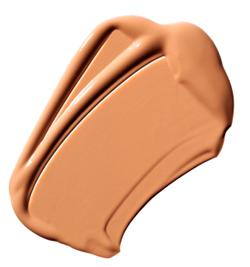 Before deciding which makeup foundation hides wrinkles the best, you must put your best face forward by properly preparing your skin through cleansing, exfoliating, and moisturizing. If your skin is dehydrated or dry, wrinkles will be enhanced. Once you've got your skin prepped, it's time to choose a foundation that will help disguise wrinkles.
The Importance of Foundation
Makeup foundation is exactly that, the base upon which the rest of your makeup is applied. It sets the tone for your entire look, making it a very important choice, especially if you are looking to hide wrinkles.
Find Which Makeup Foundation Hides Wrinkles the Best
Which makeup foundation hides wrinkles the best? Well, there are a multitude of products on the market that claim to have wrinkle-camouflaging abilities, and some that might be worth trying include:
Estee Lauder Double Wear Light Stay-in-Place Foundation
Estee Lauder Double Wear Light Stay-in-Place Liquid Foundation gives 15 hour coverage, even in hot weather and high humidity. It will not change color, rub off, and stays fresh and comfortable all day. This foundation will give full coverage with a lightweight feeling without making lines and wrinkles stand out. Estee Lauder Double Wear Stay-in-Place Makeup has the added bonus of a Sun Protection Factor (SPF) 10, which helps shield your skin from harmful Ultra Violet (UV) rays, helping to prevent wrinkles in the first place.
bareMinerals Matte SPF 15 Foundation
bareMinerals is the original mineral-based foundation. Although some may think that because it is mineral based, it will go on dry like a powder and emphasize wrinkles. But Bare Minerals actually has a creamy consistency that effectively minimizes pores and hides wrinkles. Bare Minerals is suitable for any age and skin type, and has received many awards, including Glamour Magazine's "Glammy Award" for the best department store/specialty store foundation for the last six years, the 2010 Reader's Choice Award for Best Foundation from Allure Magazine, and the 2010 Best Beauty Buy for Best Foundation from InStyle Magazine, among others. It contains no talc, as some other mineral makeups do, and has a SPF of 15 to shield the skin from sun damage.
Revlon Age Defying Liquid Makeup with Botafirm
A drugstore foundation with wrinkle hiding capabilities, Revlon Age Defying Liquid Makeup with Botafirm is a patented blend of botanicals, antioxidants, and hexapeptides. According to Revlon's website, 95 percent of users of this foundation saw "an instant reduction in the appearance of expression lines." As the Botafirm in this foundation smoothes and hides pre-existing fine lines, the SPF 20 sunscreen it contains helps prevent future ones from forming.
L'Oreal NutriLift Gold Foundation
L'Oreal Paris NutriLift Gold Foundation contains micro-fine gold particles that give the skin a radiant tone and help reduce the appearance of fine lines and wrinkles. The product has a creamy texture that dries to a matte finish. It also contains Pro-Retinol A, a powerful antioxidant, which transports Vitamin A to skin cells and boosts the cell metabolism. The result is youthful, glowing skin with increased collagen production and elasticity.
Apply With a Light Hand
In trying to conceal fine lines and wrinkles around the eyes, lips, and forehead, many women make the mistake of overdoing makeup and accentuating them instead. Too much of any kind of foundation makeup will cake and settle into lines, making wrinkles more noticeable.
Which Is Best for You?
There really is no one foundation for everyone that is best for hiding wrinkles because of the vast number of different skin types and expectations of those using the makeup. The best way to find a good foundation for hiding wrinkles is to consult with a skin care expert and sample some different foundations until you find the right one for your skin in terms of wearability, coverage, and wrinkle-hiding properties.