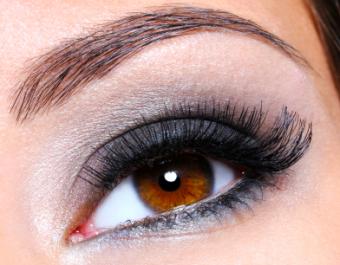 Whether you're the type that needs to glam it up at the gym, or you live in a hot sticky climate that screams makeup meltdown, there are a few tips and tricks to achieving sweat proof eye makeup that will leave you looking fresh and gorgeous, not smudged and smeary.
Primed to Perfection
If you aren't in a long term relationship with an eye shadow primer, it's time to get involved. Eye shadow primer helps your shadow cling to your eyelid, which is a naturally oily part of your face, to allow for extended wear and minimal creasing. Primer also keeps color looking vibrant and true to tone and can come in a tinted formula or a clear, translucent shade that won't interfere with your eye hue du jour.
Some top eye shadow primers include:
Mad for Matte
For truly hot and humid days or times when you know you'll be working up a major sweat, ditch your regular eye shadow formula in favor of a long-wearing one that stays in place and won't smudge. Matte formulas tend to have more staying powder than super glittery or creamy shadows. Be sure your primer has completely dried before applying your eye shadow with a shadow brush.
For extra staying power, dust a matte nude shade that closely matches your skin tone from lash line up to the brow bone before applying your desired hue.
Top Long Wearing Eye Shadows
Tarte Amazonian Clay long-wearing eye shadow comes in a variety of color palettes. When used with their eye primer, it promises major staying power.

Revlon Colorstay 16-Hour Eyeshadow Quad is an affordable drugstore palette that includes four coordinating shadows to create a multitude of eye looks that promise not to crease or smudge for up to 12-hours.
Lined and Defined
There's nothing worse than meticulously creating the perfect smooth line, only to discover that your liner has smudged within an hour. Forego soft, powdery pencils or smeary creams in favor of liquids and gels that can hold up to heat and sweat for a sweat proof eye makeup look that's sexy and dramatic.
Top Long Wearing Eyeliners
Smudge-Proof Lashes
If you tend to battle a case of raccoon eyes by mid-day, a waterproof, smudge-proof mascara is a makeup bag staple. The only downside to these formulas is that they can be difficult to remove, so always keep
plenty of makeup remover on hand at the end of the day.
Tips and Tricks
Even if you're sporting long-wearing sweat proof eye makeup formulas, there are a few additional tips to make your makeup last.
After you've applied eye shadow primer and under eye concealer, set the eye area and absorb any oil or sweat with a dusting of mattifying powder using a small eye shadow brush.
Set your eyeliner by applying a coordinating shade of powder shadow right underneath your liner to keep it from smudging.
Avoid applying rich or heavy eye creams in the morning since they can make makeup run. Apply a lightweight eye gel or skip eye cream all together in the am.
Lasting Power
No matter how high the temperatures are soaring, with the right products and application you'll have perfect eye makeup that lasts all day or into the night.