Fun and Vibrant Sparkly Makeup Ideas
Sparkly makeup is ideal for a party or special occasions where you're striving for a glamorous, standout look. From embellished eyes to gorgeous glittery lips, there are many options to try.
Eyes
The best way to draw attention to your eyes and further accentuate them is to use a touch of sparkle.
Classic Glitter
This eye makeup aesthetic is the conventional way you can use glitter to dress up a simple outfit for a night on the town or work party. You can either coordinate the color of your glitter eyeshadow with your outfit or make it completely clash depending on the vividity of the look that you're going for.
Apply a glitter powder eyeshadow as a base over each eyelid and in the creases.
Apply an eye glitter primer to prepare your eyes for loose glitter and help it stick.
Use a damp fluffy eyeshadow brush to apply loose eye glitter over each eyelid and in the creases.
Finish off this classic glittery appearance with a few coats of black mascara, bronzer on your cheeks, and a nude lipstick.
Fun and Colorful
To put a pop of color on a smart casual outfit in a dark or neutral color palette, consider this striking yet feminine eye makeup idea.
Apply a glittery pink cream eyeshadow across each eyelid, in the creases, and just underneath your bottom lashes.
Grab a metallic purple eyeshadow pencil and line the top of each lid just above the lashes. Proceed to line the bottom of each lid just underneath the lashes from the middle to the outer corner only.
Put on some eye glitter primer just above the crease of each eye and around the outer corner towards each temple.
Apply face glitter in a multitude of hues and shapes on top of the primer.
Apply several coats of black volumizing mascara across both your top and bottom lashes.
Keep the rest of your makeup simple to let your stunning eyes take center stage.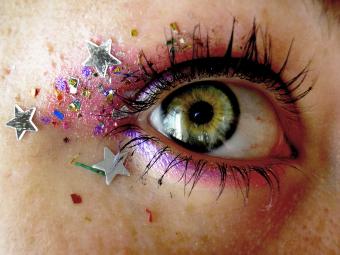 Lips
If you want to turn heads for all the right reasons, you can put an extra bit of shine on your lips.
Party Glam
Invest in a lipstick that has glitter in it to make a serious style statement. However, if that's not bold enough for you, you can opt for loose glitter on your lips instead.
Apply a lipstick hue that is close to your loose glitter color as a base.
Put on a glitter lip primer over your base hue.
Use a damp lip brush to apply the loose glitter.
For an alluring, daring aesthetic, combine your glittery lips with metallic eyeshadow and a contoured face. Alternatively, if you want to keep the focus on your lips, consider minimalistic makeup for the rest of your face.
Cheeks
For a more understated makeup look, you can add some sheen to your cheeks.
Subtle Glitz
The easiest way to achieve a subtle, glitzy makeup aesthetic is to use a powder blush with a hint of sparkle.
Apply your foundation and concealer as normal.
Grab a universally flattering peachy-pink cream blush and apply it to the apples of your cheeks. Blend well.
Use a large powder brush to apply the blush to your cheekbones, your chin, and each browbone.
You can also use a rose pink glittery eyeshadow cream on your eyes and a plum pink lip color to complement your blush for a pretty and cohesive appearance.
Festival Ready
To achieve youthful and funky makeup, which is perfect for a festival or music event, grab yourself some loose face glitter.
Apply your foundation and concealer as normal before putting a hint of bronzer underneath each cheekbone.
Use an eyeshadow in one sparkly color and eyeliner in a contrasting sparkly color to make your eyes pop.
Put on a metallic lipstick in the same hue as your eyeliner.
Apply a metallic eyeshadow cream to your eyebrows using a damp eyeshadow brush to define them.
Use a face glitter primer on the top of each cheekbone, on the sides of your forehead, and along the top and bottom of each brow. Then proceed to apply the face glitter over the primer. You can even take it into your hairline to enhance the look.
As this makeup idea is all about the drama, use bright and vibrant eyeshadow and lip colors that are sure to wow.
Getting the Look
Sparkly makeup isn't for the faint-hearted, but it can be a really beautiful and quirky alternative for special occasions. All you need is confidence to be able to rock any one of these aesthetics, and it won't be long before you're attracting compliments.