If you're in the market for a blue lipstick for a costume, daily wear, or just for the occasional fun new spin on your look, you'll want something that offers smooth, non-patchy coverage, in either a sheer or opaque finish, that lasts for hours. Skip the Halloween costume makeup and opt for one of these high-quality blues instead.
Top Blue Lipstick Shades
There are only a few lines that carry quality blue lipsticks. Luckily, there are still several shades of blue with fabulous textures out there, so you can find your perfect match based on skin tone, desired opacity, and how you want to wear it.
Lipstick Queen in Hello Sailor
Hello Sailor looks intimidating in the tube, at least for ladies who aren't ready to go for full-on, opaque blue lips. Even though it looks like a creamy medium blue it applies sheer, which is perfect for women with fair to medium skin tones who want just a tint. It's a sheer navy blue that translates into a pretty blue-tinged berry lip. Customer reviews on Ulta.com give this lipstick a 4.1 of 5 stars and customers report whiter-looking teeth, a beautiful lip shade, moisturizing capabilities, and a glossy finish. Expect to pay about $25.00. Get it at Ulta or Urban Outfitters stores.
Dolce & Gabbana Light Blue 185
Named after their incredibly popular perfume Light Blue, Dolce & Gabbana's light blue shade of Shine Lipstick (number 185) is perfect for the lightest of skin tones because it's such a pale, icy color. It has almost an ethereal feel with its iridescent finish. Fair skin tones can pull this off alone, but it may not show up on other skin tones very well as a standalone shade. However, it could be used to alter the shade of another lipstick. You can purchase this one at department stores that sell the Dolce & Gabbana beauty line, like Nordstrom, for about $35 per tube.
Beauty blogger The Sunday Girl likes that this lipstick is "comfortable, moisturising and a dream to apply" and says that it stays put even while eating or drinking. Beauty site Paula's Choice likes the "substantial" formula of the Shine lipstick line.
MAC Lipmix in Blue or Cyan
MAC Lipmix is an opaque cream that comes in a tiny squeeze tube (.34 fl oz). Blue and Cyan are both medium-range shades, with Cyan being slightly lighter and less of a true blue than Blue, but both shades are universally flattering. Customers recommend priming the lips with something that will erase the shade of your natural lips to let the blue stand out in its true color. Beautypedia, run by Paula's Choice, gave Lipmix three of four stars, saying this is a product that will mostly be appreciated by professional makeup artists who want a wide range of colors to work with, and suggests blending the blue shades with other colors to change the effect. Makeup by Itsuhyana is "completely pleased" with Blue and says it's opaque and easy to work with. Expect to pay around $15.00 per tube.
Ardency Inn Black Is Blue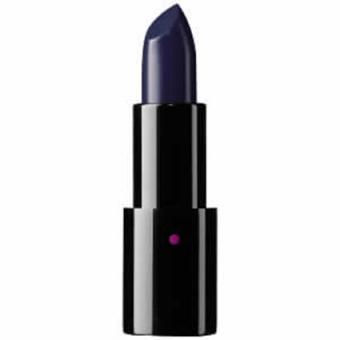 The Ardency Inn Modster Long Play? Supercharged Lip Color in Black Is Blue is a gorgeous blackened blue with indigo undertones. It will work well on any skin tone, from the very light to the very dark. Expect to pay about $25.00. The Ardency Inn lipsticks get a 4.7 of 5.0 stars on Sephora, and nearly 8,000 people have saved them as "Loves." This is the opposite of sheer - it's highly pigmented and intense. One customer said it can be anywhere from lavender to almost black, depending on how much you apply, which means it can be flattering on almost anyone.
Manic Panic Bad Boy Blue? Lethal? Lipstick
With great reviews on Amazon, the blue lipstick shade from the hair color line teens (and adults!) have used to add fun colors to their hair for decades has earned 4.4 of 5.0 stars. You can buy Bad Boy Blue?, a baby blue, there or from the Manic Panic website for around $15.00. This line is cruelty-free and boasts velvety shades that stay on for hours and moisturize the lips. Reviewers love the full coverage, long-lasting formula, and the unique packaging. Because this is such a statement color, it will look equally at home on light, medium, or dark skin tones, though it will look best on those with cool undertones.
Graftobian Professional Lipstick in Blue
The Graftobian Professional Lipstick in Blue may prove a bit harder to track down than some of the other shades, but you can find it at Camera Ready Cosmetics and Amazon.com for around $15.00. With over 130 reviews on Amazon, the Graftobian line has 3.7 stars. Customers love that the blue color applies smoothly and doesn't feel drying. They also say it lasts all day. This is a bold blue shade that will work well with most skin tones.
Ka'oir Lipsticks
There are so many fabulous blue shades within the Ka'oir line that it's impossible to pick just one. For example:
Ka'oir Doll is an extremely bright mid-tone blue, that's flattering on most skin tones that don't have strong yellow undertones.
Pool Party is a bright turquoise, one of the best blue lipsticks for warmer and neutral skin tones.
BLUmarine is a navy blue that is universally flattering.
Baby Bleu, a light, cotton candy blue, is best on light to medium skin tones.
Lip Lock is a periwinkle blue, perfect for any skin tone with strong cool undertones.
Rapper Teyana Taylor wears Pool Party, and Style Blazer includes Baby Bleu as one of their "7 Sizzling Blue Lipsticks To Rock The Street Style." You can expect to pay about $16.00 to $20.00 direct from Ka'oir or at Amazon.
Your Perfect Blue
Your perfect blue lipstick shade should be based on how you want to wear it. Is it part of a costume or something that needs to look flattering for everyday wear? Cool-toned girls can pull off almost any shade of blue but look especially nice in shades that veer toward purple, while warm-toned gals look best in shades closer to primary blue or turquoise. For a statement lip you'll need something creamy and opaque. Go for a sheerer shade if you only want a tint, hope to make your teeth look whiter, or if you plan to blend it with other colors. Once you know how your perfect blue shade will perform, it will be easier to find the right one for you.