Eye Shadow for Aqua Eyes
A beautiful cross between blue and green, aqua or turquoise is an original eye color. Certain eye shadow colors can help bring out the aqua, or enhance the green or blue undertone to make one of these shades appear more prominent.
To bring out your aqua eye color, a rich shade of aqua can make a dramatic impact. Reserve a bold pigmented shade for weekend wear; other times a lighter version of turquoise will emphasize in a more subtle way.
Salmon Eye Shadow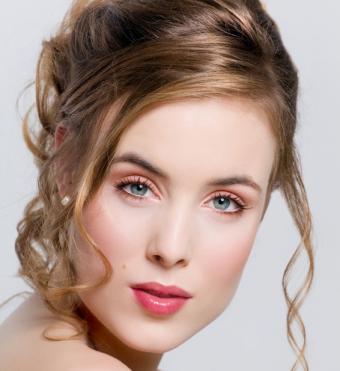 Most eye shadows in the red or orange family will really complement turquoise eye colors.
The idea of orange eye shadow can scare some women, but when it is done right, the effect is captivating on turquoise eyes.
To prevent a harsh look, always blend well when using orange-based shadows, which can prevent a bright shade, like the salmon shown here, from overwhelming the eyes.
Peach or Apricot
For a more natural look, a soft peach or apricot eye shadow can create a pretty frame for aqua eyes.
Even when going for a minimal look, add a coat or two of black-brown mascara to keep the eyes pretty and polished.
Dark Purple Drama
A smoky eye for the aqua-eyed gal looks stunning when done in dark shades of eggplant, purple, or plum.
This darker color is a pretty contrast against light-colored turquoise eyes.
Purple and Gold
For turquoise eyes, purple in the crease creates and intriguing effect, helping to bring out the green in the eyes.
Gold shadow to highlight creates a nice complement to the purple.
Rust and Brown Shades
A rusty brown is a rich, warm shade that can bring aqua eyes to life. A medium chocolate or other brown shade is a good choice to pair with a warmer color.
Together this duo creates a natural-looking style that makes the eyes appear vibrant.
Taupe and Blue-Grey
With a natural-looking combination of taupe and blue-grey eye shadow, the eyes look polished without looking overly made up.
These easy-to-wear neutrals work well for aqua eyes because the eye shadow shades don't compete with the eye color.
Emphasize the Green
To make the green in your eyes stand out, try a mellow sea green shade on both the top and lower lid. (Use less shadow and tighter application for a less dramatic effect).
Pair with a darker eyeliner shade to prevent the eyes from seeming 'lost' in the shadow.
Grey or Charcoal
Grey or charcoal eye shadow colors in the crease of the eye or applied for a smoky eye are a great choice for turquoise eyes.
It is along the lines of a more traditional smoky look or accent shade, but it is less harsh than black.
Celebrate Your Eye Color
With aqua eyes, you can make a dramatic impact with a rich aqua, green, or purple shade, or coordinate orange- or-red based shadows for a more subtle effect.
Bring out the green, play up the blue, or just keep it natural - but celebrate your beautiful eye color and experiment with different shades to find the colors you love.