Peaches and Cream
The best brunette makeup looks are those that work with your natural coloring. If you have a natural peaches-and-cream look, enhance that coloring with eye shadows that are sheer and creamy. Complete the look with gently colored cheeks and shiny, flesh-toned lipstick. This technique of following your skin tone will work perfectly whether you have a slight coral finish to your skin, a pink undertone, or a red one.
Bronzed Beauty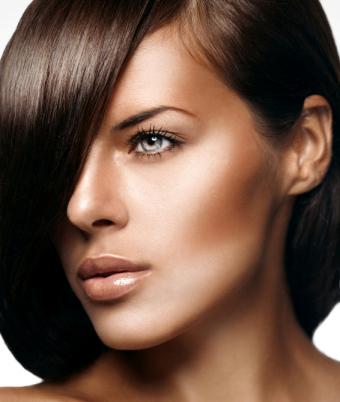 A bronze-based makeup look can look gorgeous on brunettes because rich but subtle neutrals can really complement the hair.The key to wearing bronzer well lies in making sure that the rest of your color palette stays within the same family.
Choose nutmeg shades of eye shadow and sand-colored lipsticks for your lips. Adding a few strokes of black mascara will also help your eyes to standout with this look.
Note that the bronzer you use will need to vary in color depending on your skin tone. For example, if you have a warm tone, look for a bronzer with a mauve undertone. Have a cool undertone? Then select one that has a blue, pink, or "cool" undertone for the best results.
Pink Blush and Neutral Eyes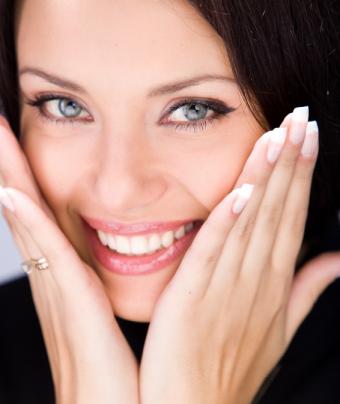 For many brunettes, a combination of pink lip gloss, soft pink blush and eyes gently lined in a neutral color looks naturally beautiful. Blush is key for brunettes because darker hair can sometimes make women look washed out.
This is a great look because it will help to impart a naturally fresh face (the lips and cheeks) that's feminine and romantic, while still helping the eyes to shine.
Chocolate Brown Eye Makeup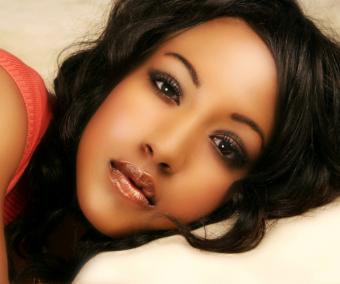 Rich chocolate brown eye makeup can look soft and striking for brunettes. To get a gorgeous doe-eyed look like this model, sweep a highlighter shade just underneath the brow bone. Then apply both a chocolate-colored eyeliner and eye shadow. Be sure to curl lashes, and top with a soft brown or black-brown mascara.
Top lips with an equally juicy lip color, and you have a beautiful, no-fail makeup look. Your eyes will be the stand out feature, and your lips will complement, not compete, with the rest of your makeup.
The Color Purple
Purple works wonders on a variety of eye colors including blue, hazel, green and brown eyes, but the reason it works so well with brunette coloring is because blue/purple falls on the opposite side of the color wheel from brown/red shades. It might sound complicated, but all that means is that the contrast will make your eyes pop.
Additionally, purple typically pairs best with pink or beige for lips Select the nude tone that works best with your skin tone.
Coral Lips
Coral colored lips pair well with brown eyes and brown hair. Coral is a shade of red, and because red sits very close to the color brown on the color wheel, these two shades typically mesh very well when paired together.
Use a softer shade of coral for day, and a more intsense version for a more dramatic evening look.
A Touch of Grey
Although grey is sometimes seen as a 'cool' color, it can work well for brunettes because it is actually an easy neutral and can work for most skin and eye colors. However, if you have a slight ashy undertone, or if grey just doesn't seem to suit your coloring, then consider an eyeliner in teal or evergreen instead.To create a pulled-together look, use eye shadow that has a similar tint as your lipstick (like the shimmery gold/orange the pictured model wears).
Rim eyes all the way around with liner, but keep the line on the thin side for soft definition. Curl your lashes and add a few coats of mascara to finish the look.
Smoky Eyes
Women with dark hair can pull off dramatic, smoky eyes well for evenings. Although black is the traditional color for the smoky eye, it can look harsh and other colors can be more complementary. Colors that can work beautifully with brown hair shades include deep indigos, purples, greys or chocolate hues.
No matter which the eye shadow color you choose, you'll look best if your pair those deep colors with a nude, flesh-toned lipstick.
Highlighted Beauty
If you have brunette hair with highlights, you can create a flattering look by using highlighting in your makeup as well for a pretty, pulled-together look. This model wears a slightly smoky eye, but the highlighter shades on the eye and and glossy light lips look gorgeous with the soft highlights in her hair.
(Tip: If you love this model's look, here's a tip. You can lift the entire shape of the face by applying your shadow at a slight angle. Use this technique to either match the natural shape of your eye, or if you have close set eyes, to create the illusion of wider eyes.)
Smoky Eyes and Pink Lips
If you prefer to use a basic black eyeshadow when creating your smoky eye look, be sure to keep the area under your eyes neat, and slightly linear. This will help to balance out the heavier application on the lids. However, note that this is a very dramatic look, and if you have equally dark hair, can actually look a bit overwhelming. While not always true, you will want to have some backup colors, like chocolate brown, blue, teal, purple, or even a deep green eyeshadow on hand, just in case.
Fuchsia lips and lip liner will only add to your mystique, and help to balance your strong eyes.
Romantic and Pretty
Pink and brown is a classically beautiful combination, so many brunettes can easily pull off pink lip colors. If you choose bold eye makeup with pink lips, it can still look soft, pretty, and romantic. The key is in blending the colors well so the finished look isn't harsh.
Choosing makeup colors isn't always easy, but brunettes look beautiful in many hues, from dark smoky looks to soft and natural colors.