How to Do a Pedicure
If you're like most women in today's world, finding ways to cut back on costs is essential; and understanding how to do a pedicure at home can help you have the soft, beautiful feet you crave at a fraction of the cost of a salon visit. Follow these easy steps for a perfect pedicure every time!
Step 1: Gather Your Supplies
Gather your necessary supplies and get ready to pamper your feet!
Basin or tub for soaking feet
Pumice stone or other
Nail brush
Orangewood stick
Toenail clippers or trimmers
Nail file
Dry towel
Nail polish remover and cotton balls if needed
Optional supplies include: Foot salts or soak, foot scrub, lotion, nail polish, base, and top coat, and cotton balls or toenail separators.
Step 2: Fill Basin and Prep Feet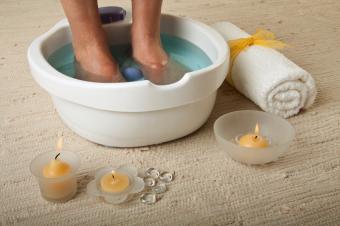 Multitasking works even when it comes to pedicures! While the basin is filling with several inches of warm tap water, remove any old polish, then trim and file toenails. (Add foot salt or soak mixture to the water if desired).
Allow feet to soak for at least 5-10 minutes, longer if you have stubborn callouses.
Step 3: Clean Nails and Feet
Using a small nail brush to clean any debris from under the toenails. If you are opting to use a foot scrub, apply at this time and massage gently onto the skin of the feet, paying special attention to rough, dry areas. A small brush can also help soften dead skin for removal.
Step 4: Remove Dead Skin
Next, use a pumice stone or other callous remover to remove dry skin and callouses from problem areas. Heels, balls of the feet, and large toes are problem areas for many women.
Step 5: Rinse and Moisturize
Rinse your feet to remove traces of pumice and dead skin, and then dry with a clean towel. Apply lotion and massage into your feet. (You can use a special lotion designed for the feet, or any gentle lotion will work just as well).
Step 6: Cuticle Care
Buy Now"
Once your feet are dry and moisturized, use the orangewood stick to gently push back the cuticles.
Step 7: Toe Nail Polish Options
At this point, many women opt for a clear polish -- that makes for a quick, easy pedicure and soft, healthy feet.
However, you can go a few steps further for truly sensational pedicure....
Step 8: Toenail Base Coat
Buy Now"
If you choose to go further for a sensational pedicure, start with a base coat to fill in ridges and imperfections in the nail and help nail polish adhere.
Step 9: Add Color
Once the base coat has dried, choose your desired color of nail polish, and apply two coats of the chosen shade. (Allow polish to dry between coats.)
Step 10: Apply Toenail Top Coat
Lastly, once the toenail polish has dried, apply a top coat to protect and preserve polish color and make your pedicure last. You can also choose toenail designs such as creative nail art, crystals, or other fun additions to add to your nails.
That's it! Now that you know how to do a pedicure at home, you can keep your feet looking beautiful all year round.