Trendy Monochromatic Makeup Looks
In the beauty world, monochromatic refers to the makeup technique where you use one color across your eyes and lips to create a standout effect. Ideal for matching with a dress in a singular hue or making a color from your outfit pop, monochromatic makeup is easy to implement once you know how.
Contrast Color With Fair Skin
If you have a light or pale complexion, opt for rich shades that will serve as the perfect contrast.
Pretty in Pink
To get this cute and simple every day look, invest in a lipstick, eyeshadow, and blush in a rosy pink hue.
Dark Soul
Create a daring, dramatic appearance for a dressy occasion by experimenting with black metallic eyeshadow and lipstick.
Apply your face makeup and eye primer as normal.
Grab an eyeshadow powder like Anastasia Beverly Hills Eye Shadow Singles in Noir and use a flat applicator brush to sweep it over both eyelids. Then, starting at the center of your upper lashes, draw a line at a 40-degree angle towards the outer end of your eyebrow. Afterward draw another line from the center of your lower lashes to meet the outer end of your eyebrow. Proceed to fill in both lines with color.
Apply a lipstick like Urban Decay Vice Lipstick in Voodoo as the final touch.
Medium Skin Tones
Medium complexions are fortunate to suit both deep, rich shades and light, washed out hues.
Bronzed Babe
This metallic bronze aesthetic is subtle yet glamorous and ideal for work or play.
Apply foundation, concealer, and eye primer as before.
Use your forefinger to apply a cream eyeshadow, like Revlon ColorStay Creme Eyeshadow in Caramel, across both eyelids, in the creases, and just below your waterline.
Grab a black liquid eyeliner, like Kat Von D Tattoo Liner, and draw a line just above your top lashes from the inner to the outer corner. Repeat just under your bottom lashes and proceed to apply several coats of volumizing mascara.
Use a medium-sized, fluffy brush to apply a bronzer, such as Bare Minerals Bronze Powder in Fair to Light, just underneath both cheekbones to define and frame your face.
Finish off the look with a lipstick like NARS Satin Lipstick in Blonde Venus.
Sultry Coffee
Browns and neutrals are particularly striking on medium skin as they are very complimentary.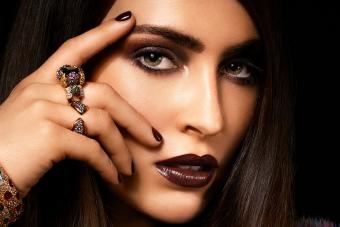 Apply your face makeup and eye primer as normal.
Grab a metallic coffee eyeshadow shade - like Lancome Sensational Effects Eye Shadow in Smokey Brown - and sweep it over your lids, up to your brow bone, and just underneath your waterline.
Use a dark brown eyeliner pencil to line your upper and lower lashes and then apply mascara to accentuate your eyes.
Use a small eyebrow brush to apply powder, like the Anastasia Beverly Hills DIPBROW Pomade in Medium Brown, to your brows for enhanced definition.
Finish off this stunning look with glossy coffee brown lips like Too Faced Matte Liquid Lipstick in Melted Chocolate Cherries.
Deep Complexions
Dark skin tones work well with both light and deep shades; however, choose rich neutrals, purples, greens, and metallics to make the ultimate impact.
Gold Glam
This metallic gold look is perfect for a smart casual or formal event when paired with your best party dress.
Apply your face makeup and eye primer as normal.
Apply a liquid eyeshadow, like YSL's Full Metal Shadow in Dewy Gold, across your eyelids, in the creases, and just below your waterline. Then bring out your eyes even further with black, volumizing mascara.
Apply a corresponding lipstick, like the NYX Wicked Lippies in Mischievous, for a breathtaking effect.
Plum Surprise
A bit more understated for casual affairs, this plum purple aesthetic is seriously chic.
Apply foundation, concealer and eye primer as before.
Use a small, fluffy eyeshadow brush to apply a matte powder - like Bobbi Brown's Eye Shadow in Black Plum - across your lids, in the creases, and up to your brows.
Grab a black liquid eyeliner and draw a line from the inner corner of your eye to the outer corner. Flick out the ends at a 40-degree angle for a feminine, feline look. Apply several coats of mascara.
Contour your face with a highlighting and contour kit, like the Smashbox Step By Step Contour Kit, and apply a plum blush - such as Maybelline's Fit Me! Blush in Plum - on the apples of your cheeks using a large, fluffy brush.
Polish off your appearance with a lipstick like NARS Powermatte Lip Pigment in London Calling.
Experiment With Monochromatic Looks
There are many different monochromatic makeup looks that can help you make a serious style statement. Simply experiment to find out what works for you and your skin tone.