Frankenstein is a classic costume that can be done easily with makeup. There are simple techniques to use that will have you transformed in no time, whether you want to go with a classic Frankenstein monster look or a variation that is more creative.
Classic Frankenstein
Supplies
When planning a Frankenstein costume, be sure to have all the basic supplies on hand to create your look. You will need:
Green face paint or makeup
Setting powder
Black eyeliner
Red lip liner
Black and purple eye shadow
Purple lipstick
Makeup sponges and applicators
Instructions
To create a classic Frankenstein face, follow these simple steps:
Start off with a fresh, clean face so makeup adheres properly.
Apply green face paint to your entire face using either your fingertips or a sponge.
Use black eyeliner around your eyes making sure to extend it down towards your cheeks to create a droopy eye look.
Create lines on your forehead and around your mouth using the black eyeliner
With the eyeliner, make zigzags at the top of your forehead.
Use the black and purple eye shadow and shade the area under your eyes to create dark circles.
You can highlight your cheeks with the black shadow to create a hollow look as well.
Apply purple lipstick to your lips.
As a final touch, use your eyeliner to draw stitches on your face by making a straight line with short lines crossing it.
Add a few streaks of red lip liner near the stitches to create the look of blood.
Bride of Frankenstein
Supplies
You will need the following supplies to create the Bride of Frankenstein using makeup:
White and green cream makeup or face paint
Black liquid eye liner
Grey eye shadow
Black lipstick
Black nail polish
Sponge applicators
Instructions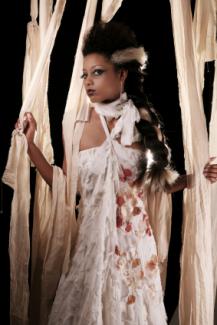 To create the look of the dark bride, follow these steps:
Begin by using a white cream makeup as your base. Apply this over your entire face.
Add some green makeup to a sponge applicator and apply it sparingly to your face to create a ghoulish skin tone.
Use liquid black eyeliner around both eyes and dark shadow to make them stand out.
Instead of rosy cheeks, use grey eye shadow to give your cheeks a sunken look.
Complete your look with black lipstick and black nail polish.
Young Frankenstein
Supplies
To create the look of a young Frankenstein, you will need the following:
Green, yellow and white makeup
Black eyeliner
Purple, blue and grey eye shadow
Dark purple lipstick
Fake blood or red lip liner
Instructions
To begin creating you look:
Apply green makeup sparingly to your face.
Highlight areas of your face with the white and yellow makeup then blend into the green.
Use black eyeliner around each eye and create an extended line beyond each eye.
Use purple eye shadow on each lid.
Use the grey and blue eye shadow to contour your cheeks.
Apply purple lipstick to your lips.
Create several scars using the black eyeliner then apply fake blood to each scar.
Monster High Frankie Stein
Supplies
To create the look of the trendy ghoul from Monster High, you can either purchase a kit or use the following supplies:
White, green and blue cream makeup
Blue and green eye shadow
Red lipstick
Black eyeliner
Dark brown shadow
Sponge applicators
Instructions
To apply your Frankie Stein makeup, follow these simple steps:
Cover your face with white cream makeup.
Using a sponge apply the green and blue makeup until your entire face is covered.
Blend all colors together. You should end up with a lighter blue-green shade.
Highlight your cheeks using the green shadow.
Apply dark blue shadow to your eyelids creating a cat eye appearance.
Apply light blue shadow to your brow bone.
Apply dark brown mascara to your lashes.
Use dark brown shadow to darken your brows and make them look straight.
Apply red lipstick to your lips.
As a final touch, create a single stitch scar to your cheek using the black eyeliner.
Frankenstein Makeup Kits
Frankenstein makeup can be both fun and scary making it perfect for Halloween. You can find makeup kits designed for Frankenstein at most costume and Halloween stores as well as at discount and drug stores during the Halloween season. A basic Frankenstein kit contains everything you need to create a Frankenstein look including a palette of makeup, fake scars and applicators.