Makeup is transformative. One day you can look polished and put together, and the next, downright terrifying. If you're looking for a creative makeup look, you can transform yourself into a broken china doll with a few makeup essentials. This is the perfect makeup look for a Halloween event or unforgettable costume party.
Products You Will Need
This doll-inspired makeup is fantastic because it is both sweet and spine chilling. The pale skin, wide eyes, and cracked porcelain are guaranteed to make you look spectacular at your next social event. For this broken china doll creation, reach for the following:
Face Essentials: Moisturizer, primer, foundation, concealer, powder, and bronzer
Eyebrow Must-Haves: Eyebrow pencil and powder. Optional: brow gel
Eyeshadow: Plum, white (shimmery finish and matte finish), and dark purple
Eyeliner: Black and white pencil liner and black liquid liner
Eyelashes: Mascara, lash glue, and false eyelashes
Cheeks: Bright pink blush
Lip Products: Nude lip liner and light pink lipstick
How to Create a Broken China Doll Look
Now that you have your essentials on hand, it is time to get creative. Before long your inner doll will be ready to take on the world.
Start with Doll Skin
To begin, moisturize and prime your face. Allow the products to settle into the skin before adding on your foundation. Use your normal shade or go one shade lighter to give yourself that porcelain doll finish. (Another option is to use a white face paint, like the Snazaroo classic white, for a creepier look.) Cover up redness, blemishes, and under eye circles with your concealer.
Contour the Face
There is nothing more powerful than a good contour. Grab a small contouring brush and some bronzer, and apply product around the forehead, along the sides of your nose, and under the cheekbones. This will give you added definition. Set all of your face products with a large fluffy brush and a translucent powder.
Exaggerate Your Eyebrows
When it comes to the brows, it is okay to be dramatic for this china doll look. You want to exaggerate the natural brow shape in order to mimic the appearance of perfectly arched doll eyebrows. Start by filling in your brows using a pencil that is a shade lighter than your hair color. Then create a slightly higher arch and extend the ends. Set with a brow powder or brow gel for extra strong hold.
Draw on Cracked Porcelain
Here is where the fun really begins. This is your chance to draw on those cracked sections of broken porcelain. To get started:
Use a black liquid eyeliner or cream eyeshadow. If you are nervous about creating cracks, start by using a stencil. This will help you create the shape you want quickly and easily.
Another option is to freehand it, using a black pencil liner to map out your cracked sections. (Take a look at this YouTube tutorial for inspiration.) Go over the lines with black liquid liner for a more dramatic and long-lasting appearance.
There are no set rules on placement. Get creative and use your imagination. Aim to balance the cracks around your face so your makeup looks flawless from every angle.
Get Large Doll Eyes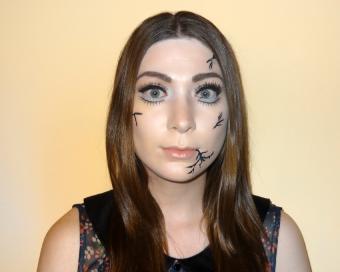 A gorgeous wide-eyed look is in your future. To create doll-inspired eyes:
Use a warm eyeshadow shade (like a soft plum) in the crease and blend out using a fluffy shadow brush.
Pat a white shimmery shadow on the eyelid and under the brow bone using a flat brush.
Deepen your crease with a dark purple shadow and a pencil brush.
Add white eyeliner to the inner corners of your eyes and underneath the lower lash line. (Bring this down further than you normally would. It will make your eyes appear larger and more exaggerated.)
Go over the white liner with a matte white eyeshadow to make the color bolder.
Line the upper lash line with black pencil liner, creating a soft wing at the end.
Coat your upper lashes with mascara. Then take a pair of false lashes (ideally you want them to be long and fluttery so they look as doll-like as possible) and coat the band with lash glue. Wait for the glue to become tacky before applying.
Use natural looking lashes underneath the eyes. Apply them just below your lower lash line where the white eyeliner stops. Flip them so the lashes are turned out instead of up. Your eyes will instantly look bigger!
Perfect Your Cheeks
Grab a bright pink blush from your makeup collection. Dot it on the apples of the cheeks using a large fluffy brush. Just remember, it's okay to be heavy handed here, as most dolls have very rosy cheeks.
Focus on the Lips
Line your lips using a nude lip liner and exaggerate the shape. By making your lips a little rounder on top and slightly larger on the bottom, you can achieve pouty doll lips . Finish it all off with a bright pink lipstick.
Add on Finishing Touches
You are almost ready to show off your makeup look. Before you do, think about those final touches. This is your chance to add on extras. It might be a bow in your hair or a wig with picture perfect ringlets. Another option is to make this look extra creepy. To do this, add on running mascara, further exaggerate the cracked sections, add on fake blood, or put in colored contact lenses. There are many options, so unleash your creative side and come up with a look that suits your style.
Turn Heads with Your Doll-Inspired Style
Whether you are gearing up for a Halloween event or a themed party, you are guaranteed to wow with this broken china doll look. Creative, unique, and easy to customize for your personal style, it's a fun costume look for any occasion.