Creating a French Pedicure
A French pedicure is a beautiful toenail style ideal for a summer holiday or special occasion. Whether you're in search of artistic inspiration for your own tootsies or you just like checking out toenail designs, the following pictures showcase a diverse range of looks.
Long and Luscious
Firstly, if you want to make your French pedi stand out, simply make sure that your toenail length is reasonably long. It's better to have very long toenails that can be easily shaped and polished by your pedicurist than not have enough length to play with!
Rounded French
A French pedicure with rounded tips is a no-fuss design for those who prefer function over fashion. The curved lines perfectly contour to the shape of your toes to create a simple, natural aesthetic.
Natural and Subtle
For those who want their French pedicure to look like they haven't had one, this subtle style is perfect for you. Ask your pedicurist for short French tips in a thin line and minimal filing for a swift, no-frills design.
Sharp and Square
For a more glamorous look, consider sharp, square tips for your next French pedicure. Make sure that nail length is quite long and the tip line is reasonably thick. Then, pair your pedi with sandals or flip-flops so that it stands out for all the right reasons.
Meticulously Matte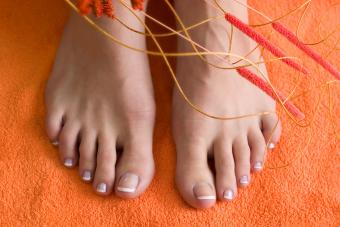 If you're looking for a French pedicure that will purely keep up with your toenail maintenance without appearing too overdone, you can opt for a stripped-back matte design. Simple yet stylish, it looks chic in an understated way.
Glossy French
If a matte aesthetic merely isn't your style, opt for a glossy finish for your French pedicure. You can achieve this by asking your pedicurist to apply a shiny topcoat at the end of the process or use a glittery toe polish at the very beginning. Tres chic!
Gemstone Toe Rings
If you're searching for ways to jazz up your French pedicure, consider jewels, decals, and multiple toe rings. Gemstone toe rings are the perfect accessory for a special event where it's considered the norm to embrace your inner maximalist. They're also great for adding a pop of color to an outfit through the variety of gemstones available.
Multiple Toe Rings
Multiple toe rings consisting of a simple band look particularly striking with a French pedi if you're on the beach or around the pool on vacation. You can also team them with an ankle bracelet to epitomize summertime cool.
Toe Ring Dress Up
Another way to utilise toe rings to compliment your French pedicure is by picking out a glitzy style that will dress up your outfit for a special occasion. Sometimes just one sparkly toe ring in silver, gold, or rose gold can have the desired effect; however, feel free to add further adornments to amp up the drama.
Skin-Colored French
If you have a classic fashion style and prefer a pedicure that looks neat, yet low-key, try a skin-colored French style. To create this, your pedicurist will need to use a toe polish that's the same shade as your skin tone or slightly darker for a more prominent aesthetic.
Ivory French
Heading to the beach or some place where you might tan? Consider having an ivory-hued French pedicure that will pop as soon as your skin starts to color in the sun. To amp up the drama, opt for a glossy top coat or glittery toe polish.
Pink French
If you're searching for a feminine French pedicure that you can team with a gorgeous skirt or dress to make passers-by stop and stare, try a pastel pink toe polish. Whether this is has a sheen or is more matte, it's guaranteed you're going to look pretty in pink.
Decorative Gems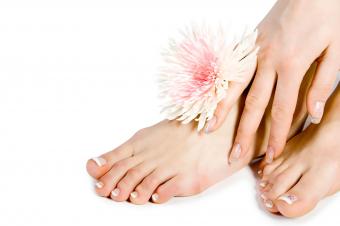 Using decorative gems is a great way to add a splash of color to your sophisticated French pedi. If you want to go full-on fabulous, why not adorn each toe with at least one gem? Alternatively, stick to decorating your big toe with silver or gold gems for a classy, eye-catching look.
There are plenty of French pedicure designs you can adopt for an elegant, refined aesthetic. Merely try out different options to find what works best for you and your personal style.