Pretty Eye Makeup Looks
Although what constitutes pretty eye makeup is subjective, there are several techniques and types of eye makeup typically characterized as pretty, rather than dramatic, glamorous, or other styles.
Features of a pretty style include soft or neutral colors, an emphasis on the natural beauty of the eyes, and application styles that are blended rather than sharp or harsh.
Soft and Shimmery Eye Makeup
Pale, pastel colors and shimmery eye makeup formulas can create a pretty look. Peach or pink shades look flattering on many skin tones, and a slight shimmer draw attention to the eyes in a subtle way.
Keep the rest of the face done in soft, natural colors to keep the look balanced.
Add an Accent
Although most pretty eye looks aren't too dark, you can use a medium to dark eye shadow color to create an accent.
Applying shadow to the crease and blending it slightly up and out will draw attention to the eye, but is not an overly dramatic look. You can also apply a tiny bit of shadow to the lower lid to create a slight "v" that frames the eyes.
Pretty Eyeliner
Eyeliner can really help to define the eyes and make them look beautiful.
For a soft, pretty eyeliner look, use a kohl eye pencil to line the top of the eye in short, small strokes, and then blend the line together. Lining the lower portion of the eye is optional, but again blend well for a soft look, and don't line any farther than three fourths of the way in on the lower eye.
Eye Highlights
Eye makeup done in neutral hues is always pretty, but adding highlights to the eye area can really add to the look.
Use a nude or cream tone eye shadow and add highlight to the inner corner of the eye and the browbone to open up the eye and make the eyes appear larger and more awake.
What could be more pretty than a fresh, bright-eyed look?
Barely-There Eye Makeup
The natural beauty of your eyes can shine through when you use a light, natural makeup approach.
To achieve an eye makeup look that accentuates the eyes very naturally, use a nude eye shadow on the upper lid in a shade one or two shades darker than your skin tone.
Sweep a very thin line of light brown or golden-brown eye shadow under the lower lid. Finish with a brown or clear mascara.
Keep It Soft
Neutral shades, as seen here, can look beautiful and soft.
A natural eye done in neutral shades will look great with anything you wear.
This is a great every day look that can be worn to work or out with friends.
Fresh Colors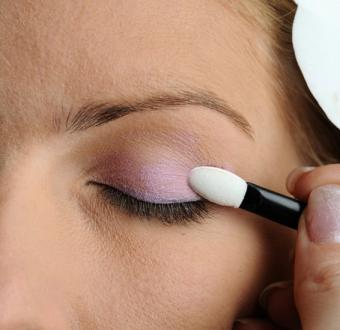 Keeping it fresh does not mean avoiding color.
A pale pink or lavender shadow, such as the one in this photo, can look fresh and natural.
Lush Lashes
Even minimal makeup looks pretty with long, lush-looking lashes.
If you aren't blessed with naturally long lashes, make sure to curl them before applying mascara, and use a lengthening formula with fiber to extend eyelashes more than traditional mascaras.
Many new mascaras also contain nourishing conditioners or proteins designed to foster the growth of longer lashes.
Cheerful Eye Shadow
If you're tired of using neutral eye shadows, using a colored eye shadow such as blue, turquoise, or purple can look cute and cheerful.
To keep the style pretty rather than dramatic, choose a color that is bright in hue rather than dark.
Soft Smoky Eyes
The smoky eye is a classically sexy eye and defined by smudged or blended shadow and liner on the upper and lower eye.
Although a traditional smoky eye uses black or dark shadow, you can create a prettier version of the look by using soft brown, grey, or even purple eye makeup instead.
Using less product on the lower lid also creates a cleaner, softer version of the look that is more appropriate for everyday wear.
Natural Is Not Boring
You can look natural without being dull if you apply your eye makeup right.
Make your eyes pop with a touch of shadow, liner and mascara. Keep it toned down for the day and go a bit more bold for night.
Pretty and Polished
Look pretty and polished for any situation by using a soft or neutral eye shadow in peach, rose, or cream, soft black eyeliner on the top lid, and two coats of mascara.
Whether you choose to accent the eyes with a pretty color, show off eyes with a soft shimmery shadow, or use blending techniques to create a romantic look, there are numerous ways to create pretty eye makeup looks. Have fun experimenting!