Kate Walsh's Spring Beauty Tips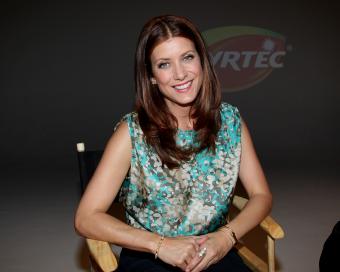 Makeup and springtime allergies seem like they just can't get along, but those bright colors and flirty lashes should not have to sail by without every woman having a chance to try them out. Kate Walsh teamed up with beauty expert Rebekah George and Zyrtec to discuss tips for looking your best despite the allergies. LoveToKnow had the opportunity to speak with Walsh about her tips for looking great when it seems the world has other plans for you, whether it's allergies or long work days.
Kate's Beauty Tips for Surviving Spring
Beating Allergies Beautifully
LoveToKnow (LTK): What are some of the tricks you've picked up for looking great, even when your allergies are going nuts?
Kate Walsh (KW): Rebekah George taught me that you can use coffee grounds--put them under your eyes--to help with the puffiness, which I love. I've been taking Zyrtec for my allergies because it's the one thing that's actually worked for me and why I got involved in the campaign with them. It was awesome to team up with Zyrtec and I love the whole beauty angle because when I go to work, my makeup artist is challenged with dealing with the kind of puffiness [allergies can cause].
Some of the tricks that she uses involve:
Shadowing and contouring, but also a yellow tinted concealer under the eyes and around the nose; it helps to offset the chapped skin around the nose.
I also like to use a bright lipstick, which is kind of big for spring anyway. It just detracts [from the allergies] and brightens up the face. I've been into kind of orange and pinky-orange and coral lipsticks.
Stay Hydrated and Moisturized
LTK: Are some of these tips the same for looking good when your workday's about five hours too long, or do you have a separate set of tips for looking refreshed all day?
KW: Drink plenty of water. That's a big one for me. Keeping hydrated, inside and out. Lots of people always say, "Drink lots of water!" but it really is true and sometimes if you're feeling puffy, too, drink water with a little lemon in it. It's also a natural diuretic if you feel a little puffy, and that's a great way to help. I also use more moisture, extra moisture. Facial moisturizers [are important] during allergy season.
Bright Lips
LTK: You mentioned pinky-orange lips earlier. Is that your favorite spring beauty trend, too?
KW: Yeah, I'm loving it. Tom Ford has this lipstick called Wild Ginger, but there are so many great shades out there. I like sheer lip stains, too, and more opaque lipstick. They're just beautiful. I'm loving pops of color everywhere, with the blocking and the bright yellow pumps. I'm just loving it.
Makeup Removal for Allergy Season
LTK: What do you use to remove your makeup at night?
KW: I use facial wipes and there are a couple different kinds that I use. I use the kind for sensitive skin, during allergy season particularly. For eye makeup, I don't like oil-based eye makeup remover. I think it's a holdover from when I used to wear contacts. I just don't like having an oily film around my eyes; it just feels blurry. What I use [Koh Gen Do - Cleansing Spa Water] is really gentle, which is great during allergy season.
Walsh also loves Kate Somerville's products. She says, "I'm obsessed with her--her exfoliating stuff, her whole line--I have used it for the past several years; it really works."
Less Really Is More
LTK: How has your attitude toward makeup and beauty in general changed over time?
KW: I think less is more. You know, and that was the same sort of tip that Rebekah George had, the expert on the Zyrtec allergy campaign. She said that people, when they have allergies, think they need to wear more makeup, to combat the allergy face. But actually less is more, not putting so much eye makeup on--just a little bit of mascara. That would be my thing, personally and for allergy season. I mean, I love makeup and products. I have a photo shoot this week. High fashion makeup is beautiful. But in general, I think less is more. A little bit of blush, a little bit of mascara, some lip balm, some lip stain if you want it. That's sort of the way I like it.
LTK: How does your normal everyday makeup differ from Addison's on Private Practice? What do you like to wear on days off?
KW: Well, it's so different because you know when you're on TV, you just have to wear more. So when I'm out in the world, I don't wear makeup. I try not to because most of the time when I'm working. When I've worked all week here in New York, I've been in hair and makeup every single day, so I'm not wearing makeup. When I don't have to wear makeup, I usually don't. I stay super-hydrated with emu oil and I use a lot of Kate Somerville products because a lot of her stuff really works for me, and then sunscreen and lip balm. That's what I rock when I'm not working.
Boyfriend Plans for Kate Walsh
LTK: Can you tell me a little about the inspiration behind your perfumes? I love Boyfriend! I haven't had a chance to try out Billionaire Boyfriend yet, but it sounds amazing.
KW: Well, I'm glad you liked Boyfriend. That was inspired by an idea I had a few years ago, and I didn't do anything with it because I didn't want to do just another celebrity fragrance. I thought the market was saturated. The perfume is based on the idea of a guy's scent on a girl's skin. [The original idea] wouldn't leave me alone and I couldn't find what I was looking for out there because it wasn't a men's fragrance or a unisex one. The story just wouldn't leave me alone.
I knew if I was going to do it, I wanted to make the company mine and be in control over all the aspects--everything from the fragrance to the packaging. So I started the company and worked with a great perfumer, and I have great packaging designers that I work closely with. Billionaire Boyfriend is a totally different olfactory category [than the original Boyfriend]. We call it oriental floral, because it's a big, beautiful floral with orange and bergamot for top notes. It has this tuberose and gardenia in the middle and then it dries down to a little vetiver and sandalwood. I just love it and I love the whole idea. It sounds luxurious and delicious and I just love the idea.
LTK: What's next for you in the beauty world? Another perfume? Cosmetics?
KW: Yeah, I hope to. When I started the company, my vision was--and is--to start a lifestyle brand, so I do have the trademark. I'd like to branch out to beauty and jewelry and clothing. Way down the road or maybe not so far down the road, I see a Boyfriend store. That would be my dream. In the interim, I plan to put out a new Boyfriend every Valentine's Day, each from a different olfactory category.
More Beauty Tips from Kate Walsh and Rebekah George
When Kate Walsh and Rebekah George teamed up with Zyrtec, they made a video chock-full of tips for surviving allergy season, like how to clean your brushes to get rid of allergens, when to get rid of your makeup, using a highlighting product to wake up your skin, applying a copper-toned bronzer to counteract redness, and a few skin care tips for treating the dry skin that often comes with allergies. Survive spring allergies with these celebrity tricks to stay beautiful all season long.