The best drugstore lipstick combines rich pigments, creamy consistency and staying power. Once reserved for impulse purchases when you wanted to try a trendy new shade, but didn't want to invest in a pricey prestige lipstick, drugstore cosmetics brands now contain high-quality ingredients and perform very similarly to their more expensive counterparts. Drugstore lipsticks often rival those found in the department store because they offer deep color payoff, a large shade selection and benefits such as moisturizers and sun protection.
Drugstore Versus Department Store
One of the main reasons department store makeup is much more expensive than drugstore makeup is that the more expensive formulas tend to be more pigmented and deliver richer color. High-end lipsticks are also frequently long wearing and contain lip conditioning ingredients such as shea butter. Luckily the best drugstore lipsticks are high-quality, richly pigmented and have an extensive shade range to suit any color preference.
Select Your Finish
The first thing you want to do when searching for a drugstore lipstick is to determine what type of finish you want to achieve. Examples of lipstick finishes include matte, sheer and satin.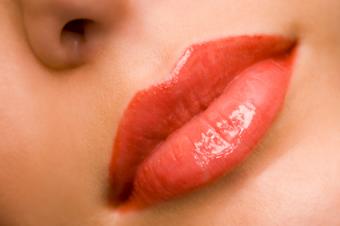 A matte finish is a full coverage finish that is free of any shine or gloss. Matte finishes can sometimes make lips look dry and flaky. To pull of a matte look, It's best to make sure lips are freshly exfoliated and well moisturized.
A sheer finish allows your own lip color to peek through slightly. If you're unsure about choosing a bold color, such as red, a sheer finish lipstick is a good choice because it looks more like a tint than full coverage color.
A satin finish is the finish of many popular lipsticks because it provides rich color with a natural sheen that's not too shiny or glossy, but isn't completely matte.
Color to Suit Day and Night
While it's always nice to play with color and take makeup risks, certain lipstick shades are better suited for daytime and work. When searching for the best drugstore lipstick look for shades such as pinky nude, rose and sheer cherry for a chic day look.
Evening lipstick shades can be more bold and dramatic such as brick red, wine and deep berry. One thing to keep in mind when choosing a bold lipstick shade is to keep the eye makeup subtle, so the two don't compete against each other. When you wear a dramatic lip shade, stick to neutral golds, champagnes and beiges on the eyes.
The Best Drugstore Lipstick
Fortunately, there are several brands you can choose from to achieve the look you want without breaking the bank.
Maybelline
Maybelline New York Color Sensational lip color is a 48-shade range of pinks, plums, reds and naturals. The formula contains rich, crisp pigments that rival the more expensive prestige brands, but is very affordable at under $8. Nourishing honey nectar helps each shade go on smoothly and keeps lips hydrated throughout the day. Finishes include sheer, matte and satin.
Cover Girl
Cover Girl Continuous Color lipstick is the brand's classic, longwearing lip color collection that contains 42 shades of pinks, nudes, reds and plums. The moisture-rich formula contains vitamins A and C to nourish and condition lips and help the formula provide comfortable extended wear. You can even find your perfect shade by visiting Cover Girl's website and taking a brief quiz to get color matched.
L'Oreal
L'Oreal Infallible Never Fail Lipcolor Compact is a two-part longwear lip color system that contains a liquid lipstick and a conditioning topcoat. The collection contains 24 shades of pinks, neutrals, red and plums and provides 16 hours of extended wear. The liquid lipstick promises not to flake off or dry out and the conditioning topcoat contains marine collagen and vitamin E to protect lips and prevent moisture loss.
Rimmel
Rimmel Moisture Renew Lipstick SPF 18 contains 24 shades of pinks, mauves, reds and neutrals and contains SPF 18 sun protection, hyaluronic acid, collagen and vitamins A, C and E to moisturize and nourish lips. This moisturizing lipstick collagen promises to reduce lip dryness by up to 65 percent, according to the brand.
No matter which drugstore lipstick you choose, always remember to exfoliate lips with a soft washcloth before applying to ensure color goes on smooth and even.
Affordable Luxury
Whether you're looking to spice up your makeup wardrobe with a bold new lipstick, or trying to find a more affordable version of your department store staple, drugstore lipsticks offer rich color, lip-conditioning ingredients and an extensive shade range sure to suit even the most discerning beauty buff.