Grab your towel, throw on your flip flops, and don't forget your number one seaside essential - your makeup bag. Heading to the beach doesn't mean skipping out on beauty products or bidding farewell to your favorite bright hues. Instead, invest in water-resistant makeup with SPF protection that can endure the heat, sea, humidity, and sweat. Remember, the only thing that should be layered on thick is sunscreen.
Foundation
There are three vital things a beach-perfect foundation needs to deliver: protection, coverage, and longevity. Sunscreen is the most important element in protecting skin from the sun, and it is always recommended to apply a layer of sunblock before using cosmetics. However, foundation or tinted moisturizers with SPF most definitely will help. Web MD suggests checking labels and purchasing products with SPF 15 or higher. Opt for a foundation with light to medium coverage to ensure a non-cakey, non-drying finish. Since you will be occupied splashing around in the waves, playing volleyball, or simply relaxing, the last thing you want to do is worry about reapplying. You'll need a makeup base that is long-lasting and waterproof.
Benefit Hello Flawless Oxygen Wow Foundation: This brightening, oil-free liquid foundation builds light to medium coverage with broad-spectrum SPF 25 protection. Available in ten shades, the ultra-nourishing formula protects against environmental stresses, and contains vitamin C and E derivatives to prevent signs of aging. Named as one of Real Beauty's best face products for summer of 2012, this go-to also protects against free radicals and pollution.
Bronzer
There's nothing like hitting the sand as a bronzed, beach beauty. Capture a sultry summer glow by selecting a bronzer with a natural-looking, streak-free finish, as you merely want it to highlight your features and deliver a warm, sun-kissed complexion. Don't forget you'll be outdoors all day long, so choose a bronzer with SPF benefits to defend your skin. It looks best applied wherever the sun will be hitting your face. Apply along your cheekbones, on the sides of your forehead, and on your nose and chin.
Hourglass Superficial Waterproof Bronzer: Oil-free and long-lasting, this bronzer will most definitely stay in place when swimming or sweating. It blends seamlessly with the skin and is the perfect universal shade for all skin tones and types. Teen Vogue features it as one of their ten favorite waterproof picks.
Blush
Whether you are in search of a light, rosy pink or a deep coral hue, blushes come in an array of shades and formulas perfect for summer. With added benefits like sun protection or skin-balancing ingredients, you are certain to find a blush to your liking. Remember, the perfect blush application is all about placement. Ideally, you want the color to unfold onto the apples of your cheeks and along your cheekbones. There is such thing as too much blush, especially when preparing for an outdoor, daytime trip. One or two strokes usually forms enough color when using a high-quality, highly pigmented blush, but use your best judgment.
Physicians Formula Mineral Wear Talc-Free Mineral Airbrushing Blush SPF 30: This long-wearing blush provides a fade-free, flawless finish while delivering a radiant pop of color. It is free from fragrance, parabens, and gluten, as well as dermatologist tested, hypoallergenic, and non comedogenic. Great for the beaming sunrays and suggested by Paula's Choice, it contains titanium dioxide and zinc oxide, resulting in SPF 30 protecting the precious apples of your cheeks.
Cargo Water Resistant Blush: This silky formula glides on smoothly and offers a matte, long-lasting finish. It imparts a chic summer glow, layers well for added intensity, and is available in three cheery, beach-appropriate shades. Additionally, it withstands perspiration so you don't have to worry about reapplication when sweating in the summer heat. Elle says it's a "Best Sweat-Proof Makeup Essential."
Eyeshadow
Say goodbye to the smoky eye. During the summer, you want to complement your bronzed, beautiful skin with lightweight, shimmery shadow. Choose a cream shadow or cream-to-shadow for staying power and opt for neutral shades to brighten and define your eyes. Selecting a smudge-resistant and crease-proof formula is key, as you want the shadow to resist heat and perspiration and not get cakey on your lids. Helpful tip: to ensure long-lasting results, apply a primer first to keep your shadow perfectly in place.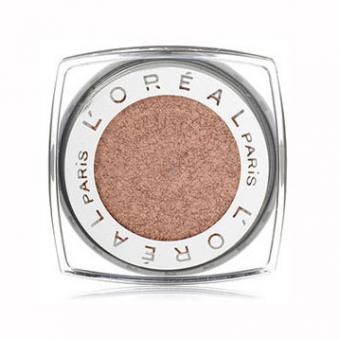 L'Oreal Infallible® 24 HR Eye Shadow: This brilliant, velvety, cream formula is fade-proof and waterproof, exactly what you need for the sun and the sea. Highly recommended by Allure Beauty because of its effortless application, the high-pigment hues are said to last up to 24 hours and are crease-resistant. Available in 24 shades ranging from pale pink to chocolate brown to aqua, you can create a variety of fabulous, beach-ready makeup looks. The Fairly Girly Beauty blog takes an in-depth look at the product and all the must-have hues, describing it as "extremely fade resistant and crease resistant".
Eyeliner
Eyeliner is an essential tool for improving or enhancing your natural eye shape. It is formulated to give eyes definition and make them pop. You can apply eyeliner to the inner or outer lids of both your upper and lower lash line. When selecting an eyeliner for your daytime beach trip, it is important to choose one that is waterproof, long-lasting, and color-true.
Stila Smudge Stick Waterproof Eyeliner: This intense, easy-to-apply, waterproof liner provides high-impact color and is sure to stay on all day long. Available in 11 vibrant shades including shimmery brown, navy grey, cobalt blue, and purple, it glides on smoothly and makes eyes stand out. Elle lists it as a beach beauty essential, saying that a kohl pencil is most definitely the way to go.
MAC PowerPoint Eye Pencil: Waterproof and long-wearing, this powerful pencil is easy to apply and is available in metallic, shimmer, and matte finishes. It won't smudge or budge and comes in ten must-have hues for summer.
Mascara
There's nothing worse than catching a wave and climbing out of the water with raccoon eyes. When you hit the beach, a waterproof mascara is a must. Glamorous volume, bold length, voluptuous curl, and intense separation are obvious necessities, but you'll need a mascara that is guaranteed not to smudge, or turn into a smeary mess. Opt for one that's smooth to apply, and a few simple coats should do the trick. When mascara is applied improperly, where the lashes are harshly clumped together (also known as spider lashes), it can have the opposite effect and create a fake and unattractive appearance. Experiment with different types of mascaras to get the results you crave.
L'Oreal Voluminous Waterproof Mascara: This lavish maximizing formula builds lashes up to four times their natural thickness for a full, dramatic look. Clump-resistant and fragrance-free, it wraps and seals lashes evenly and smoothly, producing eyes that pop. It is featured as a best beauty buy on InStyle, where makeup artist Jeannia Robinette states, "This mascara saved my butt on a beach shoot with crashing waves when I needed the lashes to stay put in water."
Lancome Hypnose Waterproof Mascara: This volumizing, waterproof mascara increases lash volume up to six times for 16-hour wear. The exclusive SoftShield formula is enriched with vitamin B5. It luxuriously coats the lashes and does not smear, smudge, or clump. Harpers Bazaar lists this must-have as one of the ten waterproof mascaras that they absolutely love - so you will too!
Lips
The final step to beach perfection: lips. To protect your pout while out in the sunshine, stay away from clear gloss. Pick one with a bit of color instead, since the pigment acts as a natural sunblock, or choose one with an SPF content. Quintessential lip colors include vibrant shades of pink, coral, tangerine, and cherry - and don't be afraid to go electric. Added hydration benefits and vitamin blends will help keep your lips from getting chapped or dry when out in the beaming rays. These lip-loving essentials are certain to complete your summer beach look.
Yves Saint Laurent ROUGE PUR COUTURE: Not only does this supreme lip color offer SPF 15, it comes in an array of 14 beautiful shades for surefire summer fun. Hues are highly pigmented, provide essential hydration, and produce a radiant, satin finish. Glamour Beauty lists it as one of 16 bold lip colors to try over summer, so why not try something new?
Kat Von D Everlasting Love Liquid Lipstick: This richly-pigmented, long-lasting lip color will make a statement at the beach. It stains lips with vivid color, from glitzy hot pinks to smoldering neutrals. The liquid formula goes on wet for smooth, precise application and then dries to a matte, velvety finish. Best yet, Elle lists is as one of the best sweat proof products, so you won't have to worry about it melting off into a puddle of intense color.
Beach Beauty
There's absolutely no reason to go bare-faced in your bikini when heading to the beach, but you also don't want to pile it on. When applying, be careful to add just the right amount for a subtle, glowing, beautiful yet somewhat natural look. Think bright, happy colors! Avoid heavy foundations, dark shades, and excessive amounts to keep it simple and suitable for the sunny season.