Acrylic Nail Designs Gallery
Wearing acrylic nail designs is a creative way to add fun or a little drama to your wardrobe. Some may prefer growing their own nails but wearing acrylic nails pre-painted with designs saves some time. Nail stylists say acrylics are easier to brush and paint because they offer a smoother surface than regular nails. Celebrate the seasons, a special event or show your unique personality by wearing these trendy nails.
Red and white swirled designs look nice on Valentine's Day or for a flirty look. Try a clear nail with red and white painted curlicues or petals.
Silver Decorated Nails
Extend your nails to long, sultry lengths. Tip the nails with silver polish and glitzy embellishments. Painted nails like this are ideal for wearing when you want some bling in your wardrobe.
Spiked Designs
Dress up spiked acrylic nails with starburst or flame designs. The center of the design should rest a little above the nail line and expand out to the tip. Start by keeping the nails clear for added effect.
Iridescent Fingernails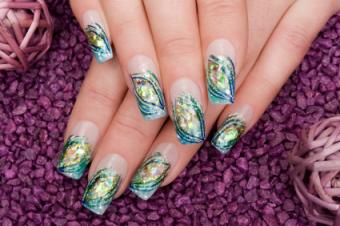 Unusual and enchanting, an iridescent nail style will attract attention. Create the iridescent effect by layering copper, gold and turquoise nail polishes.
Glamorous Half Moons
Black polish nail designs don't always have to look gothic. This trendy design combines the popular "half-moon" design with an overlay of floral style paintings. Add silver glitter to the nails for shimmer and shine.
Curved Florals
Celebrate summer with red tipped acrylic nails. Make the tips wide or thin, depending on your preference. On the base of the nail add white floral designs for a feminine touch. If red isn't your color, try fuchsia or magenta polish with this design.
Heart Embellished
Hot pink nails are always in style. This acrylic design combines this popular color with tiny hearts of a deeper pink. Add just one or two hearts to each nail or add several hearts to just one or two nails.
Painted Scenery
Some acrylic nails look like painted landscapes from nature. Have your nails painted with elegant birds, flowers or even dolphins. You don't have to limit your design choices. Mix several nail designs on one hand for a little creative fun.
Take a look at more pictures of nail designs for even more ideas!