Good and Scary Witch Makeup Looks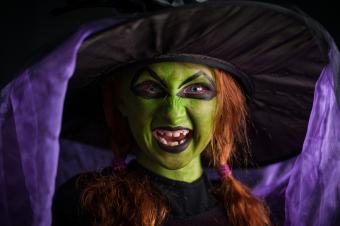 Your witch costume is probably the first thing passersby will notice, but your makeup should be equally emblematic of the character you are portraying. Whether you're a protagonist from a popular film or book, or you're planning to be the most unique-looking person at the party, you're bound to make a strong impression with the right witch makeup.
Scary Green Witch Makeup
This witch is typically portrayed as being green, but the same basic principles can be applied to create a spooky witch with any color skin tone. Individuals with sensitive skin should note that novelty makeup can be irritating to the skin, so proceed with caution. Perform a patch test at least 48 hours prior to the day you plan to use the makeup.
Makeup Supplies
Light brown base makeup
Facial sponge
Dark red lipstick
Black eye pencil
Black mascara
Purple face paint
Instructions
Soak a facial sponge in the green base makeup. Dab the makeup gently onto your face, concentrating it along your cheekbones, brown bone and chin.
Soak a facial sponge in a light brown makeup and gently dab it on over the green to add some dimension to the paint. This will leave you with a slightly mottled look.
Create some deep wrinkles in your face with the black eye pencil. Draw a line extending down and outward from the inner corner of each eye. Create a branch off each line to make an upside down "Y" on each cheekbone.
Apply some heavy black eyeliner to your upper and lower lids, extending the upper line out past the edge of the eyelid by approximately 1/2 inch. Follow with black mascara to darken your eyes.
Darken your eyebrows by drawing a thick black line over each one with the eyeliner. Draw some small lines extending upward from the top of the eyebrows to give the impression of heavy, hairy brows.
Using purple face paint, draw some lines bracketing either side of the mouth from nose to chin.
Apply a coat of dark red lipstick.
Outline your lips in black, and draw some black "wrinkles" around the lips with small lines radiating outward.
Finish by giving yourself a few black "moles" on your chin and nose.
Alternative Scary Witch Look
If green face paint isn't your style, consider this alternative witch look. There's no elaborate face painting or pointy hat, but this witch style still conveys a slightly sinister air that will help you cast a spell over your companions.
Makeup Supplies
Pale matte foundation makeup
Black eyebrow pencil
Black pencil eyeliner
Black mascara
Lipstick in whichever color you like
Instructions
Apply the foundation makeup first to give your skin a pale, other-worldly glow. Don't bother adding rouge to warm up your cheeks; this look is meant to be cold.
Use the eyebrow pencil to darken your brows and give them a more menacing look.
Use the eyeliner to line your eyes heavily and really draw attention to them.
Add a coat of mascara to your lashes.
Apply the lipstick. You can use a more neutral shade to keep the attention focused on your eyes. Red lips work great if you want to be a scary-yet-sexy witch, and black lipstick will maximize the scary factor if you really want to play that up.
Wicked Winter Witch Makeup
Capture the cold-hearted, icy stare of a winter witch with this look. You'll need a bit of attitude to really pull off the look. If you need help downloading the printable instructions, check out these helpful tips.
Makeup Supplies
Powder blue, plum, and teal eye shadows
Liquid eyeliner, your choice of black or navy
Black or navy mascara
Rosy blush
Frosty white or pale pink lipstick
Instructions
Apply a thin layer of the white foundation to your entire face.
Apply powder blue eye shadow to your eyelids all the way up to your brows.
Line the bottom of your eyes with the plum shadow.
Apply the teal shadow beginning at the inner corners of your upper eyelids, and pull it across the lids along the lash line and past the outer corners to create a "cat eye" look.
Apply a thin line of liquid liner all the way around your eyes.
Apply the blush to your cheeks.
Apply the lipstick. The white will show through various shades of pink, depending on your natural lip color.
Good Witch Makeup
Grown women can have just as much fun being the good witch as younger girls can. Good witches are typically ornamented with sparkly accessories, frilly clothes and plenty of ethereal makeup applied with a light hand.
Makeup Supplies
Light peach eye shadow
Silver eye shadow
Dark purple eye shadow
Thin eye shadow brush applicator
Blending brush
Matte foundation
Coral-colored blush
Glitter
Coral pink lipstick
Instructions
Apply a matte foundation to your skin to even out your skin tone.
Apply a light, peach-colored eye shadow over your eye lids and up to your brow bone.
Apply a light, silver eye shadow in the center of your eyelids, blending in to the inner corner of your eyes.
Apply a thin line of dark purple eye shadow just along your lashes on your upper lids.
Run your blending brush over the shadow to soften it.
Smile to expose the apples of your cheeks and rub a coral-colored blush into them.
Dust on a touch of glitter for sparkle.
Apply the coral pink lipstick.
Alternative Good Witch Look
You can still create a good witch look, even if you prefer the traditional black witch garb and signature hat. Follow this plan to create a wholesome witch look.
Makeup Supplies
A warm matte foundation
Shimmering pink and bronze eye shadows
Brown eye liner pencil
Brown mascara
Pale rose blush
Neutral or rosy lipstick
Instructions
Apply the foundation to give your skin a smooth and creamy look.
Apply the pink shadow to your entire eyelids up to beneath your brows.
Apply the bronze shadow to the outer edges of your lids and blend it to create a slightly smoky look.
Line your eyes with the liner pencil, and apply a coat of the mascara to your lashes.
Blend the rose blush into your cheek bones.
Apply the the neutral or rosy lipstick.
Create Your Own Witch Look
Any of these looks can be easily changed and customized to create your own unique witch look. After all, there are countless types of witches in the world, so have fun with it.