What Eye Shadow Best Goes with Hazel Eyes
Knowing what eye shadow goes best with hazel eyes can help you look gorgeous and captivating year round. If you have hazel eyes and are looking for the perfect eye shadow for both day and evening wear, there are numerous options available to you. Follow these tips and tricks to achieve simply stunning eyes.
Understanding What Eye Shadow Best Goes with Hazel Eyes
Women with hazel eyes are able to enjoy a wide spectrum of shadow shades due to the flecked hues they possess. Hazel is a unique eye color with individual color nuances that can vary dramatically. This eye color can handle many shades of eye makeup; while many of the shades for brown eyes are well-suited to hazel-eyed women, colors that work for blue and green eyes can work for hazel as well.
Neutral Colors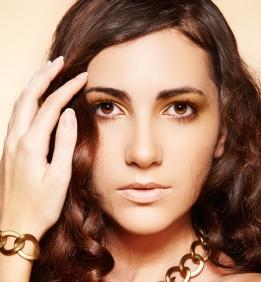 Women with hazel eyes look gorgeous in neutral colors such as brown. Brown-based shades give a fail-proof, gorgeous look every time.
Pink is also considered to be a member of the brown family, though few realize it. Use a romantic pink, especially in the spring or in the winter when you want to look irresistibly rosy and play up the color in your eyes. Cream, beige and taupe are also foolproof neutrals for hazel eyes. Grey and black are other shades that can also really make hazel eyes stand out; just be careful not to overdo these dark colors for daytime.
Purple Eye Shadow
Often suggested for brown eyes, purple shades make a stunning contrast to hazel eyes, too. Shades such as lilac, lavender, violet, plum and even eggplant can really make your eye color pop. Pair it with a purple liner for a more dramatic effect.
Gold and Yellow
Sunny shades also work nicely with hazel eyes and draw attention to their rich golden tones. Consider shades such as:
Gold shimmer
Sunflower
Mustard
Wheat
Saffron
Sand
The Perfect Combination
Many hazel-eyed women who have mastered the art of eye shadow swear by a combination of pinks, browns and occasionally greens. Other colors can also look great on hazel eyes, but in order to keep the selection process down to a reasonable level, these are three of the most recommended shades.
Pinks and browns both play up the base color of hazel and eyes and work well together. If you have green in your eyes, pick up and make the most of this fleck with green eye shadow that reflects the tone and color of your eyes. Use the three colors together, in pairs or separately to create a look that is tailored to your eye color.
To use the three together, apply the pink directly under the brow bone, and line the crease of your eye with the brown. Finally, fill in the lid with green for a look that makes your eyes pop without being overly dramatic. Other ways to use these shades include using two shades of pink, one on the lid and one beneath the brow with a dark brown on the crease and using a light tan on the brow with green on the lid and a darker brown on the crease.
Choosing Eye Shadow Shades
It's important to purchase the right brand of cosmetics to ensure the right hue for your eyes. MAC has an excellent shade palette for most eye colors. In fact, learning what eye shadow best goes with hazel eyes leads most seekers to the MAC counter. Shroom is a recommended base color and Shag is a favorite hue for the crease and/or outer corner of the eye. Use Cubic Blush as a liner and add a little fun to your makeup regimen with MAC's Trixie, the latest pink shimmer that can be used on both your eyes and cheeks.
Another brand to consider is Stila. Besides being available on their own official site, you can also purchase their gorgeous plum-brown shadows through Sephora. Try Sun or Kitten for your first layer, then check out Heath or Eden for your inner color.
Lastly, Almay Intense I-Color is a favorite among women looking for a personalized color palette. Almay has really hit their marketing stride with I-Color's featured trios for each and every eye color, and hazel is no exception. Using a dramatic yet funky combo of light brown, deep brown and baby pink, Almay's trio complements hazel eyes perfectly.
Be Careful of Blue
If you have hazel eyes, avoid using an excessive amount of blue-hued shadow. Blue eye shadow, when applied properly, and on the right skin tones, looks great. For your eye color, however, it's advised that you steer clear (you run the risk of just looking garish).
For some, blue shadow is great for a special occasion if you are looking to dramatize your evening look, however, it can dull down hazel eyes and have the opposite effect of what you hope to achieve. Stick to your browns and invest in a darker liquid liner for evenings; you will be sure to have a winning sparkle to your evening eyes every time.