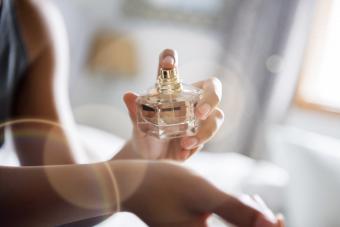 If you want to up your attraction game, consider a women's perfume that attracts men. The science behind these scents is a little soft, but there's still reason to believe they may work. Take a look at some of the best options.
Perfumes With Pheromones
Pheromones are natural substances produced by a body that are transmitted externally. Scientists have confirmed that these subtle signals exist, although researchers have yet to find a specific pheromone that acts as an aphrodisiac. Even so, perfume manufacturers believe they have a key ingredient, and many pheromone perfumes are backed up with anecdotal research. It's worth a try to see if these formulas work for you.
Pheromone Perfume
Pheromone Perfume is the scent that started it all. Beauty entrepreneur Marilyn Miglin's extensive research resulted in a heady blend of jasmine blossoms, tonka extract, wild grasses, exotic barks, rare wine resins and much more. Of course, it's marketed as the "fragrance of love" and has spawned a variety of spinoff scents. In existence since 1979, it has 4.5 out of five stars in user ratings on the website and starts at about $32.
PherX
First introduced in 2002, PherX promises to help women attract men. It has a light scent and can work well layered with other perfumes or on its own. Consumer reviews on Amazon claim that the perfume encouraged more lingering interactions, as well as snuggling and other signs of attraction, from their partners. It retails for about $40.
Scent of Eros
Another option is Scent of Eros, a perfume designed to mimic the scent of a woman between 17 and 24. It supposedly attracts men in a subtle way and makes women feel better about themselves. Reviews on Amazon are mixed, with previous buyers giving it about 2.5 out of five stars. Some say it smells lovely, whether or not the pheromones work.
Scents That Attract Men
Perfumed fragrances may not be produced by the human body, but they can evoke strong desires and emotions that can enhance attraction in the opposite sex. When a perfume has a scent that is commonly associated with a man's libido, you have a greater likelihood of evoking desire. According to SpeedDate.com's Sr. Communications Manager, Hannah Russin, "Studies show that men associate the scents of cinnamon and vanilla with love." So if you're looking for specific scents, choose a designer perfume laced with one of those scents.
Dior Hypnotic Poison
The beautiful deep red bottle is only the beginning when it comes to this beguiling, vanilla-scented perfume. Reviewers on Sephora gave Dior Hypnotic Poison more than 4.5 out of five stars, citing its subtle attractive qualities and sweet smell. Many report attracting more male attention while wearing it. A 1.7-ml bottle retails for about $80.
Marc Jacobs Daisy
According to some testing done by Glamour, men prefer the scent of florals that have a spicy edge. One stand-out option was Daisy by Marc Jacobs. It has a vanilla base with hints of violet and jasmine. Reviewers on Ulta gave it almost five stars, and it retails for about $104 for 3.4 ounces.
Other Sexy Scents to Consider
Each man will have individual preferences for makeup and scents, and there are many perfumes a man may find attractive. In addition to cinnamon and vanilla, there are other ingredients that can be alluring. If you're browsing perfumes for that perfect sexy scent, consider one with one of the following:
Oak moss or mahogany wood - These woodsy ingredients provide a musky scent.
Coriander or clove - These lend a slight spice to the perfume.
Peach or orange blossom - These ingredients give off a light, innocent scent that can be alluring.
Amber - Amber perfumes actually contain plant or animal extracts such as Benzoin, a sap of an Asian tree. This lends a rich exotic scent to the fragrance.
Putting It to the Test
At some point in your life, you'll likely receive a compliment on your fragrance. Though studies do suggest that certain fragrances are more likely than others to attract a potential mate, that shouldn't discourage you from wearing scents that you happen to love. So if you can't stand the thought of smelling like vanilla or lavender, don't fret - spray on what makes you feel your best and enjoy the confidence that comes along with that.