When LovetoKnow went seeking tips for essential, timeless beauty, author and celebrity style guru Rachel Weingarten stepped up to bat and filled our inbox with fabulous tips and advice. Her latest book, Hello Gorgeous! Beauty Products in America '40s-'60s proves this savvy lady knows a thing or two about timeless and classic beauty. She shares her tips and tricks of the trade.
Timeless Beauty Tips
Essential Cosmetic Items
LoveToKnow (LTK): Could you tell us the five key cosmetics every woman should own?
Rachel Weingarten (RW): Must I limit it to five? Okay, I would recommend for most women choosing your best feature and then finding the cosmetic products that best enhance you. But as a general rule:
A terrific pressed powder, eliminates shine and makes your face look polished, in a pinch can double as an eye shadow or will even out skin tone. If you have blotchy skin then a powder foundation can work as powder or foundation.
An eye cream that suits your skin type -- I don't care how old you are -- use it religiously. You'll thank me in 10 years or 10 minutes. Be gentle though.
SPF: Winter, summer, rain, -- protect your skin from damaging rays.
A lip product that can be worn alone when you're in a crazy rush, or which can pull together your perfect face -- if you only wear lipstick try to avoid matte or overly dramatic shades in favor of one that highlights your skin tone and teeth.
A great neutral eyeshadow, can hide puffy eyes, and when applied wet can be used as an eyeliner.
Simple Products
LTK: What are some great ideas and products we should fill our beauty bags with?
RW: I'm all about ease of use, so for me it's got to be something that makes me look polished, is easy to apply and lasts without leaking.
Right now I'm loving bright pedicures -- the Chanel limited edition collection is brilliant.
I also have a product crush on Almay Pure Blends Mineral Makeup -- it's great for when I have to have a professional finish, but don't want to sweat through too much goo.
I'm still deeply in love with Clean Shampoo Fresh hair fragrance which is a lighter version of my usual scent and makes my hair smell just freshed.
For summer I also like the idea of anti-shine products instead of heavy powders. Laura Geller Matte Skin enhancer takes away shine on your T-zone without hiding your skin's natural glow.
Red Lipstick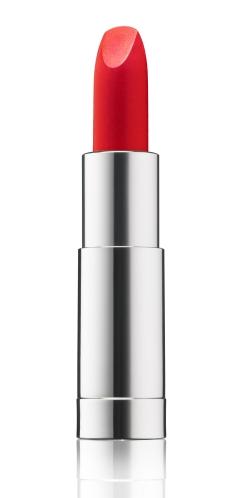 LTK: Red lipstick. Do or don't?
RW: Do then Don't. In other words, experiment, be brash and have fun, but if it doesn't work for you, if you see it starting to leak into the lines around your mouth, or if you're not going to commit to the care and upkeep of intense lips, you're better off without.
Top Beauty Tip
LTK: Could you give us one retro beauty tip or product recommendation we should all know and love?
RW: Be more playful. Loving cosmetics and playing up your looks does not make you any less intelligent.
Have fun with your looks without trying to be someone else. Lucille Ball was a brilliant business woman and comedienne, but man did she have a gorgeous wardrobe, incredibly hennaed hair and fabulous makeup. Revel in your own look whether or not it's the look of the moment.
Favorite Product
LTK: If you were stranded on a remote island, what one beauty product could you not survive without?
RW: I should say SPF 10,000, but who am I kidding? I'm addicted to Christian Dior lip gloss- the pigments in the shadows and glosses are so rich and glossy- I'm obsessed with lip gloss so my desert island product would have to be Dior Addict Ultra Gloss in 777. I have never gotten so many compliments in my life as with this product.
About Hello Gorgeous!
LTK: We'd love to about the inspiration behind your book, Hello Gorgeous! Beauty Products in America '40s-'60s.
RW: I've always loved makeup and fashion. I especially loved the era of the bold, brash beauties in the Mid-Century. These days it feels like so much about the beauty industry is about conforming- being too thin, having too much hair or lips or boobs. In those days there wasn't a particular look that was considered beautiful, (Look at Kim Novak's figure or eyebrows just to get an idea) but rather shapely, sexy and frequently over the top looks.
The cosmetic industry also recognized perhaps for the first time the incredible buying power of women. A series like Mad Men is a microcosm to what was going on during that era, almost the 'just before' it all changed....I wanted to celebrate the fun, the celebration of femininity while also drawing attention to the subversive messages in past and modern ad campaigns.
Modern vs. Retro Beauty
LTK: Could you share how beauty and fashion trends have changed since the 1940's-1960's?
RW: Well, everything from formulations, to packaging, to needs have changed and keep changing. There's also social responsibility- we're more cognizant of the effects of aerosol spray on the ozone, the need for recycling, the fact that certain dyes aren't safe to be used near sensitive body parts.
Sadly though, women are being fed a message that beauty these days can and should be altered surgically, the insecurity model is not only alive and well but thriving. It makes me sad when I hear about young girls asking for breast implants, and sadder still that there are books out there for mothers to explain their cosmetic surgery procedures to their children.
For More Information
Rachel Weingarten has appeared on hundreds of televesion and media segments and is a talented celebrity style expert, author, beauty consultant, speaker, and beauty historian. To learn more about Rachel, visit her website at: racheletc.com.