Artistic Fantasy Makeup Looks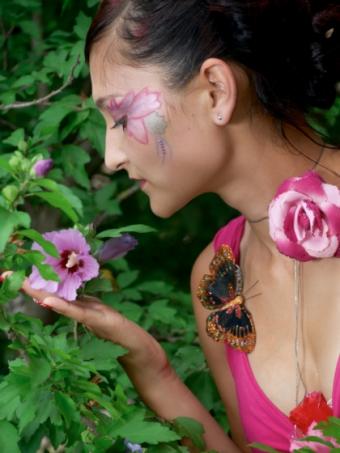 Makeup fantasy looks can take many artistic forms. They include creative eye makeup techniques, glitter or unusual details, and themed makeup ideas. These looks are not intended for everyday use, but rather are for special occasions, such as theme parties, photo shoots, or other events where very artistic or dramatic makeup would be appropriate.
A floral eye makeup design creates a gorgeous focal point for a photo. Consider placing the design at the side of the eye for unique emphasis.
Tribal Look
An elegant tribal makeup look is an example of a style that might appear on the runways. Create fierce eyeliner, use delicate lip color, and carefully highlight the cheeks to re-create a makeup look like this.
Fantasy Valentine Look
Holidays are perfect for fantasy makeup. Draw attention to the eyes with red, dainty hearts. Keep the look light and airy with a gentle play between various shades of red. Add a deep red lip color and long false lashes for this dramatic Valentine's makeup.
Geisha-Inspired Makeup
Consider a geisha-inspired look for a compelling makeup style. Incorporate winged eyes, a strong brow, and pale lips for an arresting makeup look.
Butterfly Makeup
Although many fantasy styles are dark and dramatic, you can also use light colors. For a unique take on butterfly-inspired makeup, try icy contrasts of blue, white and green.
Flower Child
The eyes provide a great basis for fantasy cosmetics. Incoporate long, fantasy lashes that look like flower petals or feathers (available at specialty and theatrical makeup supply shops) to add a fantasy element to a retro look.
Otherworldly
Apply full face paint for a themed look that is inspired by otherworldy creatures, such as an alien or supernatural being. Although this is a more complex look, the result is dramatic and ideal for when you want a full themed makeup style.
Living on the Edge
Fantasy makeup doesn't always have to be about otherwordly looks, it can be about your rockstar fantasy as well. Make a dark, smoky eye with glitter the focus of your look to convey your inner star. Use creative styling rather than traditional smudging to convey a glam rock, goth or punk feel.
Winged Creature
Blue is usually only worn around the eyes, but when creating a fantasy looks, anything goes. Try using color in unexpected places, such as blue lipstick, when going for a fantasy look that is very different. Use colors that emphasize or harmonize with your accessories or costume.
Metallic Makeup
Shiny, metallic makeup colors are too much for everyday wear, but just the ticket in creative looks like this. A circular design on the forehead may represent life, the sun or rebirth, depending on the fantasy.
Full Fantasy
A skilled hand can create just about anything, including the illusion of being underwater on skin. Get creative with your designs, and don't be afraid to experiment with face and body paint. Get inspired with fantasy makeup looks to transform your image into anything you can imagine.