Photos of Beautiful Indian Makeup
Discover a World of Incredible Style
Makeup looks for Indian women cover a variety of techniques and trends. Each is used to enhance - and draw attention to - her most beautiful features. Some popular styles are bold and daring, while others are subtle and simple. Whichever you prefer, these pictures are sure to inspire.
Plum Lips
Deeper colors like plum are always flattering on women of color. Dark burgundies and plums are considered some of the best shades for darker skin tones. They add a complementary pop!
There are many plum-toned lipsticks to choose from, including Matte Plum from Clinique. At about $16 per tube, this high-end item will give you the color you crave without breaking the bank. Use it with a black lip liner for a more dramatic finish.
Brick Red Lips
Darker red lipstick looks great on Indian women. The rich brick red pictured here works with both olive and deeper skin tones. It is the perfect complement to a bold smoky eye.
To keep things glamorous, use something like Lime Crime's Matte Velvetines in the shade Pumpkin (about $20). This red is ultra-flattering, dramatic, and long-wearing. The best part? The matte finish will make your look stand out.
Sunset Eyes
Colors like purple and orange on the eyelid create a dramatic look, which is the key to stunning Indian makeup. These shades are a great way to incorporate color and experiment with beauty trends. This sunset eye shadow look has been called a wearable (yet oh-so-colorful) style.
Create it with the Morphe 12P Picasso Palette. It costs around $15 and has a wide variety of sunset-worthy shades. Use a lighter color on the inner part of the lid and work a darker shade through the crease. For more intensity, apply a set of thick, short lashes.
Soft Purple Eyes
Variations of the color purple are extremely popular in the makeup world. For instance, instead of a doing a strong smoky eye, mix it up and do something softer.
Get started with the Va-Va Violets Eyeshadow Quad from Cover Girl. At about $8, this is an affordable way to add romance to your next night out. Stick to lighter shades of purple, with the lightest color applied underneath the brow bone.
Double Winged Eyeliner
Kohl eyeliner plays a very important role in Indian makeup. It is the perfect way to complete a look, plus it adds depth to the eyes. Typically, brown or black liner is used.
To get the double wing as pictured, use the L'Oreal Paris Voluminous Smoldering Eyeliner in brown (about $9). This style is easier to create than you'd think! Line your upper and lower lash line as usual, then extend the lines. You will have a dramatic wing coming from both the top and bottom lash line.
Glitter Eyeliner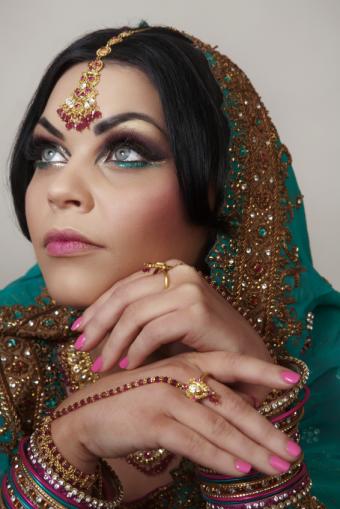 Glitter instantly boosts the glam factor of any makeup look. That makes it a must when attending a party, wedding, or special event. The best thing about glitter? It complements any and all attire. Gold is a popular choice, as is green. Give your eyes an extra pop by incorporating both colors into your next creation.
NYX has a great selection of shades and a special glitter primer. Their line of Face and Body Glitter includes stunning colors like Gold and Teal. Each bottle is around $6. Apply a small amount of primer to the lower lash line and carefully press the glitter over top, using a stiff flat brush.
Defined Brows
Indian women are known for their beautiful, thick, and well-groomed eyebrows. Threading is often used to keep the brows shaped and tamed. When filling in the eyebrows, a dark brown or taupe color is best, since black can look too harsh.
For a more defined brow, use the Brow Definer from Anastasia Beverly Hills (around $23). Then, go in with a small angled brush and a bit of concealer. This step allows you to outline the brows and clean up any mistakes. Be sure to blend it out for a flawless finish.
Henna Accent and Highlighting Shimmer
Henna tattoos are an important part of Indian culture. This art has been practised for over five thousand years. It remains tied to traditional celebrations, including holidays, birthdays, and weddings. (If you're unable to find a professional, you can always use an at-home henna tattoo kit.)
For a highlighting shimmer along the cheeks and nose as pictured, use a product like the Hard Candy Glamazon Glow All The Way Face & Body Luminizer in bronze (about $8). You can stop there, or dust on a gold-toned powder highlight for more dramatic shine.
Peachy Cheeks
Peach is everywhere these days. This is flattering since shades of orange fare well against Indian skin tones. A peach blush can accentuate your cheekbones and add a natural-looking flush.
To get citrus-kissed skin, apply a blush directly to the apples of the cheeks. There are many peach-toned blushes available, but one of the most popular comes from Too Faced. Papa Don't Peach (just under $30) doesn't just look beautiful; it actually smells like peaches!
Bollywood Glam
This Bollywood glam look involves a signature smoky eye and a touch of emerald glitter along the eyelid. Mauve lipstick adds color to the lips without overpowering this head-turning style.
Try using L'Oreal Colour Riche Lipstick in Saucy Mauve at home to get a similar look. (For under $7 your lips will be the envy of everyone you meet!) This beautiful creation can be worn at weddings, special events, and everything in between.
Create Your Own Stunning Look
With so many options, Indian women can vary their look for any occasion. Make the most of your appearance with these Indian eye makeup tips and suggestions for Indian bridal makeup. Once you have the inspiration and know-how, there will be no stopping your beautiful self.