Make Your Brown Eyes Stand Out!
There are many ways to bring out the best in brown eyes. While there are no hard and fast rules when it comes to makeup for brown eyes, some colors can make the eyes stand out more than others, or provide a specific makeup look.
Don't underestimate the power of a simple natural look with creamy shadow and black mascara, and alternatively, don't be afraid to try a bold teal or purple shade to really make the eyes pop!
Nude Shadow and Black Eyeliner
For an easy, versatile look that makes brown eyes stand out, use a nude shadow (try just a shade darker than you skin tone) on the eye lid and slightly above the crease. Lightly take the shadow under the eye as well for just a touch of color. Line the top eye lid only with very dark brown or black eye liner, and finish with two coats of mascara on curled lashes.
The beauty of this look is that it's perfect for daytime, but you can easily ramp up the drama for evening by creating a thicker, darker eyeliner line for evening.
Keep the attention on the eyes by using a soft peach or nude blush and a neutral lip gloss.
Charcoal and Pearl Eyeshadow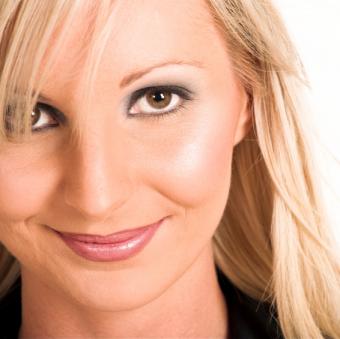 Charcoal can be a cool contrast to brown eyes.
Use a pearl or a light shade for a highlight, and a charcoal grey in the crease (draw outward to give the illusion of larger eyes).
Use either the same shadow or a complementary charcoal eyeliner to line the lower eye and blend to keep the look soft.
A light, fresh cheek color and medium lip balance the intensity of the eyes.
Elegant Taupe Look
Taupe eye shadow is a gorgeous complement to brown eyes.
The look here gets extra elegance with black liquid eyeliner and a rosy lip.
Pretty in Pink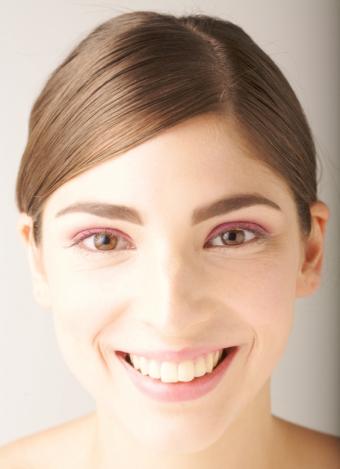 When you think of pink, you may think of blush before eye shadow, but you may want to think again. Many pink shades, like this rich muted fuchsia, are stunning when paired with brown eyes.
Be sure to blend well to avoid a sharp line of color when using deeper shades of pink shadow.
Shades of Peach and Apricot
Brown eyes can easily get a fresh, natural look with a peach or apricot eyeshadow and brown eyeliner.
Line only the top eye for a crisp look, or smudge slightly below the eye for a more sultry feel appropriate for evening.
Purple Shimmer
Shimmer shades are perfectly suited for special occasions. Cool colors, like the pale purple this model is wearing, contrast brown eyes and really bring out their richness.
Try darker purples, blues, and violets, too, and see what effect you like the best.
Gorgeous Greens and Golds
Rich gold and green gold shades of eyeshadow are excellent choices for brown eyed gals.
A dark brown shade in the crease and a flesh-toned highlight shade work well with a green gold shadow.
Golds, greens, and green-gold shades are available in both matte and shimmer shades, so experiment with both to find what works best for your eyes and the occasion.
Bronze Shadow and Smoky Eyeliner
For dramatic brown eyes, a rich bronze colored eye shadow paired with a smoky deep brown or black eyeliner can be gorgeous.
Smoky eyes in purple or teal shades can also make brown eyes stand out beautifully.
Spectacular Looks for Brown Eyes
Brown eyes are truly spectacular and can pull off a wide range of makeup colors. Whether you step outside the box and try a new shadow color or two, mix it up with a bold eyeliner, or just brush on a sweep of shadow and hint of mascara, embrace your brown eyes and let your confidence shine!