Inspiration from Bridal Makeup Pictures
Viewing bridal makeup pictures is a great way to decide on a makeup look for your wedding day. However, this very special day is not the time to try out a new look. Instead, you'll want to ramp up your usual makeup look. The goal is to look like you, only better, and this depends on what look you are inherently comfortable with.
Choose a look that suits you best, from naturally pretty flushed cheeks to dark, sultry eyes.
A Classic Look
Many brides choose a classic, natural look. The lips are natural in color, and the eye makeup has that "soft-focus" look. Carefully groom eyebrows and use a long-lasting foundation for flawless skin.
To achieve this look try choosing colors for your eyes and lips that are only a shade or two off from your natrual coloring. This will help you highlight your features without making it look like you have makeup on.
Radiant Beauty
It's not always necessary to play by the rules, however. If you typically wear bold makeup, you can still work this style on your wedding day. Bolder eyes can work with strong lip color if the lines on the eyes are kept soft, with just a slight dusting of eyeliner for effect.
Flawless Natural-Looking Makeup
With a pretty glow, natural lips and neat, but strong eyebrows, this bride needs little more to enhance her natural beauty.
Pulling off a similar look means having flawless skin; when wearing such little makeup, every slight blemish will stand out. If you are considering getting a facial to make your skin look its best make sure to get your facial a week before the wedding, not the day of. Use a makeup primer, concealer, and well-blended foundation for a perfect look.
Glowing Cheeks and Eyes
A soft, glowing look can be perfect for a bride. Use eye shadow with just a hint of shimmer, and add a touch to the inner corners of the eyes. Use a soft, rich blush color in an apricot or rose shade to enhance your cheeks.
Glossy Lips and Eyeliner
Glossy, shiny lips in a pretty fuchsia shade and dark-rimmed eyes only enhance this model's striking features. If your face can "hold" equally strong colors, then this may be the look for you.
Sea-Side Beauty
With a natural element, like water, as the backdrop, the bride needs little artifice to look good. Mimic the beauty of your environment with a soft flushing cheek color and nude lipstick. A light, shimmery eye color on the brow bone will help catch light, but use a light hand during application.
Soft Smoky Eyes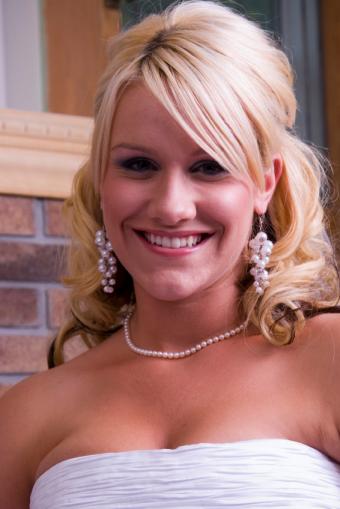 This bride focuses the right amount of attention on her eyes. As a result, they're smoky without being overpowering. To get this look, use dark eyeshadow to create contours and lightly apply to lower lids as well. Plenty of mascara will make sure the eyes "pop," while soft pink lipstick will enhance the look without competing with the focus on the eyes.
Well-Defined Eyes
Another flattering bridal look can be achieved with lipstick in a muted, barely-there lipcolor, and eyes that are well-defined with light peachy eyeshadows and dark liner. When applying liner, start light and then build so you don't use too heavy of a line with your liner as it can distract from your eyes instead of making them pop. A generous coat of mascara will give you show-stopping lashes.
Soft Garden Makeup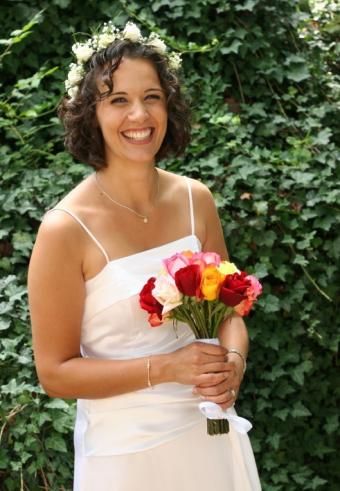 For garden and outdoor nuptials, consider a rich, but natural lip color in a rose shade, a sheer wash of blush, and understated eyeliner. A sheer-coverage foundation allows the natural beauty of your skin to shine through, but covers flaws for a beautiful look.
Red Lips
Classic red lips never go out of fashion. Make great use of crimson lipstick by keeping the focus on it.
Barely-there eye makeup lets these scarlet lips shine. Careful application and a matching lip pencil ensures a neat look that lasts.
Beautiful Bride
A bride's beauty comes from her joy; makeup just enhances what is already there. For most brides, softly defined eyes, pretty lip color, and the right shade of blush work perfectly to bring out their features. Be joyful and smile often; nothing is as beautiful as the happiness of your special day.