Searching for the professional way to apply makeup images? If yes, these images of industry professionals working their craft may help and inspire you to get creative with your makeup routine. Just like a painter, a cosmetic or makeup artist uses lighting, shading and depth to add color, correct tone and emphasize facial features. This professional way to apply makeup images offer a sneak peek into the world of cosmetic artistry. As you view these images, take note of some of the application techniques; they are sure to help!
Line lips and fill in with a lip brush for added control and definition.
Blush brushes are crucial for even blush coverage. Opt for natural brushes when given the choice. Using the correct tools for the job, along with the proper application techniques, can help you create a flawless and glowing complexion.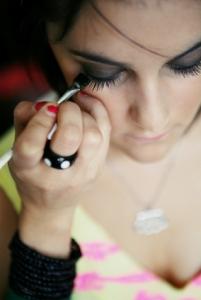 Applying eyeliner with a brush creates a smudged look that is sexy and smoldering. Why not try your hand at a few new techniques and invest in a great set of quality brushes to create these smoldering looks?