Prom Makeup Colors for a Pink Dress
Pink is a beautiful color for a prom dress, and it looks pretty against all skin tones. Since there are different shades of pink, it's important to consider the exact shade of your dress before you decide on your prom makeup. Choosing the right colors will make you look your best and pull your entire look together for a magical evening.
Prom Makeup for a Hot Pink Dress
Hot pink is a popular color for a prom dress, but it's also one of those colors that can be a challenge when it comes to choosing complementary makeup. In this case, you want the dress to be the showcase of the outfit, so you'll want to keep your makeup subtle to avoid overpowering and competing with the vivid hue of the dress. Stick with neutrals that are barely there; think nude colors that look natural and not overdone. Since bright pink can be a hard color to match, stay away from shades of true pink in your makeup when wearing this bold shade of dress. More than likely, the pink will simply clash.
What you'll need:
Eyeshadow primer (Your choice, and even a concealer will work in a pinch.)
A large shadow brush
A smaller, domed shadow brush
Blush brush
An angled eyeliner brush
A matte shade slightly lighter than your skin tone
Black gel liner
Lash curler
Volumizing/thickening mascara in black
Nude-pink blush (depth will vary based on your skin tone)
Your choice: creamy pinkish-nude lipstick or berry stain
Clear gloss (optional)
Get the look:
Prep the lids with a primer that will hold your shadow on all evening. This can be concealer, Too Faced Shadow Insurance, Urban Decay Primer Potion, etc.
Using a large brush, sweep a matte shadow color that matches your skin tone from the lash line to the brow.
Using a smaller, domed brush, apply another matte shadow that's one to two shades darker than your skin tone into the crease, and blend out and up at the outer corner. It's safest to go with a tan shade, but feel free to play around with gray or eggplant, applied lightly.
Highlight just underneath the brow bone and at the inner corner of each eye with another matte shade that's a shade or two lighter than your skin tone.
With an angled brush, apply black gel liner from the inner corner of your lashes to the outer corner, and make the line thicker as you move across to the outside of the eye.
Curl your lashes and apply black volumizing and lengthening mascara to the top lashes only.
For blush, choose a nude-pink tone for light to medium skin tones, or a mocha tone for darker skin tones. Apply it to the apples of your cheeks and brush up and back toward the temples; the color should fade away as it reaches the hairline.
Line the lips with a lip liner that matches your own lip color, and fill in the entire lip.
Apply a creamy, pinkish-nude lipstick or a berry stain, and then apply a little clear gloss, if desired.
Makeup for Pearl Pink Dresses
If your dress is a bare wisp of pearl pink, you have many more options with your makeup. Some people call this color bashful. Think of it as a pink that is as pale as pink can get without being white. Many pearl pink dresses have some shimmer to them as well. Since this pink is almost a neutral color itself, you should be able to get by with wearing bolder makeup and turning the focus to your face. Remember that even though you do have to consider the color of your dress as you decide how you want to do your makeup, you shouldn't actually match the makeup to the dress. Instead, choose colors that look best with your skin tone. Take a step back and evaluate the look as a whole. This is your chance to rock a smoky eye.
What you'll need:
Shadow primer
Matte shadow that matches your skin tone
Black, smudgy liner (Kohl pencil works best.)
Large shadow brush
Blush brush
Dense brush or sponge-tipped applicator for smudging liner
Dark brown, gray, or maroon/burgundy shadow in a matte or satin finish
Light to medium matte or satin shadow shade in the same color family as the deeper shade you chose; think tan, light-medium gray, or a rosy pink
Pearly shadow that is lighter than your skin tone for highlighting
Thickening black mascara
Nude-pink blush
Creamy, rosy lip shade that's slightly deeper than your own lip color
Get the look:
Prep your lids with a shadow primer.
Apply a matte shadow color from lash line to brow that matches your skin tone.
Line your top lash line all the way across with a smudgy black liner.
Smudge the liner up slightly, about halfway up to the crease. The color should be thick and rich at the base of the lashes, and then gradually fade as it goes up. Smudge the outer corner of the lower lashes with the last of the liner on the brush.
Choose a dark brown, dark gray, or deep maroon/burgundy shade, and put it on top of the liner. Again, the majority of the pigment should be at the lash line and then fade up.
In the crease, apply a slightly lighter shade that's either in the same color family as the deeper shade you chose or a tan or brown shade that's slightly darker than your skin tone. This means you'll be using a tan, a light-to-medium gray, or a rosy tan shade.
Just under the arch of the brow and at the inner corner of each eye, apply a pearly shade that's lighter than your skin tone, and add an optional slight tinge of pink.
If the intensity near the lashes doesn't seem like quite enough, you can add more eyeliner and/or dark shadow.
Line the inner lash lines with the same black kohl liner.
Finish up with thickening black mascara.
Use a nude-pink blush just along the cheekbones. Just above that area, apply the shadow you used for highlighting below the brow and inner corners. This will define your cheekbones and make them look gorgeous.
Apply a creamy, rosy lip shade to finish off the look. Choose a color that's similar to your own lip color, but slightly deeper. Keep the shade on your lips neutral so your eyes and lips don't compete.
Rosebud Pink
Although the shades vary from season to season, you can almost always find a prom dress in a medium-pink hue. Medium pink can be a really difficult color to work with when it comes to choosing makeup. That's because the shade can vary from one with a lot of blue undertones to one with peachy undertones. To complicate matters even more, some materials reflect differently under various types of light, which means that the undertones can seem to change depending upon where you are. Due to these issues, it's best to stick with neutral shades when you wear a medium-pink dress. Unlike the bright pink prom dress, however, you can go for slightly bolder and deeper colors in most cases. It's best to stick with browns and earth tones or perhaps some shimmery silver or gold that matches your jewelry.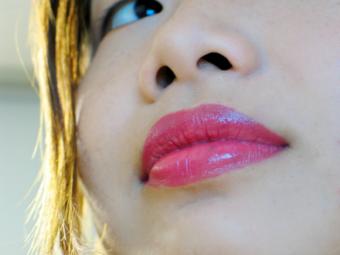 What you'll need:
Eye shadow base
Neutral shade that's close to your skin color (A barely-there sheen and flash of color like peach, pink, or gold is fine, but not necessary.)
Deep gray or chocolate brown shadow in a matte finish
Large shadow brush
Domed shadow brush
Shadow brush with a flat edge for lining below lower lashes
Blush brush
Black or deep brown gel or pencil liner
Black or brown lengthening mascara
Pearly coral-pink blush
Berry or almost-nude lipstick with a pink or peach tinge
Get the look:
Apply a shadow base.
Keep your eye makeup neutral with a base color that's close to the color of your skin; a slight peach, pink, or gold tone is fine. You can choose whether you want a matte or a pearly shade. If your dress has a high sheen to it, keep the shadows more on the matte side. Apply it with a large brush (flat or fluffy) to cover all the surface area.
At the outer corners of your eyes, use a deep gray shadow (for a rosebud pink dress) or a chocolate brown shadow (for a dress that veers more toward peach). Run the color along the lash line on top, and then line the lower lashes about half of the way in from the outer corners. You'll need a fluffy, dome-shaped brush for applying the shadow, and then use a smaller brush with a flat edge for the lining portion.
Add more pencil or gel liner to the top lash line. Use black if you used gray shadow, or use deep brown if you used brown shadow.
Sweep on a lengthening mascara in black or brown.
Apply a blush with a pearly finish that's equal parts coral and pink, like Benefit Bella Bamba. It will look right at home on most skin tones, and it goes well with any rosebud pink dress, even in changing lights.
For your lip color, try to choose a pink with undertones that match those in the dress. A berry tone will work for dresses with blue undertones, and a rosy coral will work for dresses that have a slight peach tinge. Avoid the "nude" lips look. With a dress this color, it's time to let your lip color shine.
Have a Dress Rehearsal
Since pink is one of those colors that can be warm, cool or neutral, it is always a good idea to complete your makeup and try on the dress a few days before the day of your prom. This gives you a chance to make sure that everything flows together before the big night.