Pictures of Cool Eye Makeup
Modern Smokey Eye
Eye makeup doesn't always have to be serious. Cool, creative styles can be created with color, texture, and funky design elements.
For a youthful, modern update to the classic smokey eye, apply a dark shadow to your lower lid and edge the shadow with a dark eye glitter.
Show Your Colors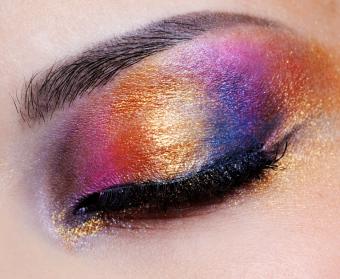 There's no need to stick to a single color of eyeshadow when doing your makeup. Apply a makeup primer to your lid to help keep your shadows from spreading, then choose several eyeshadows in complementary colors to create a rainbow effect across your lids. Shimmery or glittery shadows can create an especially cool look.
Clean Green
There's more than one way to "go green." When you want to give off a clean, minimalist vibe, try applying a single, matte eyeshadow from lash line to brow line. Green isn't the only color this works with - try browns, blues, tans and grays for a similar effect.
Superhero Effect
To "wow" your friends for a big event, consider going for the "superhero" effect. Choose one light and one dark eyeshadow. Line the edges of your eye, your brow bone and the interior corner of your eyes with the light color, then use the darker color to create lines angled backward and upward from your lower lash line and your eye's crease. The effect ends up making you look like you're wearing a mask.
Birds of a Feather
An extremely cool eye makeup trend is the "feathering" effect. Choose two to three eyeshadow colors and apply them from lash line to just below your brow line in alternating strokes. Lightly use these colors on your lower lash line as well. Use a liquid eyeliner in a dark color to fully line your lids, then apply mascara. Use the liquid liner again to extend and "feather" your eyelashes, drawing lines out from several of your lower lashes, the corner of your eye, and up to your brow line. The closer you get to your eyebrow, the lighter and "wispier" these lines should be.
Go for Mega-Lashes
If you've ever seen an episode of Keeping Up With the Kardashians, you know that mega-eyelashes are completely on-trend. Either shellac your lashes with an extending, thickening mascara, or pick up a few sets of fake eyelashes.
Waves of Color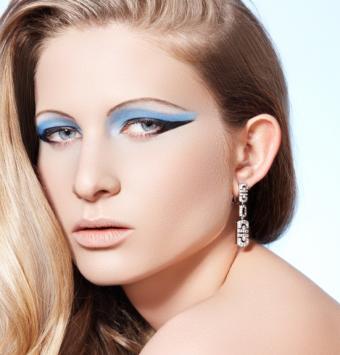 When you want to go for a cool and glamorous look, create a wave effect with your eyeshadow. Apply liquid eyeliner to your upper and lower lids, connecting the lines at the corner of your eye and extending the line outward toward your ear. Use a single eyeshadow to create a thick line from the inside corner of your eye, all the way out to the end of the eyeliner. The eyeshadow color will follow the natural shape of your eye, so it will give an effect like a rolling wave.
Dramatic Cat Eyes
For a look that's cool, a little sexy, and a lot of fun, try creating smoky "cat eyes" with your eyeshadow. Line your upper and lower lash lines with a dark eyeliner, smudging it slightly. Use a dark color eyeshadow on your lower lid, then extend it past the outer corner of your eye to create a point. Use the eyeshadow to connect the upper and lower lids' eyeliner lines. Choose a second color eyeshadow and trace the first eyeshadow along the crease of the eye and outward, toward the ear - gradually trailing off. Smudge the edges slightly.
From vibrant color to original application techniques, cool eye makeup can be as fun, funky, or dramatic as you want it to be.