Old School Makeup Ideas
Old school makeup was all about glamour in the 1920s through the 1960s. In the latter part of the 1960s, popular makeup looks changed with the times, as more natural styles ruled the day.
Whether you're a retro kind of girl or you want to glam it up for a special event, these old school looks will show you how it's done.
A practiced hand and attention to detail will go a long way toward that perfect look you're after.
Even the most modern woman can use a few old school tips to make the most of her look, every day!
Dark and Dramatic
Even if you don't meticulously pin curl your hair to get fabulous waves, you can always evoke an earlier era with the right shade of lipstick.
Old school makeup was full of red lips, from deep scarlet to crimson.
Skinny eyebrows were all the rage in the 1920s and 1930s.
The Femme Fatale
Perfectly arched eyebrows were thick and dramatic in the 1940s, and red lips were still in.
Use eyebrow pencil in a matching shade to get dark brows.
Siren Song
Light eye makeup keeps all the focus on those gorgeous lips...or maybe that flower in your hair.
A thin application of black eyeliner defines your eyes, but your mouth is the center of attention in this retro look.
The Black Dahlia
Line your lips in a matching shade of red to keep lipstick application perfect.
Old school glamorous lips were moist and dewy -- matte was a long way off!
Liquid eyeliner will help you recreate this look reminiscent of screen stars and Old Hollywood.
Pin-Up Beauty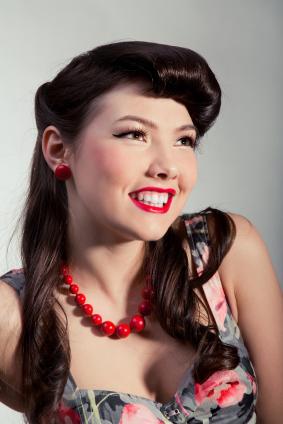 For pin-up girls, great hair and fabulous lips were essential.
Dark eyeliner extends past the outer corners of the eyes and several coats of black mascara make sure these beauties "pop!"
Blonde Bombshell
The 1940s ended, and shorter hairstyles became more popular for the 1950s, but bright lipstick was still in vogue.
Stars like Grace Kelly and Marilyn Monroe were the epitome of beauty during this era.
This look was typical for the 50s, from Hollywood to housewives.
Mad for Mod
Maybe your idea of old school lies in the softer looks of the 60s.
Big, bouffant hairdos and barely-there lipstick were the trends of the day. Pale eyeshadow is worn on the upper and lower lids, and accented with mascara.
The Flower Child
While many hippies eschewed makeup, you can still reinvent the Flower Child with lip color in a shade that closely matches your natural lips.
Thin brows were again in fashion, and mascara was still in favor for defining eyes.
1970s Chic
As disco hit the scene, makeup evolved to match this loud, clubby music.
Plenty of blue and purple eyeshadow, lots of mascara (or fake lashes) and generous coats of lipstick were needed to compete with the flashing lights and action on the dance floor.
Nighttime Glamour
Nighttime soaps like Dynasty and Dallas during the 1980s brought back a glamorous edge to makeup.
New advancements in cosmetics made makeup easier to wear than ever. Plenty of colors were available for women of all skin tones.
This dramatic look recalls the 80s, but is a great nighttime face as well. Smoky eyes and bright red lips create an unforgettable allure.
More women wearing red lipstick pictures are sure to give you even more old school ideas!