Great New Years Makeup Ideas!
New Year's Eve makeup ideas favor bright colors and sparkly makeup that gets you noticed. This is not a night to hold back!
In fact, some elements that you may want to include in your makeup might extend towards:
Glitter: This can be on the eyes or the cheeks.
Shimmer: Shimmer can include a shimmery blush, or something a bit stronger, like a bronzer.
Whether you know the look you are going to wear on this special night, or are still searching for ideas, the following pictures are for you!
Ice Queen
An "icy" look works great on New Year's Eve! It's season appropriate and because the lips are done in a pink/nude color, you won't have to worry about constantly reapplying your lipstick.
If you plan to go with this makeup style, be sure to curl your lashes with an eyelash curler. Top the entire look off with several coats of mascara.
Sultry Delight
Cool colors, like purple, play brilliantly on this glittery night. Strong brows are a must, but make sure that your face can "hold" them. Additionally, if you go with strong eyes, be sure to keep your lips soft. This way your entire look will remain balanced.
Who's The Fairest of Them All?
Who's the fairest of them all? You of course! Particularly when your eyes are done in an electric shade of blue with sea-like overtones. Up swept hair and shockingly pink nails are sure to seal the deal!
Dancing Queen
If you plan on dancing through the night, be sure to keep all eyes on you by adding glitter in a bright color, like gold. The yellow and green eye shadow won't hurt a wit either!
Twilight Drama
Love the movie Twilight? Then why not steal that gauzy, romantic style for New Year's Eve? This look is defined by clear lines, so make sure that you use a sharp eye pencil when recreating this look? Slightly flushed cheeks in a natural-looking shade, like apricot, topped off with grapefruit-colored lips seal this sweet deal.
Disco Diva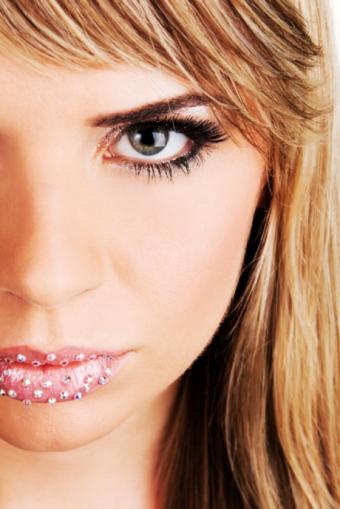 Rhinestones on the lips? Well, why not? After all, this is one night when anything goes! And when you are having this much fun, why not let your lips join in? Tonight, rhinestones on a lip are a do!
White-Out
Who says black and white is boring? This color combo, particularly as laid out by this model's look, shows just how relevant the color scheme can be! The shorts, of course, are optional, but the addition of bracelets always works great with white tipped eyelashes.
A Fine Line
If the previous looks seem a bit too outrageous for you, why not just get a little more creative with your eyeliner? All it takes is a bold hand to recreate this model's style, so why not try it? You might just love it!
On the other hand, if you love loud and bright makeup, check out 80s makeup styles. You'll find a ton of beautiful and unique looks!