Neutral Makeup Looks Gallery
Neutral makeup looks show you just how versatile natural tones can be. You may be surprised to find what exactly can be included in a "neutral" look.
In many cases, neutral makeup looks show brown, beige, or bronze shades on the eyes, light pink or peach blush, and barely there lipstick or gloss.
However, conservatively applied colors, like purples and plums, can appear neutral and look more flattering and professional than the traditional neutral shades.
Makeup That Isn't Obvious
Sometimes neutral makeup pictures make you question whether or not the woman is wearing makeup at all. For some, that is the goal of neutral makeup.
If you want to wear makeup without looking like you're wearing makeup, choose a gloss that is a shade deeper than your lip color, light blush in a complementary shade, and brown or black mascara.
False Lashes? Yes!
Neutral makeup can include false lashes; they do an amazing job at opening up your eyes.
Don't go too thick or too long, and cut them in half so that you only use the outer corners of the lash strip for a more natural effect.
Keep everything else on the face minimal. Light taupe shadow and a glossy lip do the trick.
Liner, Mascara, and Gloss
With a beautifully vibrant hair color like this model's, there's no need for extravagant makeup.
Her barely glossy pink lip and faint brownish black liner and mascara work well.
Ethereal and Slightly Undone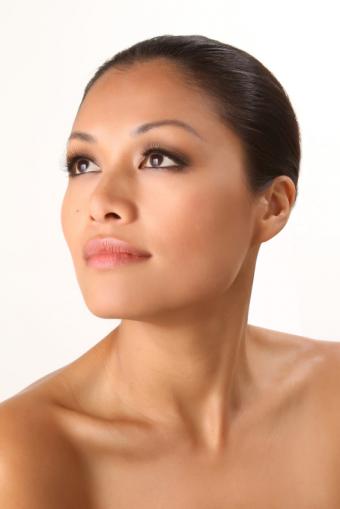 Neutral makeup can enhance your beauty and give you an ethereal glow.
Make the lashes look more lush with liner, taupe shadow, and mascara, and smudge a bit of the same shadow underneath the lash line.
Dust the cheeks, brow bone, and inner corners of the eyes with a highlighting powder.
You'll look undone enough to be approachable, but still like the natural beauty you are.
Neutral Looks for the Office
Looks like this one take you from the office to the beach.
Choose a light, shimmery shell tone for shadow, line the top lashes with brown or black, and add mascara to complete the eyes.
Use a light bronzer as blush along the cheeks and temples, then finish up with a clear gloss. The makeup looks polished, but not obvious.
Mauve Lips, Deep Black Liner
If you're cool-toned, pick up a gloss with a hint of mauve or lilac. It won't stand out much, but it will perk up your face.
Add deep black liner on top lashes only to make the whites of your eyes appear whiter without being obvious.
You can take your neutral look all the way to your nails with a pale khaki or gray polish. This nail color is neutral enough to complement any type of wardrobe or makeup, and should be at home in any environment.
Berry Lip Stain and Winged Liner
A berry stain and lightly winged black liner are quick and easy.
The berry stain will brighten your face and the winged liner will enhance your lash line while giving the appearance of more uplifted eyes--perfect for those days you're feeling exhausted.
Look Like You Wake Up This Way
A light shade of shadow on your lids with a dark brown powder smudged along the lash line will give you a perfectly mesmerizing--but not overdone--gaze. In short, with this look, beautiful eyes can be yours.
Pair with a rosy-brown shade of blush and a gloss or lipstick in a mix of peach and pink for that perfect, "I wake up looking this great" neutral makeup look.