NYC Smooch Proof Long Wearing Lipcolor Review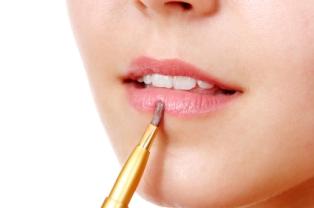 I have the results of my latest makeup experience in my NYC Smooch Proof Long Wearing Lipcolor Review.
There is a lot of talk in the makeup world about products that are long lasting. Like you, I have plunked down $10 or more for a lipstick, stain or gloss that promised to remain after a long smooch or hearty lunch. Until I tried NYC's latest offering I was pretty sure this idea was a bust. While Smooch Proof did last a good long while, I must admit there were some negatives about the product that stood right out. My NYC Smooch Proof Long Wearing Lipcolor Review will show the good, the bad and the ugly about my experience.
About NYC Smooch Proof Lipcolor
NYC Smooth Proof Lipcolor comes in a narrow tube with two openings. The side marked "Step 1" is the lipcolor. The opposite end is the topcoat that seals the color and it is marked as "Side 2." At the right end of the tube is a number. This number corresponds with a specific color produced by the company. My number was 487 Lover. There are 11 shades available in this line.
Application
Here is the procedure I used for applying the product. I prepared my lips for the color by treating them with a lip scrub. Then I opened the color end of the tube. I colored my lips using the sponge tip applicator. Application was not very precise with this tool and I ended up using my own lip color brush to get a better application. Following the instructions, I allowed the color to dry completely before I applied the second step. I opened the clear topcoat and applied it liberally to the lipcolor.
NYC Smooch Proof Long Wearing Lipcolor Review
Wow! This product really did work, and because of it, I have renewed confidence that lipcolors can have long wear. However, I am not totally thrilled about it. I have separated my observations into pros and cons.
Pros
Long lasting: The lip color that lasted all day long.
Inexpensive purchase: I only paid $3 for the product.
Good color: Very flattering with my wardrobe.
Not drying: This product did not dry out my lips or leave them feeling cracked.
Cons
Difficult to remove; you'll need an oil based makeup remover.
Can't touch up: Once the topcoat is applied you cannot adjust the makeup lines.
Transfer: Expect some transfer from one tip to the other. The color on your lips will stain the topcoat tip.
---
For the money, this long lasting lipcolor is a real find. For the best look, use a lip brush to apply the lipcolor and line your lips first.