Makeup Tips for Latina Women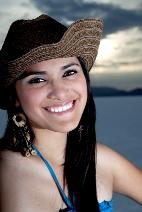 Makeup tips for Latina women cover a wide range of skin tones; Latina should match colors that fit their individual skin tones rather than paying attention to whom the cosmetics companies markets its shades to.
In other words, Latina women should not stick with lines that target ethnic women. Choose make-up lines and colors because they work well for your skin, not because of the complexion of the model on the product.
Makeup Tips for Latina Women: Selecting Foundation
Foundation with red or yellow undertones may work best for Latina women. Be sure to test the foundation on your face before purchasing it. Apply the foundation on clean, moisturized skin in bright light or sunlight.
Smooth the foundation out to eliminate lines that may be viewable in bright light. Foundation will correct many problems with uneven complexions and can give you a flawless appearance.
For more coverage, apply a concealer to hide dark spots from the production of extra melanin in the skin. The concealer can be a shade or two lighter than your own skin color, because it will be covered and blended with foundation.
Use concealer and a brush to mask undereye circles. The dark circles are more likely to appear as black circles under the eyes of people with olive skin tones. You may not have to go out and buy a specialty concealer because some full coverage foundations can also serve as concealer.
Lipstick for Latinas
Bright red on lips is eye-catching and exotic, but may date older Latina women. Use natural colors in brown, burgundy, or rose for a more natural lip color. Apply lip liner to define the lip line and keep the color from bleeding, but the liner should not be obvious; it should not be seen. Never use black liner as lip liner if you want to look natural.
Eyes
Ebony eyes are more common than lighter color eyes for the majority of Latina women. Choose green shadow to bring out the color in your eyes. Mascara with a hint of green may also lighten up dark eyes, or make hazel eyes the focus.
Latina women with light grey eyes or vibrant blue eyes should also be sure to play up their eye color. Choose various eye shadow color combinations for blue eyes and green eyes, using the color to add intensity to your own eyes.
Tan, paired with dark brown is a good combination for the lid and crease for most Latina women. Use the same tan or a lighter off-white right under the brow to highlight that area.
Use liner on the top of the lash line to define the eye's shape. Black eye liner is a basic liner color for Latina women. Liquid eye liners create a harsher more obvious line than pencil liners that can be smudged. Conversely, lines from liquid eye liners last much longer than pencil lines.
Finally, when it doubt, opt for a deep purple - it can bring out brown eyes like no other shade and will allow brown eyes to "pop" beautifully.
Blush
Some Latina women tend to forgo using blush, but blush can help define cheekbones for a more chiseled look. Latina women with dark olive complexions should use darker reds to define the cheeks. Ladies with lighter, fair complexions can try using pink-toned blushes. For an additional glow, consider using a bronzer.
Bronzers
Bronzers can perk up your complexion while adding a healthy glow. Some bronzers have sparkles which reflect the sun. Bronzers are great for any season and can give you a sun-kissed look anytime of the year, but especially during the summer.
Bronzers may be sold according to skin complexion color. Darker bronzers work well with dark skin, and fair skin can use bronzers that are designed for lighter complexions. These bronzers usually will give you a light tan glow. Apply the bronzer in smooth, even strokes. Be careful not to apply too much bronzer in one or two areas. No one should be able to tell that you are wearing bronzer.
A Final Word
In all of your make-up choices, use colors that are designed for your complexion. Use just enough so that you look natural and not overly made-up. With these make-up tips, Latina women can enhance their natural beauty.