Kim Kardashian Makeup Styles
Kim Kardashian makeup looks are wide and varied, particularly as you trace the star's rise to prominence with the popular mass media.
The makeup look most know Kim Kardashian for is one that is resplendent in its bronzed goddess sheen and succulent pale, nude colored lips.
Additionally, note that that the brows are neat and lightly arched, while the eyes are attractively rimmed, and the cheeks remain rosy and flushed.
Kim Kardashian of Old
It may be hard to believe, but there was actually a time when Ms. Kardashian experimented with her look This photograph, taken in the fall of 2009, shows a fuchsia lipped, bright-eyed Kim Kardashian.
To be sure, Ms. Kardashian is a stunning beauty with natural good looks, so if you'd like to emulate her style in this photograph, an eyelash curler, a fuchsia toned lip color, and several coats of mascara, will put you in good stead.
Another Take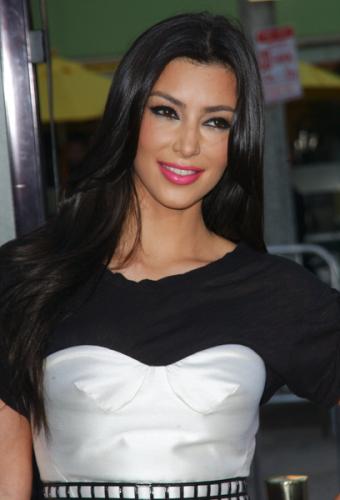 Here's another take on Kim in fuchsia lips and deeply rimmed eyes.
With her hair down, loose and free, most would agree that the star looks quite fetching.
A Blond Kim
As odd as it might seem today, there was a time, namely, August of 2009, when Ms. K was blond.
Notice the lighter makeup she sports in this photograph? That's to be expected when one opts for a brighter hair color.
Blond Bombshell
Still sporting bold locks at the 2009 Teen Choice Awards, Kim goes for a subtle bronze sheen that glows.
You can achieve a smiliar style with bronze powder or blush and a glossy, coral/pink lipstick.
Back To Basics
Lucky for all of us, Kim decides to go back to her dark roots with stunning and beautiful results.
With her natural dark locks in tow, the model/actress is able to sport chocolate rimmed eyes and soft, pink lips, with relative ease.
Who, Me?
At Sean "Diddy" Comb's 40th Birthday celebration, Kim K makes a dash towards bright, mascara, enhanced eyes, and subtly shaded, warm, pink lips.
The end result? Come hither gorgeousness.
The Kim We All Know…
At the 2010 perfume launch at Sephora, Kim Kardashian bedazzles her audience with sophisticated makeup that is at once flawless and beautiful.
Bad Girl Chic
In early 2009, Kim proves that she doesn't always have to play it safe with her makeup. Here, she sports grey rimmed eyes with stunning results.
Can't get enough of celebrity makeup styles? If so, then check out Megan Fox makeup slideshow. It's chock full of plenty of different makeup looks that will have you clamoring for more.