Ever see a face painter at a carnival or party and wonder how they ever got a job so fun? Face painters work hard like any other artist, but definitely have room for creativity and a little silliness too! LTK recently got a chance to speak with Sue Bryant, a part time professional face painter who has worked and painted for everything from company parties to theatrical productions. Sue was happy to respond to some questions regarding how she got started in face painting, as well as some of her favorite projects and ideas for this highly specialized art!
Expert Face Painter Interview
How did you first get into face painting and where did you learn to do it?
I first got into face painting through a clown friend of mine who taught me the basics. From there I went to a few clown conventions.
What was the biggest job you ever had, and where do you get your ideas for face painting?
The biggest face painting job was at a large insurance company Christmas party. There were two of us face painters and we were busy the whole time. I especially like painting people to look like fantasy characters or animals. Sue Bryant's skills in this particular genre of face painting was exemplified in April of 2007, when she was invited to paint fantastical nature designs on the faces of children and teens for a Nothern California production of Alice in Wonderland.
From mice and kittens, to flowers and hedgehogs, Sue's talents were utilized during dress rehearsal and the weekend run of performances. She had to work quickly under a time crunch, as some characters, such as the White Rabbit, needed their makeup rapidly applied and removed in between scenes.
How many times a month do you paint, and where do you get your ideas?
I face paint off and on. I also have a full time job (outside of painting). I buy books of ideas and look at what makeup artists do for models. I study animals and cartoon characters for ideas.
What advice would you give to someone wanting to get into face painting either as a career or hobby?
Practice. I buy dolls from thrift stores with near child size heads to paint on. I also do sketches.
What specific brands of face paint do you use? What do you do about clients who have sensitive skin?
I like Ben Nye and Kryolan. I buy very good quality brushes. The brands I use are expensive. I haven't found someone with skin so sensitive that they irritate. However, there is no product that won't irritate someone's skin. I am always ready to wash off the paint and refund their money. I also give them a temporary tattoo or a sticker.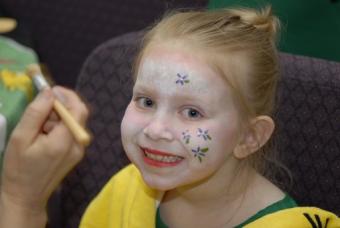 Is there anything else you would like us to know regarding your skills?
I am always looking for an opportunity to develop my skill. I often donate my face painting. I enjoy watching other face painters. I'm always looking for ideas and have a binder to save pictures and sketches.
Contact Sue Bryant
Sue can be contacted for gigs throughout Sacramento and Placer counties in Northern California by emailing her at mikebass1@comcast.net. You can also search for a face painter for your next event or party by searching the Internet or yellow pages for your local area.
Learn More About Face Painting
If you are interested in learning about face painting yourself, check out some books at your local library to get inspiration and ideas for face painting, or look into attending a specialized makeup artist course through your local college or trade school.