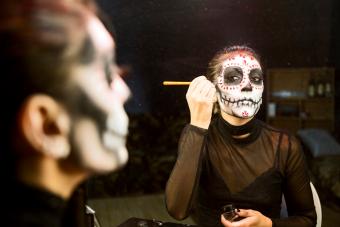 Take your costume to a new extreme with Halloween face painting. Face Paint gives you the freedom to create a unique look to complement any style of costume you may choose for Halloween.
Basics of Halloween Face Painting
If you are interested in an alternative to a hot and cumbersome mask then face painting is a perfect option for you this Halloween season. Face paints not only transform your look into something unique and creative but can look realistic as well. Face painting can be simple or as elaborate as you want. To get started, all you will need are a few basic Halloween face paint supplies such as:
Cream makeup in various shades such as white, gray, red, black and green. This can be used instead of your regular foundation as your base and can also be used to accent and highlight your face.
Powder will set your makeup and keep it from looking oily.
Fake blood can be created with makeup or be bought in a Halloween store.
Makeup kits are sold in Halloween and many discount stores. They are often tailored to specific costumes so everything you need is contained all in one kit.
Homemade face paints are simple and easy. Common household items such as glue, paste, flour and food coloring can be used as face paints.
Ordinary cosmetics: eyeliner, shadows, blush, rouge, lipstick and mascara all work well for Halloween. Use eyeliner to create whiskers, scars and other special effects. Apply a set of false lashes to add drama to your eyes and really make them stand out. Use your cosmetics in unique ways to create dramatic looks to compliment your costume.
Glitter and stick on jewels can add sparkle to your face.
Application tools: brushes, sponges, cotton balls, cotton swabs are all necessary to have on hand.
Remember practice makes perfect. Learn to face paint by experimenting with different techniques and products until you find what works best for you.
Tips and Tricks
Always start with a clean face free of any oils or makeup. Added moisture can cause face paints to slip off skin and not adhere well. Remember to start off with a light application of makeup and add as needed. Too much applied in the beginning can result in clumping and will not create a smooth look on your face.
Always be careful around the eye area and this is especially important for young children who may rub their eyes and get the face paint in them. Makeup that can be removed with soap and water is recommended for use on children and active adults since they clean up easier and are more comfortable to wear. Be sure to test your makeup on a small area first to make sure that it does not irritate the skin.
Popular Face Paint Variations
The possibilities that can be created with face paints are endless. Many costumes incorporate face paint as part of their look while other costumes can simply be normal clothing and the face paint be the costume.
Whether you want to look scary or sweet, face painting will give you the option to explore and create whatever look you choose. Face painting is suitable for all ages, males and females and is affordable and easy to apply. It is the perfect compliment to any Halloween costume. Some popular looks using face paints include: