Halloween Costume Face Paint Pictures
Halloween Face Paint Pictures
The following Halloween face paint pictures are sure to inspire you to use your creativity and design your own costume idea with a colorful paint palette!
No matter your age, face painting is a festive art that can be used in so many ways to express your individuality and your mood. While Halloween costumes make a whole theme, face painting is often a stand alone application that allows creative freedom and thinking. Whether you opt for a clown, a fairy or a simple skeleton, face painting is a unique way to dress up without an added costume expense. Take a look and get some fresh ideas!
A Ghostly Ballgame
This little boy is ready to fright with his spiderweb accents. A simple white tank and shorts paired with a ballcap complete this unique, yet affordable costume idea.
Get Colorful
For those with a steady hand and plenty of prep time available, a unique and colorful mosaic design is hard to beat in the creative department.
Practice Makes Perfect
Spend some time practicing your designs to ensure their perfection come Halloween! Let the kids play while you help instruct.
Call of the Wild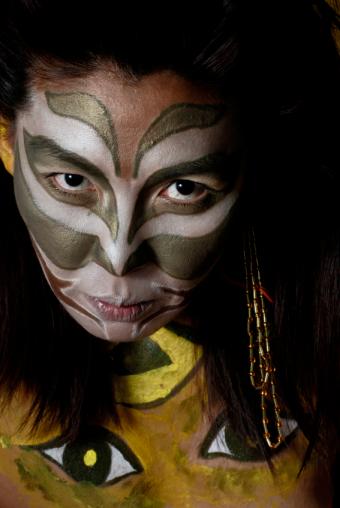 This unique cultural themed animal seems straight out of the jungle! For the bold, why not incorporate your face paint into full body art?
Pretty Sparkling Fairy
This striking fairy is even more magical with a touch of whimsical makeup. Add sparkles, glitter and rhinestones to enchant all in fairy-land!
Easy Clown Design
Clowns are a popular choice for good reason, they are easy to design and a blast to wear! This clever clown face looks perfect on a toddler. To change the look, vary the color palette or add a different color wig.
Creepy Clowns
Not every clown is cheerful -- these creepy clowns are sure to encourage Halloween fright. A terrifying clown is a classic choice for the morbid personality. Add wigs and colored contacts for even more impact.
Halloween face painting pictures are one of the best ways to get inspired for your own costume theme or idea. For more tips, be sure to visit our animal face painting slideshow.