Embrace a Darker Makeup Style
Beauty can be found in darkness. While everyone has their own personal preference when it comes to makeup application, goth styles continue to be popular, thanks to their dark and edgy appearance. Are you looking to experiment with your style? Then these gothic makeup pictures are the perfect place to start.
Smoky Eyes and a Nude Lip
The key to a traditional gothic look is contrast. It focuses heavily on the eyes while muting out the rest of the face. The difference between those darker and lighter shades will result in a bold, sultry, and unforgettable creation.
Achieve this style by applying black eyeshadow all over the lid. (Avoid messy fallout by doing the eyes before foundation.)
Add extra definition by lining the upper and lower lash lines with something like the Urban Decay 24/7 Glide-On Eye Pencil in the shade Perversion, an ultra dark matte black.
Leave your lips bare or amp up the contrast with a nude lipstick.
Dark Eyes and Dark Lips
Some makeup looks are subtle and soft while others are the complete opposite. This goth look is most definitely on the dramatic side! It features dark eyes and a dark lip color. This classic style can be worn in a throwback 90s way (think black eyes and lips) or made modern by using a deep brown liquid lipstick.
To start, apply a dark eyeshadow all over the lid, blending up into the crease.
Take that same shadow along the lower lash line, bringing it slightly further down to create a smoky (and rock 'n' roll inspired) look.
Then finish it off with your lip color. The key to wearing black lipstick is to prep your lips, choose the right shade, and set it with a translucent powder.
Berry-Toned Lips
Another example of gothic makeup is this ultra vampy style. It blends sultry eyes with a berry-toned lipstick, leaving you with a wide-eyed yet mysterious appearance. One way to make this even more goth is to choose a foundation a shade or two lighter than your natural skin tone.
This makeup look is definitely unforgettable. (In fact, Lily Collins sported a version of it at the 2017 Met Gala!) To create it at home, keep the eyes relatively simple.
All you need is a matte brown eyeshadow on the lids, a bit of smudged black liner, and mascara. As for the lips, choose a dark berry-colored lipstick as your focal point.
Gothic Ombre Lips
One lip trend is everywhere: ombre. It features two different colors (one around the edges of the mouth and the other in the center of the lips). This style doesn't just look cool, it actually makes your pout appear fuller. Pair this bold lip art with sharp winged liner to create the ultimate trendy goth makeup.
Start by creating a thick wing along the upper lash line. (Use liquid or gel eyeliner to achieve the shape you want and snag lots of drama.)
Add on false lashes for a bit of extra flair and then get to work on that head-turning ombre lip.
Any two colors will do, but black and red are sure to make you stand out.
Smudged and Messy Eyeliner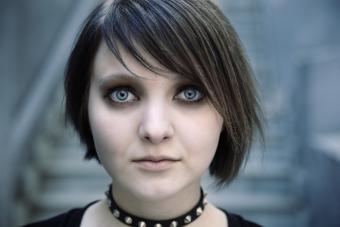 A trademark of gothic makeup? Being totally unrestrained with eyeliner. Sometimes, that lived-in look is all you need to create a goth inspired style. The whole idea is to keep it messy and smudged.
For best results, use a kohl liner (this work well for tightlining and is easy to smudge) rather than a traditional eye pencil.
Apply it along the inner rim and the upper and lower lash line.
Make it messy by smudging it out with a small pencil brush. You can go as subtle or extreme as you like with this step, just keep your makeup looking dark and dangerous.
Ultra Gothic Red
There is something undeniably exciting about red and black. These two shades cannot be ignored! No wonder they are often used in gothic makeup. A red eye (which can be worn soft and smoky or sharp and angled) paired with a fabulous red lipstick is guaranteed to wow.
Start by dabbing primer all over the eyelids. This will help keep your shadow in place and intensify the color.
Reach for an eyeshadow palette with your desired shade of red (a deeper red is great for a more grunge inspired style while a brighter red will give you more contrast).
Apply the shadow all over the eyelid before extending it outward for a sharp winged effect.
Finish off the look with a deep red lipstick.
Colorful Modern Gothic
Who said gothic makeup had to be all black? Just because something falls into the goth category doesn't mean color is a no-go. In fact, many modern takes on this style incorporate vibrant colors. It is a great way to add an unexpected pop to an otherwise dark look.
Reach for a bright eyeshadow shade. It can be any color you like, but the Kat Von D Pastel Goth eyeshadow palette is sure to give you a few ideas.
Use a blue shadow all over the lid and blend in some purple.
Add on glitter for a bold finish and pair it with black eyeliner.
For the lips, wear a dark lipstick to give this look a more gothic twist. The addition of those darker colors will make the colors more noticeable and give your gothic look an in-your-face finish.
Dark Eyes and a Colorful Lip
Another great way to add in color is to embrace the rainbow lipstick trend. Suddenly, everyone is wearing blues, purples, yellows, greens, and every other imaginable shade. Make it goth by pairing a colorful lip with a dark and smoky eye.
Use a dark eyeshadow all over the lid and underneath the lower lash line. Keep in mind: it doesn't have to be a matte black. Shades like rust brown, olive green, and deep purple will create a subtle wash of color without appearing too vibrant.
Then add on a trendy turquoise lipstick to take it to the next level.
Romantic Gothic
It is possible to achieve a powerful makeup look that embraces the traditional goth style, but still has a romantic finish. Simply combine bolder eyes with rosy cheeks and a soft pink lip color.
Use black and white eyeshadow to create a sharp graphic eye - and add on a pair of false lashes. They will give the eyes more than enough drama to compensate for those sweet and subtle finishing touches.
Dust a rose-toned blush on the apples of the cheeks.
Then add on a pink lipstick or tinted balm.
This easy to wear goth look is appropriate for any occasion.
Anyone Can Wear Gothic Makeup
This style of makeup may not be for everyone, but it can be modified to suit any and all preferences. There are countless gothic makeup ideas that can help you embrace your inner goth. Simply choose a look that speaks to you and unleash your creative side!