Fran Wilson Cake Eyeliner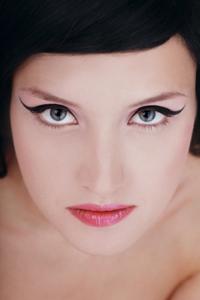 Drawing attention to your pretty peepers has never been easier, thanks to Fran Wilson cake eyeliner. More than just your average liner, this unique formula stands up to your busy schedule and promises to last for hours.
The Benefits of Cake Eyeliner
Though it's perhaps less common than traditional eyeliners like pencils and liquids, cake eyeliner is still a standout. It's an incredibly versatile cosmetic product that trumps those pencils and liquids in the longevity department.
Their creamy, rich formulas are designed to stand the test of time, meaning that your early morning meeting, powwow at lunch and after-hours date have nothing on this stuff. No matter what stress the day might bring, your mind can rest at ease knowing that your eye makeup looks smashing!
In addition to their staying power, cake eyeliners offer some other great benefits, including:
Versatility
Worn wet, cake eyeliner can easily transform your eyes into the sexiest ones in the room. It's easy to achieve a dramatic, sharp look worthy of your favorite celebrity vamp with a sweep of cake liner above and below the lashes. If you don't aspire to look like Catwoman, you can choose to keep it simple by adjusting the amount of water you use to wet your brush. Produce a soft, gentle line and smudge it slightly for a less bold look.
Simplicity
If you've found yourself struggling in vain with a liquid eyeliner, take heart; the cake eyeliner was practically made for you. In its basic state, the cake liner is dry and won't budge. It's packaged in a small pot, similar to a small eye shadow container. Though applying this type of liner requires the use of a brush, actually achieving the line couldn't be easier!
Gentle
Forget about dragging and skipping your way across your eyelid. When it comes to Fran Wilson cake eyeliner, whether your skin is dry or oily, you won't experience running or smudging the way you might with other formulations. That's because cake liners require water and dry extremely quickly. Once it's there, it's there for good (at least until you're ready to wipe it off, of course). It's equally easy to remove, although a creamy eye makeup remover will make it an even more gentle experience.
About Fran Wilson Cake Eyeliner
You've probably seen them before, yet never given them a second thought - mood lipsticks. In vivacious, slightly alarming shades of yellow, blue, green, purple, black, orange, brown and the slightly more welcoming pink and red, these lipsticks promised to change with your body chemistry and transform into your very own personalized lip color. The fact that you know about these little wonders at all can be attributed to Fran Wilson, whose MoodMatcher Lip Care Sticks were the original transforming lipsticks.
It's no surprise that the brand that brought such innovation to the market would be responsible for one of the industry's prevailing cake eyeliners, too. Touted by the brand for its "exclusive European formula," the Fran Wilson cake eyeliner is a creamy product that applies with perfect precision. It's available in black and brown shades, and each compact comes complete with a miniature liner brush.
In order to apply any cake eyeliner successfully, you'll need a brush. Whether or not you choose to use the miniature brush included here is up to you, but for a more complex, pulled together look, you might prefer a regular size brush. Makeup artists love a flat liner brush, such as this one from Laura Mercier's collection, to dot and blend the liner across the lash line.
You'll achieve even greater control with a brush designed especially to conform to the shape of the eyes. Smashbox Cosmetics and Benefit Cosmetics both carry arced brushes that bend at the neck to ensure greater comfort and ease of application. The brush is slim and pointed, providing near perfect color as close to the lashes as possible every time.
Don't forget to moisten your brush accordingly. Wet it liberally to achieve a rich, dramatic look, or dampen it just slightly to deposit just a hint of soft, flattering color.
Where to Purchase
Fran Wilson's products are available online.