Four Formal Occasion Eye Makeup Looks
Whether you choose a seductive cat eye, a sultry smoky eye, a fresh and flirty eye or a colorful eye, the first step in creating your eye makeup look is to find inspiration. Flip through magazine pictures. and take note of models or celebrities and their makeup. Depending on the occasion and attire, eye makeup can be heavy and dramatic or light and playful. With just a few sweeps, you can take your makeup from ordinary to extraordinary by following these formal eye makeup tips.
Four Eye Makeup Options for Formal Occasions
The best way to keep your makeup foolproof is to pick a palette before you get started. Organize your makeup and choose your lip color, eye makeup, blush and concealer in advance. Your goal is to have at least one, but no more than two impact colors. Once your makeup coordinates and compliments one another, you're ready for application.
1. The Smoky Eye
Whether you're sizzling on a tropical island or mamboing the night away, one thing is for certain, this smoky eye is going to turn up the heat. Smoky eyes are sultry and seductive and go hand in hand with black dresses and candlelight. The smoky eye can work on anyone; just follow these formal eye makeup tips to create a steamy focal point.
Tap a thin layer of concealer under eyes from corner to corner and set with powder.
Line lids on the top and bottom with a dark brown or black liner.
Apply brown or black shadow into entire crease of eye.
Start blending. Just when you think you've blended your eye shadow enough, you need to blend again, and again, and yet again.
Smudge the eyeliner on both the top and the bottom with your shadow brush.
Layer two to three coats of dark brown or black mascara.
Stay neutral on the cheeks, pick a peach or rosy pink blush.
Finish with a ripe peach lip color or pink gloss to soften the intensity.
2. The Cat Eye
Marilyn Monroe worked it, and rocker Amy Winehouse owned it. No matter how exaggerated your line gets, that inner feline is purring seductive and that's just plain sexy. Wear it in the daytime, which adds to its appeal. Both a retro and provocative take on formal eye makeup, this sex kitten look is as simple as drawing one purrr-fect line.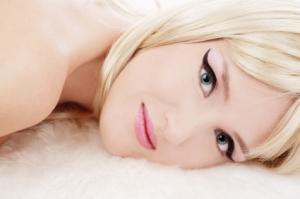 Start with a clean eye.
Tap a thin layer of concealer under eyes from corner to corner and set with powder.
Sweep a neutral shadow over the entire eyelid. You may choose a beige, taupe or shimmery neutral.
Paint a thin line using black liquid eyeliner from the inner corner of your eye graduating to the outer corner. Using your index finger, gently pull the eyelid upward to create a "sweeping" effect as you flare the line up and out to the outer lid.
Remove any smudges with a Q-tip saturated in eye makeup remover.
Apply two to three coats black or brown mascara.
Sweep a peach or pink blush on the apples of your cheeks.
Apply red lip-gloss for a sexy and playful look.
3. Fresh and Flirty
Whether dewy and shimmery or matte and buff, the fresh and flirty eye keeps things simple and clean. This look can be natural or formal depending on your lip color. The added bonus is that this look works day or night (perfect for brides) and never fails to show off your feminine side. The key player here is your eyebrows; they should always be well groomed and defined with a brow powder or pencil first.
Groom your eyebrows.
Tap a thin layer of concealer under eyes from corner to corner and set with powder.
Apply a neutral shadow over entire lid.
Line the upper lids with brown or black eyeliner.
Sweep a deep neutral brown shadow into the crease and blend.
Highlight your brow bone with a light shimmer powder or cream.
Apply two to three coats of black or brown mascara.
Sweep a rosy blush on the apples of your cheeks.
Finish with a red lipstick for added drama, or a rosy shade for a fresh romantic look.
4. Colorful
When you want to extend your creative fashion style to your eye makeup, it's time to play with color! While colored eye shadows aren't a traditional eye makeup look, they make all the difference when they act as an accessory to your wardrobe. To keep your look clean and modern, downplay your jewelry and let your eyes speak for themselves.
To apply vivid or bold shadows, make sure you have a steady hand and avoid over application.
Always start at the outer corner of the eyelid and sweep color inward rather than outward to prevent an unrealistic and telltale shadow line.
Make sure you blend bold colors liberally to soften and smudge their bold look.
Colorful eye shadows look best when paired with a neutral lip and a light gloss. Keep in mind not everyone can wear the same bold shadow hues. If you have blue eyes, revel in turquoise or cool water hues, and if you have brown or hazel eyes, play with purple and green tones for a palette that flatters and pops your natural eye color.
Practice Makes Perfect
As with any other makeup technique, formal eye makeup application takes some practice. For best results, pick you palette and spend a few days mastering your chosen technique. If you need some inspiration for a formal look that flatters your features, stop by any cosmetic counter or a makeup retailer such as Sephora or Ulta and visit with a cosmetic sales associate. Once you've mastered a formal application style, you can change it up on a whim with different colors and really have some fun!