False eyelashes can look full, fun and flirty, but finding the perfect lashes could be like searching for a needle in a haystack. With so many choices for these fantastic cosmetic accessories, it can be difficult deciding which product to choose. Luckily, several brands have garnered acclaim from professionals and customers, so they're well worth trying for yourself.
Most Authentic: Ardell DuraLash Naturals
Ardell DuraLash Naturals are priced around $3 per tray. They are available in brown or black, and length options include short, medium, and long. You can apply these individual lash clusters yourself at home, and since they're knot-free, they'll fit seamlessly between your natural lashes. Almost no one will be able to tell the difference. These lash clusters are ideal for adding subtle enhancements or full-on, show-stopping beauty without a jaw-dropping price.
Awards and Testimonials
InStyle magazine rated these false lashes as the Best False Lashes for 2014, as well as the three previous years. They are also favorites with professionals who have given testimonials for Ardell on the company's website. In her testimonial for Ardell, makeup artist Silvia Leczel proclaimed "I can't live without the Ardell DuraLash Natural! They are perfect for creating a natural look!" Dancing With the Stars makeup artist Melanie Mills said, "Ardell is truly my number one choice when I go for lashes."
Product Details
Made from 100-percent human hair
56 lash clusters per package
Relatively easy to apply with some practice
Wear for approximately two weeks
Damaging to natural lashes if worn too long or applied incorrectly
Best for Salon Application: NovaLash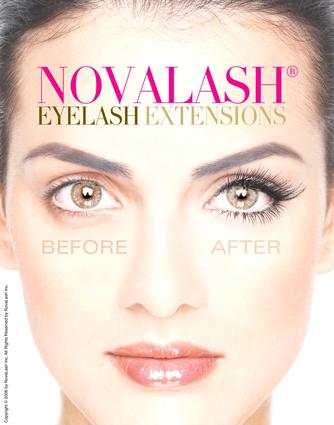 If you're not an expert at applying falsies, having a professional apply lash extensions, such as NovaLash Eyelash Extensions, may be the way to go. These were created in 2004 by biologist and cosmetic chemist Sophy Merszei and a team of physicians and scientists, and they're virtually undetectable on the natural lash. Available in a variety of styles, these synthetic lashes can be applied to look subtle or over-the-top gorgeous.
NovaLashes are a bit of an investment because the price ranges about $100 to $300 for the initial installation, depending on what an individual salon charges. If you plan on maintaining these gorgeous lashes, expect to spend about $100 for a refill every four weeks. Currently NovaLash has distribution in salons across the United States and in over 40 other countries worldwide.
Awards
NovaLash has received some impressive awards in recent years. The brand boasts a Launchpad Reader's Choice 2013 Award for Eyelash Extensions, an award this product has won each year since 2010. NovaLash was also noted as the winner of the 2013 American Spa Professional's Choice award for eyelash extensions.
Application
Lashes can only be applied by a professionally-trained NovaLash extensions stylist.
The approximate application time depends on the individual's lashes and the stylist's level of experience.
During an application, clients lie down with their eyes closed. A lash stylist works from behind the client in a facial-like setting and applies the synthetic lashes one-by-one to individual natural lashes.
This technique requires several 'separation' steps during the application process so each extension is adhered to a single natural lash. This prevents interruption of the lash growth cycle.
The NovaLash application technique enables natural lashes to grow and thrive with extensions.
Product Details
Made from synthetic fibers
Lashes have tapered ends and come in several lengths, densities, and curls
No set number of lashes in a set; full set means extensions are applied to all natural lashes
Applied with Platinum Bond® extra strength elastomeric adhesive; superior in strength, compared to other lash extension adhesives
Best Thickness: Ardell Fashion Lashes Pair - Wispies
Ardell Fashion Lashes Whispies are priced around $14 for four pairs. These lashes are perfect for the lady who likes wearing a strip lash everyday. These lashes are knotted on a comfortable, lightweight band, and they add dimension, thickness, and length for most eye-shapes. They are available in brown or black, and are easy to apply. Since they are designed for daily wear, they should be kept in their case between uses.
Reviews and Testimonials
Customer reviews on Amazon give this product about four and a half out of five stars. One customer said, "If you're looking for long, natural-looking faux lashes, these are the ones to buy." Another states, "Right out of the box, they're beautifully wearable."
Melanie Mills also describes Wispies as one of her favorites. According to another professional testimonial for these lashes at Ardelllashes.com, The Chelsea Handler Show makeup artist Wendi San George said, "...Ardell Wispies enhance my shading just perfectly with a length that looks sexy and natural all in one!"
Application
Can be applied at home
Size bands according to eye shape; some trimming at the ends may be needed
Lash adhesive required to apply bands
Product Details
100 -percent human hair
Easy to apply with Ardell Duo Lash Adhesive
Comfortable to wear everyday
Can be worn repeatedly for about three weeks
Wear with or without mascara
Best Buy: Red Cherry False Eyelashes #747S
Red Cherry False Eyelashes #747S are an excellent value for such a high-quality lash. Made with a flexible band, these lashes are lightweight and comfortable enough to wear every day. Since they only cost about $12 for a pack of six, they're an affordable choice as well. Made from real human hair, these long, natural-looking lashes have tapered ends and will meld beautifully with your own natural lashes. The medium-long length is enough to make your eyes pop without going overboard.
Reviews
A popular product on Amazon, one customer wrote, "They are the best, and I get many, many wears out of one pair of lashes." Another notes, "I like these eyelashes because they look more like real lashes and are not so long." Another Red Cherry fan from Madame Madeline noted in a review on the product page, "Love these, almost a shorter version of Demi wispie with a cheaper price and a more durable band"
Product Details
100-percent natural hair
Applied with lash strip adhesive
Can be worn for three to four weeks
Spice Up Your Look
False eyelashes offer a fun way to enhance your everyday look or maybe add a little spice to a special evening out. No matter what your reason for wearing them, be sure to read the application directions carefully, and give yourself plenty of time to practice putting them on before you plan to wear them.