Gorgeous Eye Shadow Pictures
You don't have to be a makeup junkie to love eyeshadow; as you'll see from these eye shadow pictures, a little shadow goes a long way to transform any woman's eyes! Get application tips and take a peek at some of the hottest eye shadow colors here.
Quick and Easy Eye Shadow
For a foolproof eye shadow look, choose a light to medium neutral shade, such as taupe, which is almost universally flattering. Apply to top lid and under lower lash line with a sponge applicator or eye shadow brush and finish with black mascara.
Polished Eye Shadow in 3 Steps
To really define your eye, use three eye shadows. There are many different ways to apply, but one easy method is:
1. Apply a light shade on the lid and just under the brow to highlight.
2. Apply a medium shade in the crease of the eye.
3. Use a darker shade at the crease in the outer corner of the eye. Blend well!
Dark, Smoky Eye Shadow
Instantly transform your eyes for evening with a dark, smoky eye shadow application! A classic smoky eye uses black, grey, or charcoal eye shadow, but you can also create a smoky eye look with purple, maroon, other rich, dark eye shadow colors. Use shadow above and below the eye, and finish with a smudged kohl liner and mascara.
Glitter or Metallic Shadow
Glittery or metallic eye shadows are perfect for special occasions or evening wear. Apply on the top lid only, or on the lid and along lower lash line for more drama. Use a light hand; a little goes a long way.
Shape with Shadow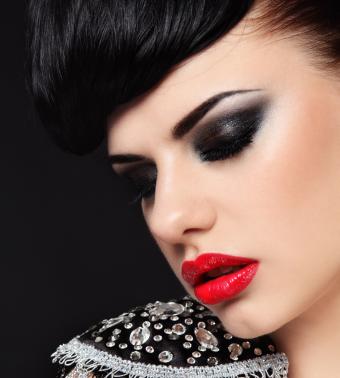 Use a darker eye shadow shade to help shape and add intensity to your eye. The model here shows off pretty horizontal tear drop shadow shape that really draws attention to her eyes.
Secrets of Colored Eye Shadow
Eye shadow in bright colors is a hot trend, but how can you pull it off successfully?
The key is balance - pair a bright eye shadow, like the blue and purple hues this model is wearing, with a nude lip and barely-there blush for a gorgeous look. Make sure to blend well and choose colors that work well with your eye, hair, and skin tone, too.
Professional Eye Shadow
Get work-ready eyes by using eye shadow in a neutral hue that complements your eyes. To keep the look sharp and professional, use shadow on the upper lid only, or use a brush to lightly line under the eyes, skipping the heavy eyeliner.
Sophisticated Shimmer
Use shimmer shadows in unexpected ways to create a glam look. Here the model wears a subtle wash of gold shimmer shadow under the lash line.
Artistic Eye Shadow
With all the colors and styles of eye shadow available, it's easy to get creative. Use eye shadow pictures as your guide, and have fun experimenting with both every day and dramatic eye makeup looks.