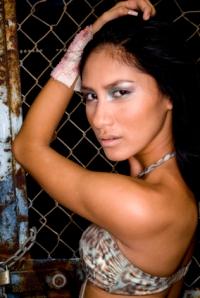 Touting some extreme eye makeup is one of the best ways to be noticed. Read on to find out the different types of eye makeup that fall into this alluring category!
Extreme Eye Makeup Made Easy
Extreme eyes can easily get you noticed, and one of the very best things about this look is how easy it is to achieve. In fact, eye makeup can be done in a variety of ways, using varying techniques and tools. The best part? It doesn't have to be that complicated! Just by tweaking a few of the techniques in your daily eye makeup routine can yield surprising, notice-me, results!
Mascara
Mascara, specifically colored mascara, is one of the easiest ways to take eye to the extreme, with a minimum of fuss and expense. Before you begin, choose your most flattering hue. You won't want for colors, but if red looks garish on you, then you'll obviously want to stay away from that shade. Here are some of the most popular colors you can choose from today:
Blue
Purple
Yellow
Red
Orange
Green
It doesn't matter which one you choose; with colors like these, your eyes are sure to stand out!
Glitter is So Pretty!
Glitter is another great way to achieve a bold extreme eye makeup look, but because of its incandescent nature, it still manages to remain very pretty and feminine on the lid. The most important decision you'll have to make with glitter is where would you like to place it? Consider the following:
Place glitter on the extreme outer corner of the eyes for a wide-eyed enchanted look. Think about drawing the glitter "up and outward" to create an uplifted "winged" effect.
Dot glitter on the inner corner of the eyes (near the nose bridge). This look is highly recommended if you are attending a party and you want to catch someone's eye! For example, let's say the individual in question is sitting slightly away from you. The way that the light will reflect off your eyes will give you that inner glow; perfect for snagging the individual of your dreams!
Lastly, you can consider placing glitter under your eyebrows (right under the brow bridge), but we wouldn't recommend it (it can sometimes create a slightly "dated" look). However, this is all about achieving an extreme eye makeup look, so if it works with your features, then go for it!
Full Brows
Full brows make a bold statement. To get a good idea of this look, think of Hollywood's "glamour age," when beauties like Elizabeth Taylor and Audrey Hepburn lit up the big screen. It may not seem like much, but in a world where we tend to tweeze ourselves silly, drawing a full brow takes courage! If you have strong features, like wide eyes, a delicate chin, or sensuous full lips to pull off this look, try it. You may just like what you see.
Color is Key
Color is huge this season, and it makes a tremendous impact when it's on the lids. Thankfully, these colors are much more sheer and wearable than they were in the past, making it much easier for gals today to pull off the look.The only world of caution here is to choose shades that compliment your skin tone. Pale-skinned girls should choose deeper shades like denim blue (it may sound scary, but it will look devastatingly gorgeous!). Warm toned girls can opt for a purple shade, since it will contrast nicely with your skin tone. Ladies with deep golden tones like mahogany and cocoa should think about enhancing that warmth even further. For that, turn to warm berry, raspberry or orange shades, all of these colors will look extremely gorgeous!
Intricate Designs
When it come so the eyes, adding intricate designs may take a bit more practice, but the results can be every bit as beautiful as some of the more conventional beautification methods.
The key to intricate designs lays in its experimentation; you'll have to try, and try again, until you get just the right look. Once you do get the look right on one eye, however, it can be tricky to duplicate it on the other! To help, consider looking at tribal and ceremonial markings to get a good idea of all the different looks available out there, and of course, to get an idea of how to come up with one of your own.
Of course, when all else fails, you can always just add a bindi (remember when Gwen Stefani sported one during the late 1990's?). The great thing about bindis (worn between the eyebrows) is that they are super cheap and they come in a myriad of colors. Additionally, because they are primarily an Indian tradition, sporting one all but guarantees that you'll look extreme!