Gallery of Creative Makeup Looks
Creative makeup looks can run the gamut from subtle to all-out fantasy.
You're only limited by your imagination when you take a makeup brush in hand.
View your face as a canvas and approach it as an artist would. It's only makeup; it washes off if you're not happy with it.
Creative makeup looks aren't only for Halloween parties. You can design them for other special occasions or any time you want to create not just a look, but a fantasy.
Attention to Detail
When it comes to creating these artistic looks, a detailed hand goes a long way toward making sure your face is perfect.
Skinny makeup brushes and a steady grip are needed to design such an eye-catching look.
Double Cat's Eye
Instead of one sweeping black line, why not two? This cat's eye design gets double the drama.
Icy eye shadow colors keeps the look more light than dark.
Black Beauty
Glitter makeup and dramatic lashes create this gorgeous eye.
It's better suited to evening parties, when you can really shine.
Good Enough to Eat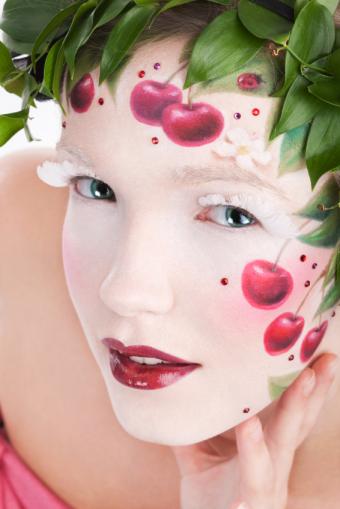 This look isn't for every day, but it's perfect for those times you want to be the center of attention!
An artistic friend may be able to create this delicious design for you, full of vibrant red cherries and little ladybugs. Feathery false lashes finish this off to perfection.
Soft and Subtle
The eye makeup is subtle, but it's what lies beyond that stands out.
Adhesive gemstones and a shiny pattern on the outer eye corners add a fantasy element to this look.
Into the Web
You'll need an artistic bent to create this spider web over a black background.
Adhesive gems add sparkle to this design, which is perfect for Halloween.
Fiery Drama
This makeup look would finish off an Asian-inspired costume perfectly.
Freeform designs differ slightly over each eye, but are complementary to one another and to this model's bright, sparkly lips.
Deep Pinks
Deep pink is a tough eye shadow color to wear, but the contrast with these gorgeous green eyes makes it the right choice.
Eyebrows are colored gold, with a hint of it surrounding the eyes as well. Perfectly applied lipstick completes this dramatic makeup look.
More fantasy face paint pictures may provide more inspiration to women who believe in creating a variety of fun, unique looks with makeup.