Extreme Makeup for Everyday Inspiration
Crazy runway makeup is not just fun to look at; it can be inspiring as well. While some of the more avant-garde looks are too much for everyday wear, toning down an intensely creative catwalk makeup look can make it wearable for everyday.
The extreme Furne One runway look pictured plays up both the eyes and lips with smoky eyes and a bright blue lip color.
A Perfect Doll
Bright cheeks, bubblegum pink lips, long lashes, and a hint of emphasis around the eyes give this model her doll-like persona in the Furne One fashion show.
Disheveled Geisha
This makeup style from a Vivienne Westwood show in Shanghai took the classic geisha look and made it a bit disheveled. The red lips and white foundation were still there, but cheek contour and a smoky black and tan eye combined with messy hair for something more undone.
Blank Canvas
In this photo from a Victor De Souza show, almost all the color comes from the shirt. Here, the makeup creates an icy, pale complexion devoid of hand-sculpted shadows or rosy cheeks or lips.
Theater-Inspired Makeup
In this shot from a Marco Marco show, the model wears an extreme combination of bright colors and geometric shapes for an unexpected nod to theater makeup. Contouring, sharp lines drawn with makeup, and rhinestones all combine to make this a head-turning makeup job.
Zany Brows
The eyebrows steal the show in this makeup photo from the Mindware Fashion Show. Brows that are overemphasized, drawn in, and in an unnatural shape make the need for additional makeup almost non-existent. The eyes are emphasized with a bit of black liner, but other products on the face and lips are kept sheer and neutral in tone.
Slept-In Eye Makeup Look
While the smoky eye is a staple makeup look for the catwalk, Aura Tout Vu offers a new take on the smudged eye. Here, the model's makeup is applied in a very exaggerated, slept-in style that somehow manages to look sexy.
Upside-Down Shadow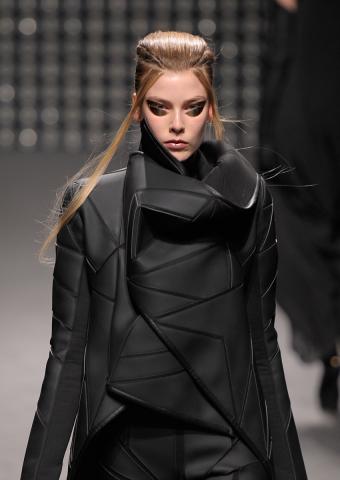 Makeup rules are made to be broken, and this reversed eye shadow look from the Gareth Pugh runway just serves to prove that point. Who says shadow has to be applied mostly to the upper lids?
Crazy Brows and Ombre Lips
Long, lush eyelashes and perfect brows are beautifully feminine and what virtually every woman longs for. In this look, femininity is taken even further, with what appears to be feathers for brows and rhinestone-tipped false lashes. These are balanced by sparkly ombre lips done in silver and black to match.
Creepy Toy Runway Makeup
The strange makeup shown here at a Furne One show may not translate well for everyday, but its unique creepy doll vibe might be just what you're looking for come Halloween.
From outrageous colors to intensely artistic applications, crazy runway makeup is an incredible element in the world of makeup. Whether you love it or just want to leave it, there's no denying its impact.